Making a Difference
Street children gather at Wonderland.
Celebrating Children in Yellow!

Elita Karim
A few weeks ago, a group of young boys and girls, clad in bright yellow tees, were seen thronging the roads in different parts of Dhaka city, selling flowers at red signals and talking to people in the vehicles. Not only was it a shock for commuters sitting in the traffic jam watching these young people in yellow Jaago Foundation tee shirts selling flowers, it was quite a pleasant surprise for them to watch these smiling youngsters trying to make a difference in their own little way.
On the occasion of Universal Children's Day, Jaago Foundation, a school for underprivileged children in Rayerbazaar, organised a daylong campaign on November 18, to create awareness about the day, which was never celebrated in Bangladesh earlier. Korvi Rakshand, the founder of Jaago Foundation says that besides the fact that the campaign was successful in making people think about the homeless children on the streets, it was also a lot of fun celebrating Children's Day in this unconventional way. "We celebrate Valentine's Day, Christmas, New Year but we never celebrate Children's Day," remarks Korvi. "This day was formed internationally to inform people of child's rights and to focus on the childhood that they deserve, especially in the developing countries."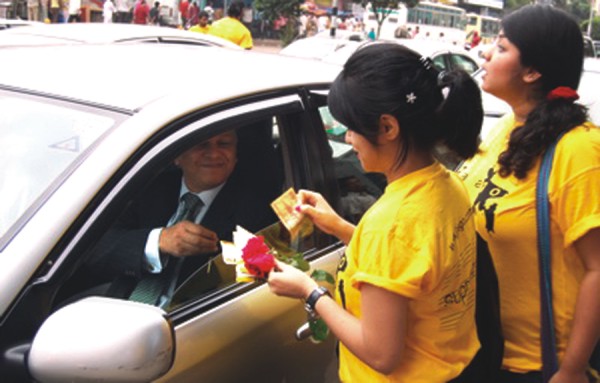 Volunteers selling flowers on the streets.
According to Korvi, the other purpose of this campaign was to collect the children who sold flowers and other goods at the traffic signals, and let them take a break from their daily job at trying to sell something. Several volunteers, students and employees from JAAGO Foundation got together on the day to sell flowers, popcorn, toys, etc. on behalf of the street children to raise funds. "The street children were on leave that day!" says Korvi. "We also took them to Wonderland, where they relaxed and had fun for a change." The money that the volunteers earned, instead of the children that day, were divided equally amongst the children in each section of the city.
The day had begun with feeding around 500 street children in Wonderland. After the breakfast, the children roamed about, exploring the fun rides. The Wonderland authorities allowed the children to hop onto the rides for free for three hours. For Lipi, one of the street children, it was a day she says she will not forget. "I really like the Bumping Car and I am going to go there again!" she says. After the rides, a magician appeared on the stage and mesmerised the children with his tricks. At around 1:00 p.m., the volunteers served lunch to the children. "Thanks to Novartis Bangladesh Ltd, we even had a health camp where the children had a medical check-up," says Korvi. "Many well-known personalities had come to support this event such as Akku Chowdhury, the executive director of Transcom Food Ltd, eminent television personality Hasan Imam and several young artists and musicians." The event was also supported by The Daily Star, Mojo, KFC, Pizza Hut, Adcomm, Radio Today and the Alliance Group. Armeen Musa, a young musician of the country, was also seen selling flowers in one of the streets in Dhaka. "Many celebrities and well-known personalities stood at the Gulshan-2 junction from 3:00 to 5:00 p.m. and worked as volunteers," says Korvi. The volunteers from JAAGO Foundation earned around 3 lakh takas from the campaign, which was then divided among the children.
| | |
| --- | --- |
| | |
| Korvi Rakshand selling flowers with his fellow helper. | In the middle of a medical check up . |
The campaign organised by JAAGO Foundation was one of its kind, but was a voice loud enough to simply attract onlookers on the street. There should be a 'bigger bang', a stronger and a louder voice to create a revolution in the country, for the sake of the urchins who walk about homeless in our city streets. JAAGO Foundation itself houses several street children who have turned out to be surprisingly gifted in their studies and have shown extraordinary talent in other fields as well. "We know this because we are with these children and spend time with them every day," says Korvi. "This proves that if street children are given an opportunity, they are bound to change their lives and create a meaningful future for themselves."
Relaxing after a fun filled day.
Copyright (R) thedailystar.net 2009