Human Rights

Not Without Her Land

Kajalie Shehreen Islam
"Women work day and night raising their children, looking after the household, working in the fields. They are stronger than men and can hold on to their land better than them. But they are not given their due value, they are deprived. The government should give equal land rights to women and men."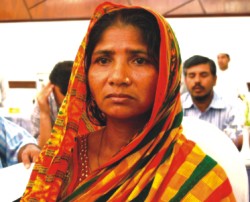 Landless woman leader Azima Khatun
At a seminar on "Women's Rights to Land in Bangladesh: Roles, Limitations and Transformation", Azima Khatun, a landless woman leader from Noakhali, talks about her experiences of land ownership. According to Azima, a local influential man has been trying to occupy the land she and some other families have been living on for years. "It is not his land," she says, "it was allotted to the landless." The man, however, sent his armed goons and even the local police to beat up and kidnap the men on the land. It was the women, though, who got together and fought and scared off the thugs and later even forced them to apologise.
But when it comes to ownership of land, women hardly have any rights. At the seminar, keynote speaker Zakir Hossain of Unnayan Onneshon said that although there has been much hype about equality of the sexes in the past few years and some of it has even been attained, in matters of land ownership, women remain discriminated against.
According to the keynote paper based on a study conducted last year, women have very few rights in terms of land ownership. Though women are primarily responsible for food production, men remain in control of ownership. Women own land mostly in relation to men, as in, as their daughters or wives. Laws and social restrictions such as inheritance laws discriminate against women. While women can buy land, if their name is not on the deed, they are not its owners. According to the Land Reform Ordinance of 1984 and subsequent government regulations in 1986, if two acres of khas land is allotted to the homeless, one acre should be allotted to the husband and one acre to the wife. However, according to the study, very few women actually have ownership of land. Most women are not even aware of their land-owning rights. They are sometimes intimidated by male family members and often the victims of land-grabbing. Land that women do own is often sold off during their daughters' marriages to pay dowry, and divorced women lose their land rights with the divorce.
The study also found that due to globalisation and increase in the use of technology, women's role in agriculture has decreased. However, 78.3 percent of women are still employed in agriculture but their role is hardly recognised. Rural women suffer the most in terms of land ownership.
The study recommended that the inclusion of women's names in deeds be made mandatory in order to ensure ownership and that government khas land be allotted in the names of both husband and wife. It also suggested facilitating women's single or joint investment in agriculture, taking steps for increasing income through agriculture and providing loan facilities. Finally it called for increasing women's awareness of their land rights by forming organisations, along with giving priority to legal cases regarding women's land rights.
Speaking at the seminar, Syeda Rizwana Hasan from Bangladesh Environmental Lawyers' Association (BELA), noted the weakness of laws, saying that women's equal rights are guaranteed in the Constitution, but that policymakers themselves are confused and laws continue to discriminate against women. "Our policies are more progressive than our laws," said Hasan. But change is taking place, and though it may not seem like a revolution at this point, it is progress. Hasan also said that it is important that we do not compromise with vested interest groups who get in the way of women's progress, as the government is currently doing with some religious groups regarding the recently declared national policy for the advancement of women.

Speakers at the seminar on women's land rights
Also speaking at the seminar, renowned economist Professor Anisur Rahman suggested a solidarity group of women and men combined who would fight the common enemy, the ruling elite, saying that not only is a land rights movements necessary but an overall social movement. This should include what Antonio Gramsci called "organic intellectuals", who, as opposed to the traditional intellectuals, have strong roots in their community and work to maintain links with local issues and struggles. He stressed the importance of education and capability of women in order to survive in today's fast-moving world in general and more specifically to retain their land.
Speakers at the seminar also recommended that the amount of khas land allotted to the landless be increased so that they would not have to mortgage or sell off their land due to poverty. They also recommended that women not only be given rights of ownership to land but also the capital to invest in it, without which it is useless. Long-term plans are needed for the process, but education and a change in the patriarchal mindset through social mobilisation and consensus-building can bring progress.
Land rights and ownership will serve to increase women's security and empowerment. Azima Khatun, reflecting the voices of thousands of landless women across the country, has shown what women can do to protect their land. Given the opportunity, armed with legal rights and equipped with awareness and knowledge regarding these rights, women can own, profit from and retain land as well as any man, if not better. All they need to prove themselves is equal opportunity and rights.
Copyright (R) thedailystar.net 2007