Human Rights
A Nightmare on Foreign Soil

Hana Shams Ahmed
A group of young men boarded the Biman Bangladesh flight to Malaysia hoping for a better life for themselves and their loved ones. They were promised high-paying jobs and were happy to sell off the last piece of asset they owned to realise their dream job. Within a few months they boarded another flight back to Bangladesh. Cheated by their recruiting agency, traumatised by the maltreatment from outsourcing agents, empty-handed and humiliated now they do not know how they are going to go back to their villages and face their families.
Joynal Abedin, Al Amin and the others who refused to leave ZIA until they got back all the payments they made to the recruiting agents.
Al Amin, a 24-yr-old Honours student was studying in Rajshahi College Social Sciences department when he was approached by an acquaintance with a job offer he just couldn't refuse. This man assured Amin that he could get him a job at Sony Electronic Company in Malaysia where he would get a salary equivalent to at least BDT 30,000 and all he would have to do was give an initial processing fee of Tk 1.5 lakh to the recruiting agency. For a hard-up farmer's son it was like a dream come true. He decided to put a stop to his education and take up the job offer.
Collecting the money was not very easy though. Amin's father sold off all the land that they owned. Amin's acquaintance, a broker for the recruiting agency Golden Arrow, said that a further Tk 80,000 would be needed to ensure his job. Amin's family had no way of coming up with this amount, so they ended up taking loans from their relatives. It was a good job, they thought, and they would be able to pay back the amount within a very short time.
Twenty-five-year-old Joynal Abedin who was supposed to appear for his degree final exams has a similar story to tell. Joynal who used to live in Naogaon worked for Unilever Bangladesh as a computer operator for two and a half years. The youngest of four brothers Joynal wanted to make it big as a businessman. But he knew that he could never save up enough money for a computer business with his Tk 5500 salary so he discussed with his parents and decided to sell off their family land for a start-up. When one of Joynal's acquaintances came to know about his plans he convinced him not to invest in a business right then and go to Malaysia instead. He would be able to earn a lot more there and would be able to come back to Bangladesh after three years with a much higher start-up capital. He could arrange everything within one and a half lakh takas he said. But after a few days the sub-agent of the recruiting agency said that for another 80 thousand takas he could manage a very high-paying job at Sony Electronics as a computer operator. Joynal's parents were happy to sell off the last bit of their land for their son if the agent could manage a respectable job for him.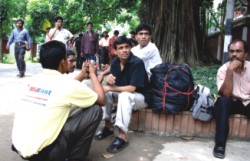 The migrant workers' welfare should be of topmost priority for the government.
But the Malaysian saga for Al Amin, Joynal Abedin and the 126 other migrants who travelled together was anything but a dream. The nightmare started at the Golden Arrow office in Banani on the day of their flight. The electricity went off and the migrants were asked to sign their contract forms by candlelight, although Amin swears that there was electricity in the rest of the neighbourhood. Even then they weren't allowed to read through the form very thoroughly. The agents kept rushing them saying that they were getting late and would miss their flight if they delayed any further. The agents leafed through the contract forms themselves and just showed everyone where to sign. It was finally at the Zia International Airport (ZIA) that they could thoroughly read the forms themselves and found out that the actual job description was not in fact for a computer operator but a serviece workers.
The second blow came when they arrived at Kuala Lumpur International Airport (KLIA). For two days no one from the Malaysian outsourcing agency PTC Asia Pacific came to receive them from the airport. Exhausted and deprived of food the group of 128 finally showed their contract forms to the airport police and got in touch with the company through them. On the third day two women from PTC came and received the migrant workers from the airport and took them to Klang and put all the 128 men in one single room that according to the workers was a 'godown'.
There were no sleeping or any other arrangements and only a single toilet for everyone. 128 people had to live on 10 kilos of rice for 2 days. They were given pulse and onions to cook khichuri for themselves. There was no work available for months. PTC Asia Pacific, which is an outsourcing agency stocked up on people and sent groups of five or 10 men when something became available. "I worked for four months," says Joynal, "the first two as a cleaner in a computer company and the next two as a cleaner in a shopping mall." He never received a penny. "I lived in Malaysia for seven months without a visa, medical certificate or work permit," says Amin, "I cut down forest trees for two months and never received any salary." Amin was shifted to 18 different locations in Malaysia and everywhere the living conditions were the same. "There were two people with beards in our group and they were forced to cut off their beards and were forced to do sit-ups holding their ears when they resisted," says Amin, recounting the humiliating and inhuman treatment they received from the PTC employees, "we also had to go to jail several times because we didn't have work permits." In the contract form it said that they would be receiving 546RM per month for working eight hours a day with holidays and overtime. "We had to work for 14-16 hours at most times."
When they showed the contract forms and demanded that the conditions be met the PTC officials tore them [the contract forms] off in front of them. Any complaints about the living conditions were met with threats and even beatings sometimes.
At one point 144 workers living in the same inhuman conditions got together and went to the Bangladesh High Commission in Kuala Lumpur to demand their rights. After three days the high commission promised that the workers would be transferred to another company from PTC within 15 days. "The Labour Counsellor told us to get into the car of the Bangladeshi agent and go back to where we came from and threatened to get us all arrested by the police," says Joynal. The workers refused and asked to be taken somewhere near the high commission. But they were instead taken to another infamous Bangladeshi boarding in Port Dickson, according to Joynal the worst in Malaysia. "When we refused to go there," says Joynal, "we were taken to two different places and then an NGO from Kanakani took our responsibility." This human rights organisation Tenaganita said that it would take at least a month to transfer them to another company. But since there were no direct companies hiring staff, all of them being outsourcing companies Tenaganita could not ensure that the workers would get any permanent jobs. "We didn't want to work in such an uncertain manner," says Joynal, "we demanded that we all be sent back to Bangladesh and the money we paid to the recruiting agencies be returned to us." The workers also filed a case with the labour court and asked that their six months salary also be paid to them.
The workers said that if their demands weren't met within seven days they would go on a hunger strike till death. "Our trip to Malaysia had already killed us anyway," says Joynal, "and we didn't want to live like this any longer."
At midnight on September 14 the middlemen from the recruiting agencies got together and attacked the workers on hunger strike while they were asleep. 30 of them were forcefully taken away from there. 300 police were sent to arrest the rest of the 80 striking workers. The police told them that the workers would be sent back to Bangladesh in a couple of days but they would be moved out from there. They were then taken away to Penang about eight hours away.
"There we found about 150 more Bangladeshi workers hired by Golden Arrow locked up in a room," says Joynal, "they were crying through the windows and saying that they had also been promised jobs by Golden Arrow but were now trapped there with no work."
The workers were terrified and begged and cried to be taken away from there. "A Golden Arrow representative suddenly came out of nowhere and said that they had fixed jobs for us and were going to take us in groups to different places but we cried and refused to go anywhere."
The immigration police came and rescued them from there and the workers were then taken to a church where they stayed for some time. Secretary of the Expatriates' Welfare Ministry Abdul Matin Chowdhury met with the workers there and promised to arrange their return to Bangladesh in three phases within 15 days with a full refund of the money taken from them. After coming back to Bangladesh the workers refused to leave ZIA for two days until they got their full payment back. Till the filing of this report only 20 workers have come back to Dhaka and they have only been given cheques for the official Tk 84,000 that Golden Arrow claims they received.
55-year-old Mahesh Sarker of Tangail died of cardiac arrest while waiting to return to his family. Joynal Abedin, Al Amin and the 18 others who came back are living with their relatives in Dhaka waiting for the full payment of their dues so that they can go back to their families. Although they were supposed to receive the money by October 3, it seems very unlikely that they will be able to do so any time soon. There will be another hearing on October 29.
In the 1970s there were only a few thousand migrant workers from Bangladesh. By 2002 the figure went up to more than three million, with about $23.7 billion being sent back in remittances over that period according to a report by The Daily Star. In the just ended fiscal year of 2006-2007, the expatriate Bangladeshis have remitted $5,984 million. The per capita amount that our migrant workers remitted is 33 per cent higher than those of India, which is the second largest remittance receiving country in the world. This strong inflow of remittance has raised the country's foreign currency reserve to $5,098 million.
About 4.8 million Bangladeshis are currently working in more than 100 countries around the world, prominently in Malaysia, South Korea, Singapore Jordan, Libya Lebanon, Germany, Australia, Iran, Japan, Italy and Spain. The Global Economic Perspective Report of 2006 by the World Bank found that remittance flow has helped Bangladesh to cut poverty by 6 percent.
After the recent fiasco regarding the striking workers the Cabinet of the Malaysian government has decided to freeze the recruitment of Bangladeshi workers but it does not address nor resolve the problems in recruitment and management of migrant workers in the country. The middleman chain and undocumented financial transactions in manpower business needs to be looked at by both governments more closely to resolve the matter more comprehensively.
There are hundreds of thousands of workers living in appalling conditions all over Malaysia and Joynal and Amin say that they can physically identify all of them. The current practice of outsourcing has the elements of trafficking in persons. Workers are brought, their passports taken away, held in captivity, beaten and abused with no employment. There was gross misconduct in fact at all levels. The recruiting agency in Bangladesh, the outsourcing agency in Malaysia and the High Commission of Bangladesh in Malaysia must all be held accountable for the abuse and mismanagement that led to so much suffering for the hard-working men who bring in so much economic benefit to our country. It is amazing how the recruiting agency personnel with the connivance of the high commission staff who beat up the workers during their hunger strike are still going around scot-free while the workers are held inside rooms that are in fact worse than detention centres. These men entrusted their families' last savings and in many cases borrowed money from other people to work hard in an unknown country so that their families could have better lives. It's the money that is received from these men that have improved the country's economic condition in the last few decades by unexpected levels. The government's highest priority should be to attend to the welfare of these people. The neglect from the high commission is astounding. Now the least they can do is ensure they get their payments back and carry out in-depth investigations on the conditions the rest of the workers are living in, in Malaysia and in other countries.
Copyright (R) thedailystar.net 2007