Communications

The Mobile Lady

Syeda Shamin Mortada

Technology has been defined as the processes, tools and techniques that alter human activity. A global revolution has taken place in the field of information and communication technology. Today, the knowledge to be properly informed and communicated is no longer the privilege of a particular group in the society; ICT (Information Communication Technology) has made headway in tackling challenging issues such as economic deprivation and social injustice with particular emphasis on health, education, gender, youth, disabled and the disadvantaged segments of society.
Making ICTs relevant to the poor people is basically about providing information and knowledge services, which are related to their livelihood. Since 2003, a research organisation, namely Development Research Network (D.Net) started experimenting on how information and knowledge can be accessed to the poor and the unfortunate and the impact it will have on their existence. This way the concept of using a moderately less fashionable technology as an effective last mile solution to deliver information to the poor was born.
Most of us living in the cities take for granted the ability to contact others via telephone according to our needs and wishes. However the situation in the rural areas is quite different, where such simple communication services can be quite challenging. Millions live without any resources to contact people beyond their local villages where there are no affordable and accessible telecommunications services. The research organisation, D.Net therefore thought about a cost effective technology where both the information provider and the receiver could interact each other very quickly, through the use of mobile technology.
The true heroes behind this less fashionable technology who happened to make this approach a total success are some honest and patient women better known as the "Mobile Ladies." These mobile ladies go from door to door equipped with their mobiles with an objective to connect end users to the operators. The help desk operators who are stationed in the help line centres are specialised in different fields and are also supported by a database containing relevant information on health, human rights, legal support, agriculture, pharmacy and such subjects. These women who play a crucial part in delivering information are selected after extensive reviews and factors like their social and communication skills, level of education and entrepreneurship mindset. Becoming a "mobile Lady" has become a popular way of earning for women even in remote areas.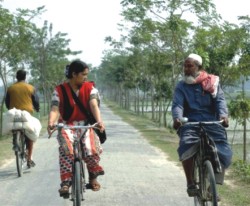 It is still an unusual sight, but the Mobile Lady is becoming more and more accepted as someone who brings vital information to the villages.
The research carried out by D.Net showed that this kind of service was most needed in remote villages amongst the poorest villagers. It was also seen that the use of mobile technology empowered many women the service provider and the service receiver; 36% of the mobile users were house wives, 40% of the callers were from the age group of 19-30 years and the majority of the queries were related to health (46.2%) and agriculture (36.3%). Other categories included education, human rights issues, non-farm economic activities, awareness related issues and governance issues.
Today, the Mobile Lady is the most sought after person in a village, who stands as a symbol of empowerment. It has enhanced her social status as she goes around the village, sometimes with her bicycle trying to connect people of different ages and occupation with a group of experts waiting to give advice on a wider range of livelihood information. Mobile lady or Mobile Apa has become a household name, who is seen as a torch bearer for rural Bangladesh, helping others and earning a modest income for herself. These women have brought about a breakthrough in the world of technology usually dominated by men. A mobile lady starts her day from the Pallitathya Kendra or the Rural Information Centre where she goes through her daily work plan and heads for the villagers with her mobile phone and other necessary documents. The mobile lady is also called the "info-lady" as she is capable of providing information and knowledge services as well.
Fortunately, the mobile phone network in Bangladesh has expanded at a rapid pace covering more than 80% territory, gradually bridging the gap between the information providers and the target beneficiaries. Now, even if one mobile lady can be placed in every village, it will lead to the empowerment and employment of about 89,000 women.
According to Najma, a mobile lady working in Bagerhat "I am involved in a service oriented job. Therefore I have to be careful at each step, i.e. whilst listening to the problems of the villagers, sending all questions to the help desk, receiving their answers and distributing the answers to the villagers. The work I do is a 24 hour job."
Another Mobile Lady named Gita Rani Das states: "The users are very happy with our service. Housewives can receive solutions to their problems staying at home; the elderly and the physically handicapped all take help from us. I have been able to transfer information to farmers on how to grow high yielding potato, fishermen with weather reports, illiterate old people suffering from various ailments, students with necessary admission information and women by providing all sorts of information about their rights in cases such as dowry, rape, physical assault and such. We are not only a source of information to the villagers but trustworthy persons they can rely on."
"Thanks to the mobile apas we can receive the necessary information within a short span of time," says a villager. "I am very satisfied with their work, till now I received all the answers to my queries. This is indeed a great opportunity for us."
The mobile ladies are therefore making a huge impact on connecting the most marginalised groups to the rest of the world, empowering them through better access to information and enhancing their social and economic wellbeing.
Copyright (R) thedailystar.net 2007