Cover Story
An Icon of Artistic Versatility
Aasha Mehreen Amin
Photographs: Zahedul I. Khan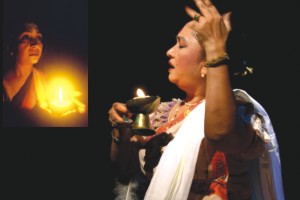 Bringing Binodini to life (2007)
The silence on the front of the stage is almost too much to bear. It is as if everyone is holding their breath. For the artist who is acting out several roles one after the other, interspersing melodious songs and using expressive body language, does not pause for a second in an hour and half-long solo performance. The dialogue is delivered in unfamiliar language, old Bangla which is difficult to follow for many. But the emotions, the pathos and the passion of a 19th century Bangali actress Binodini are so real and tangible that they transcend the imperviousness of ancient lingo and only highlight the tragedy of a beautiful, talented woman caught in the web of jilted love, unfulfilled dreams and deception of the men in her life. As the lead and only character in Dhaka Theatre's latest production, Binodini, Shimul Yousuf plays not only the role of the tragic heroine Binodini Dasi but delivers the dialogue of several other characters.
Combining narration, dialogue, dance, song and body language is characteristic of Dhaka Theatre's director Nasiruddin Yousuff's theatrical language and all this has been incorporated into this production with the script written by Selim Al Deen and researched by Simon Zakaria. What is truly unique about Binodini is that the burden of all these elements in so far as their manifestation on stage is concerned, has been left solely on the performer, no doubt a challenging, if not frightening prospect. For Shimul, who has been acting, composing music, designing costumes and often even choreographing for most of Dhaka Theatre productions, this burden taken with such apparent ease, exemplifies her sheer capacity to adapt, innovate and create as an artist. The actress, who has been on the stage for over thirty years, does admit however, that the role was a little daunting. "I went to see a portrait of Binodini," says Shimul, "and I realised that I looked nothing like her and could not imagine how she had been as an actress. To portray someone like her was quite intimidating."
Snaps from childhood
But Shimul refuses to pinpoint her most challenging role, insisting that every single role has been a challenge. It is here that one begins to understand the depth of this actress's commitment to theatre, which is more intimate to her than her own home. Her performances in many acclaimed productions is evidence of this dedication to this performing art. "My roles in plays such as 'Hat Hadai'(1949), Bono Pangshul (as Suki, 1998), Chaka (1990), Joiboti Kannyar Mon (1995) and others, were all challenges," says Shimul who reveals that she spends many hours 'getting into the character'. Theatre, in fact, is her main preoccupation. With her daughter Esha abroad pursuing a university degree, Shimul spends long hours alone in the house, something that she revels in: "I love being alone. It helps me to improvise on my role, learn my lines and just think about the character I am playing. I speak very little before the performance."
It is easy to see why it was Shimul's destiny to be in the world of theatre. Born and brought up in Dhaka, Shimul came from an unconventional background. Her father Mehter Billah from Bikrampur, was a natural singer and inclined towards Sufism and her mother, an Assamese, had a lyrical voice. In fact Shimul, the youngest of seven children, grew up in an intensely cultural, liberal environment. Their house was in Thakurpara in Kamlapur where many culturally-minded families lived. Shimul's father, a devout believer of Islam, did not believe there was any contradiction in music and religion. He would often meditate while on his prayer mat and sing Sufi songs. "Sometimes my brothers and I would be making a raucous; they would be playing drums on tins and I would be screaming some song. My mother would ask us to keep it down as father was praying but he would call out to my mother and say: 'Let them do their work and let me do mine'."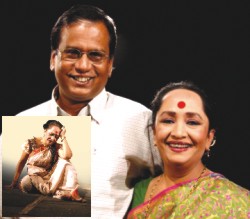 With life-partner and mentor, Nasiruddin Yousuff (Bachchu)
Thakurpara was also a neighbourhood where people of different faiths lived in perfect harmony. "During puja, my brothers would go to the Hindu houses and help out. They in turn would come over on Eid day. There was a newly built Buddhist temple and I would often go there and sleep on the cool, green marble."
Shimul's father died when she was still a child and it was her two elder brothers who had to take on the responsibility of supporting the family and making sure that the younger siblings received an education. After her Higher Secondary Certificate exams, she did her Honours and Masters in Social Science.
Shimul had started singing for the radio and television, being initiated into Kochi Kachar Mela from a very early age. She also dabbled in painting taking informal lessons in art from stalwarts like Qamrul Hasan and Rafiqunnabi.
But it was always singing that came first for Shimul and it was in classical music that she became formally trained in. She has received training in classical music, Nazrul geeti, Lalon Geeti and revolutionary songs from some of the most well known names in music Ustad Helaluddin, Ustad P.C. Gomez, Ustad Imamuddin, Ustad Phul Mohammed, Freedom Fighter Altaf Mahmud, Sheikh Lutfur Rahman, Sudhin Das and Abdul Latif.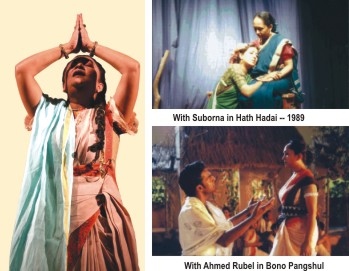 "My religion is my art"
-- Shimul Yousuf
Her entrance into theatre, she says, was by accident. Apart from acting in an Abdullah Al Mamun directed play to raise funds for wounded Muktijoddhas in 1972, Shimul had virtually no serious interest in entering the theatre. In 1973 she got herself admitted to the Institute of Fine Arts, later going to Baroda School of Fine Arts. It was when she had come home on holiday in November 1974 that Shimul made her entrance into Dhaka Theatre. Her brothers and sisters were in the group and when they requested her to substitute for an actress who couldn't go to Chittagong for a show, Shimul reluctantly agreed. She kept insisting that she didn't really do acting and that it was singing that came naturally to her but eventually she did end up acting in the play. Then in 1975 she was asked to act in Muntasir Fantasy, a play that became a hit at the time. Not surprisingly, she was asked to do the music compositions which Shimul did with great skill, coming up with 18 songs for the production. Thus began what was to become a life-long passion taking her on an exciting journey that covered a wide variety of productions. They included Kasai (1976), Char Khakra (1977), Sakuntala (1978), Phani Monosa (1980), Kitton Khola (1981), Keramat Mongol (1985), Hat Hadai (1989) and Chaka (1990). In the next ten years Shimul acted, composed and designed costumes for many more of Dhaka Theatre's acclaimed productions including Ekatorer Pala, Joiboti Konnar Mon, Bono Pangshul and Prachya.
But there were more complicated reasons for her attachment to Dhaka Theatre. It was a group, the founders of which were all Muktijoddhas, including her husband theatre director and filmmaker Nasiruddin Yousuff Bachchu. "I would not have been comfortable if I hadn't been around Muktijoddhas, it was where I felt the safest," says Shimul, who had been a teenager during the Liberation War and had first hand experience of the tragedy of losing a loved one to the brutal crackdown of the Pak army. Her brother-in-law Altaf Mahmud, who was her mentor and like a guardian, had been taken away by the Pak army right in front of her eyes. Even now the memories are painfully vivid: "It was August 30, 1971, 5:30 in the morning when our house was raided. Altaf Bhai, who was in the Crack Platoon was with us. We didn't know that he and another Muktijoddha had hidden arms in the ground near our house. That night around 32 Muktijoddhas were caught. The army arrested Samad, Altaf Bhai's friend who was coerced into telling them everything. They brought Samad along with them and demanded to know where Altaf Mahmud was. Altaf Bhai said: 'I am Altaf Mahmud.' They then lined up all my brothers and told him that if he didn't tell them where he had hidden the arms, they would all be shot…They beat him up severely; they hit him with a bayonet and the skin came off from his forehead, blood was pouring down his face. They made him dig out the arms…He was wearing a vest and lungi. Just before he left he turned around and for a few seconds just looked at me. It seemed like an eternity to me. He wanted to say something to me but in the end couldn't. But somehow I knew what he had wanted to say something about looking after his sister, his daughter Shaon, my mother…I felt as if all his energy had been transferred to me with that one look. It is a kind of inner strength that has kept me moving forward. After my father died when I was only four, it was Altaf Bhai I looked upon as a father."


With Raisul Islam Asad in Chaka
Shimul's meeting and later marrying Nasiruddin Yousuff who became her life partner and mentor, also took place, like her acting career, by chance. "I knew he was a Muktijoddha but hadn't met him, " recalls Shimul, "then one day I saw an ad in the newspaper where his family had appealed for him to come back home as his brothers had all joined the Muktijuddho." She had found the whole thing quite amusing then.
When she was at the Art College her friend Shahabuddin, who later was to be a well known artist, had told her about this brave Bachchu Commander. "One day Shahabuddin came to me and remarked that he would introduce this Muktijoddha to me that day during our break time. So I went to the canteen and saw this gangly boy with long hair talking to Shahabuddin. I was shocked and disappointed that this was the courageous commander I had heard so much about. I took Shahabuddin aside and told him to stay with his Muktijoddha and that I was going back to class. That was my first encounter with Bachchu." Shimul laughs at the memory. Later Shimul got to know him when she started acting for Dhaka Theatre, of which he was a founder member. "I would not have married him if he hadn't been a Muktijoddha", says Shimul categorically. Shimul and Nasiruddin Yousuff got married in 1979 on January 30; their daughter Esha was born on February 14, 1984. Esha is the couple's only daughter but Shimul considers Shaon, her sister Sara and Altaf Mahmud's child Shaon to be her elder daughter.
Married to Dhaka Theatre's director, it is perhaps difficult to really get away from work for Shimul, who seems to spend almost all her waking hours concentrating on theatre. She insists however, that in her 33 years of theatre and 28 years of marriage, she has never mixed her family life with theatre.
Accolades
Shimul Yousuf has acted in 30 stage plays and performed and sang in more than 2000 stage shows. She has also acted in more than 400 television plays and drama serials and appeared in more than 1200 TV shows. She has received countless awards for her singing and acting. They include:
President Award 1965 for Best Child Artist of Pakistan
Lokanatya Dal Award 1994
Manob Jamin Readers Forum Award 1998
Arannyak Dipu Smriti Gold Medal 1998
Lokanatya Dal Award 1998
Nurunnahar Award 1999
Mohammed Zakaria Award 2000
Cultural Reporter's Unity Award 2001
Jahangir Nagar University Theatre Award 2002
Kachi Kancha lifetime Achievement Award 2003
Rudra Padak 2004
Annanya Padak 2004
Bangladesh Film Journalist Association award for Best Actress 2006 (for Binodini)
Jahangir Nagar Theatre Lifetime Achievement Award 2007
Theatre, for Shimul Yousuf is neither a form of entertainment nor a platform for social activism. "When I am performing, I am showing people a form of art. It's like a painting that you want people to remember much later after seeing it. That's how I see it." Of course she adds that it is impossible not to be affected by the socio-political messages that creep into the stories being dramatised. "In Binodini, for instance, it shows that the reality, the conflicts and contradictions an actress faces today, has not changed much since Binodini's time. Obviously I am affected by such realities."
On stage, Shimul Yousuf transforms from the shy, reticent, almost withdrawn woman that she is in real life into a vibrant, larger than life character. She instantly grabs the attention of her spectators, taking them to unknown lands, forgotten times, delighting them with her musical voice and sharing with them the most intimate emotions of the characters she personifies. It is on stage that she is in her element, it is here that she feels truly alive.
"My religion is my art", says Shimul. "When I go into the stage, I give it my very best, with all my effort and sincerity. That is my prayer."
Copyright (R) thedailystar.net 2007