Tribute
A Tribute to Sidney Sheldon
Marzia Rahman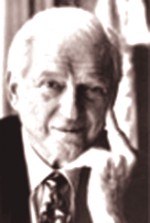 In the month of January, the readers of Sidney Sheldon in all over the world received the bad news of his demise. I am also one of those readers. I started reading his wonderful novels when I was only 14 years old. From a teenage girl I became a woman and during these phases of my life, along with other things my hobbies, tastes and choices changed but one thing remained unchanged--my fascination for Sidney Sheldon's novels. So today as a reader, I want to pay tribute to the memory of this wonderful writer.
Sidney Sheldon is one of the world's top best-selling authors who has gained international praise. He is the only writer to have won an Oscar, a Tony and an Edgar and one of the most translated writers in the world. During his long life he enjoyed three careers--a Broadway playwright, a Hollywood TV and movie screenwriter and a best-selling novelist
He was born on February 11, 1917 in Chicago, Illinois, to a German Jewish father and a Russian Jewish mother. He made his first sale, a poem for $10, at the age of 10. He attended Northwestern University but unfortunately after spending six months in the university, he had to drop out to support his family. At this time he made money as a radio joke-writer and a movie house usher, before moving to Hollywood in 1937 where he reviewed scripts.
During World War II he served as a pilot in the War Training Service, a branch of the Army Air Corps. After the war he moved to New York where he began to write musicals while also writing screenplays for both MGM and Paramount.
His first screen-writing credit came in 1941, with the film Mr. District Attorney and the Carter Case, although it was in scripting musicals that he found his first measure of success.
In 1948, Sheldon won an Academy Award for his script to the Cary Grant vehicle, The Bachelor and Bobby Soxer, as well as a Screen Writers' Guild Award for Best Musical, for Easter Parade, starring Fred Astaire and Judy Garland. In 1953, he made his directorial debut with Dream Wife. However, his efforts as a director and producer rarely matched his accomplishments as a scriptwriter, and later as a novelist. He once declared that despite winning awards for scriptwriting, it was in writing novels that he had the most fun.
In 1959 he won a Tony Award for the Best Musical with Redhead, as well as becoming an extraordinarily prolific scriptwriter for such shows as "I Dream of Jeannie" and "Patty Duke" He produced 'The Patty Duke Show" for seven years, writing almost every episode. He also wrote the TV series "Hart to Hart, Nancy" and I Dream of Jeannie, which he created and produced for five seasons from 1965-1970.
In his 50s he turned to novel-writing. He wrote his first novel The Naked Face while working on' I Dream of Jeannie'. Sheldon's first novel, The Naked Face, was described by the New York Times as "the best first mystery of the year". Some of his bestselling novels are Master of the Game (1982) The Other Side of Midnight (1973), The Rage of Angels, Memories of Midnight which also have been made into highly successful television series. The Naked Face won the Best First Novel Edgar Allan Poe Award from the Mystery Writers of America. The Other Side of Midnight was a #1 New York Times bestseller. In addition, he published his memoirs, The Other Side of Me, in 2005. Sheldon holds a Guinness World Record as the most translated single author. His publishers, William Morris, estimate that there are some 275 million copies of his books in circulation across the globe.
He had the ability to create strong female characters. He once said, "I like to write about women who are talented and capable but who retain their femininity." Truly his strong female character" with their charm and personality always fascinate the readers. Some of the women characters of his novels even remind us of Shakesperean women characters.
He once said, "I try to write my books so the reader cannot put them down." And there is no doubt about this. The magic of his writings mesmerised the readers so much that one cannot find any peace until he/she finishes reading the story.
Sheldon was married to Jorja Curtright Sheldon for 30 years, a stage and film actress who later became a well known interior designer; she died in 1985 of a heart attack. He then married Alexandra Kostoff, a former child actress and advertising executive, in 1989 with whom he has a daughter.
Sidney Sheldon passed away in California on January 30, 2007 at the age of 89 leaving behind his second wife Alexandra Kostoff and his only daughter Mary, who is also a writer and hundreds of thousands of readers and admirers who will always remember this master storyteller.
Copyright (R) thedailystar.net 2007