Heritage
The Rich Tradition of Kishoreganj
Khodeja Sultana Lopa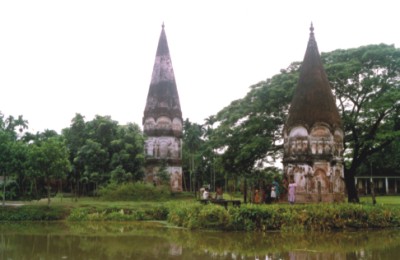 Shiva temple (right) in which Chandrabati used to pray next to the Manasha temple
Kishoreganj a northern district of Dhaka, is enriched with archaeological heritage.
At first the city seems like any other district with lots of rickshaws and narrow roads. Some locals inform us that the city has not changed much in the last 15 years or so. The people are very friendly and hospitable. There are many small teashops here and there, full of customers and even people you don't know will offer you tea.
The river Norshunda flows across the city and people love fishing even during normal working hours. In many places, many of them can be seen sitting patiently with fishing hooks by the river and also on bhelas (rafts).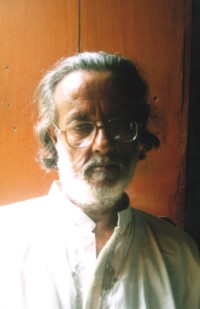 Dewan Amin Dau Khan, four-teenth ancestor
of Isa Khan
People are very proud of and talk a lot about their rich cultural heritage. Poems of Chandrabati are a hot topic. They talk very highly about Jangalbari, and about boating on the haor. We decided to visit Chandrabati's house Jangalbari.
Chandrabati is the first woman Bangali poet whose tragic life has touched many hearts. She was born in the 16th century in a Brahmun family. Her parents were Dija Bangshidash and Sholochona. Chandrabati was guided by her father, another historical personality well-known for his gathas or odes such as Mahua and Komola.
Beautiful Chandrabati was in love with a Brahmin boy called Joychandra. The two were to get married when suddenly Joychandra jilted her for another woman. Chandrabati, heart broken decided to remain celibate all her life. Seeing her in such grief Chandrabati's father advised her to occupy herself reciting the Ramayana and in praying. Her loving father Dija also made a separate Shiva temple for her to pray next to his manasha temple.
Chandrabati devoted herself to reciting and, writing odes and in praying. Some of her well-known odes are: Malua, Dossho Kenaram and Ramayana Katha (incomplete).
Isa Khan
Joychandra soon realised that he still loved Chandrabati and tried to win her back. As the legend goes, one day while Chandrabati was praying in her closed-door temple, Joychandra came to her begging to come back. As she was not opening the door, Joychandra wrote a love letter on the temple wall with red malati flowers. When Chandrabati opened the door, it was too late-- Joychandra had committed suicide by drowning himself in the river next to the temple. Chandrabati could not bear this sight and she too took her own life.
Chandrabati's ancestors still live in that village. The old building where she used to live is partially used by another family. Her study-cum-bedroom is now part of their home. We could not visit that room but fortunately was able to meet her ancestor, Tulshi Das, who continues to live in the other part of the building. He regularly prays at the temple. That historical river (some call it Puleshori, some call Bateshori) is now dead , leaving behind a big canal in front of the temple.
The government has declared these two temples as national heritage sites, but conditions of these temples are worsening according to Tulshi Das. He says that there is a school in Chandrabati's name but the historical house, which was built by Dija, is totally damaged.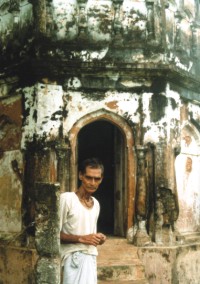 Tulshi Das, descendant of Chandrabati
Das hopes that the government and individuals will come forward to repair this historical place and build a heritage museum in memory of Chandrabati.
Jangalbari Fort is another renowned historical place to visit in Kishoreganj. It is situated in Jangalbari under Karimganj upazila.
The crumbling fort seems to have a circular front. It was one of the strongest outposts of Isa Khan. He built a number of structures inside the fort. According to the locals, there were 40 rooms in the fort that were mostly destroyed during an earthquake in the year 1300 (Bangla calendar).
Ancestors of Isa Khan moved to Jangalbari Fort from Sonargaon when Musa Khan, son of Isa Khan, surrendered in the year 1611.
The fourteenth ancestor of Isa Khan still lives in the fort. We had the pleasure of meeting Dewan Amin Dau Khan and his daughters and sons.
People from different places come to visit this historical fort with great interest. The baithakkhana, the outer part of the fort, still has traces of its magnificent art work. The ruining fort in ruins badly needs renovation and maintenance. If the government could come forward to take care of this historical place or to assist ancestors of Isa Khan then this historical site could be saved.
Photos by Md. Jahangir Alam
Copyright (R) thedailystar.net 2005