Impressions
Til the Pages
Go Blank . . .
Kajalie Shehreen Islam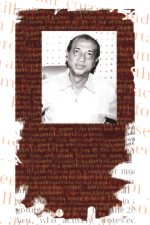 If all our journalists really broke their pens and gave up writing, where would we be today? It is only through a free media exercising its power with discretion that democracy can truly be achieved. As clichéd as this may sound, it's true. And when the press comes under attack, what do we do? Do we stop writing and doing our jobs? Or do we keep at it under threat? Despite having well-founded fears, do we continue to defend the fort of free thought and hope for the best, risking our lives?
Humayun Kabir Balu, Editor of the Dainik Janmabhumi in Khulna, chose the latter. Despite receiving several death threats from outlaw groups of the southwestern region of the country, the dedication of the former freedom fighter to his profession and his fellow journalists did not waver.
Though Janajuddha -- a faction of the Purbo Banglar Communist Party -- claimed responsibility for the killing of Balu, who was serving his third term as President of Khulna Press Club, the motive has not yet been confirmed. Whether it was because he refused to pay the outlaws tolls or because of his role in the fight for justice in the death of a fellow journalist, we do not know. If the former, then we can see how sad our society has become, where lives are taken on a regular basis -- when it's wrong no matter what the reason -- for money and on other most trivial grounds. If the latter, it's ironic.
On January 15, 2004, senior staff correspondent of New Age, Manik Saha, was killed in a bomb attack by outlaw groups in Khulna. On June 28, 2004, Humayun Kabir Balu, who actively protested his death and demanded justice, was killed in another bomb attack.
It's no wonder that Balu's family is not asking for justice. They can't expect to get it. It seems that those protesting against crimes in our country and those seeking justice, can only expect to be the next victims.
Thirteen journalists (at least) -- and a number of politicians and policemen -- have been killed in the southwestern region (Khulna, Jessore, Jhenaidah, Chuadanga and Satkhira) in the last 10 years, according to newspaper reports. Only two have seen verdicts with seven convicted and sentenced to life term. The other cases remain at the investigation stage or under trial. The accused remain free or out on bail. A few are in jail, others in hiding. Waves of protest take place after every death. The terror continues; the fears remain.
Lately, it seems Bangladesh is all about fundamentalism. From religious to political, all the whole spectrum is defined by extremism. From Bangla Bhai to leftist outlaws, they are all fundamentalists (as was pointed out recently by the US Ambassador to Bangladesh). Not only is our image further tarnished in front of the world every time something like this happens, but we lose an asset each time -- in the form of a fine citizen and a dedicated professional. How, when, and will it ever stop, we wonder? Or will the pages of our newspapers slowly go blank (or blur with advertisements only)?
What good can come of a society where death is the reward for speaking the truth and standing up for what is right? For most people, life is a better incentive.
Copyright (R) thedailystar.net 2004