A Different Face of Islam
Aasha Mehreen Amin
Interest in Islam has certainly intensified after September 11th , often in a negative way. Paranoia about Islam as a terror-mongering religion has been perpetuated by western media bias. Seldom has Islam been portrayed in a positive light in film. Which makes 'Connecting Faith' such an important endeavour. Shot and directed by Sanchita Islam, a young Bangali filmmaker based in London, the documentary records the thoughts of three young Muslims from three major cities -- a Bangladeshi from Dhaka, a Sylheti from London and a Malaysian from Kuala Lumpur.
The film first takes us to Dhaka with contrasting images of the stylised village scenario and the fast-paced hustle and bustle of the city. Aveen Ali, a 20-year-old Bangladeshi and a student of North South University comes from a fairly liberal-minded, middle-class family -- her mother works and she is allowed to go out in mixed company. She can wear western clothes as long as they are not too revealing. At the same time she is strong in her faith and sees no contradiction between being modern and being a Muslim. According to Aveen "real Muslims who are educated have an open mind". Aveen represents a new breed of young Bangladeshi women who are determined to be educated and pursue careers of their choice without having to sacrifice their faith." I want to change the way of thinking", says Aveen, "I want to make that difference"
The next stop is London with shots of Bangladeshi immigrants in Brick Lane and other areas. The streets where Bangladeshis freely assert their Muslim identity through their clothes could be some busy area in Bangladesh. Nurul Islam, a 25-year-old Sylheti photographer living in London is more categorical about asserting his religious affiliation. "Religion is the most strongest thing in my life," says Nurul although he admits that he has not been able to muster enough will power to say his prayers. "Islam is a complete way of life…Islam is a very peaceful religion. Some people portray a very extreme image of Islam". Nurul adds that now that more and more Muslims are being educated they can accept religion with knowledge instead of learning verses without understanding anything as is the usual practice.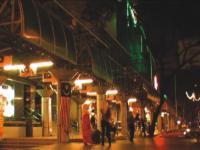 The final destination the film takes us to is glamorous, glittering Kuala Lumpur bursting with modernisation, prosperity and multiculturalism. Molati Abdul Hamid, a 21 year old Malaysian law student is perhaps the most interesting interviewee in the film. Like most Malaysians she wears a hijab and practices her religion seriously but this does not stop her from studying law and speaking her mind. Molati comes from a fairly affluent family that takes religion very seriously yet encourages discussion on religious viewpoints among family members. Molati in her poetic way says "you can teach a person to appreciate it (Islam) but cannot compel someone to say it is beautiful". Molati is also very proud of being Malaysian. "It is wrong that to be Muslim you have to look like an Arab. We are proud to be Malay" Molati also points out the misconceptions about Muslim women as advocated by western media. "The West thinks that Muslim women are weak and oppressed because that is what they see in the western media, so it works". She makes a very important observation in the film. She says that the reason why women in many Southeast Asian countries are mistreated is because of the existing patriarchal culture and not religion. "Men tend to justify oppression with religion by quoting some verse and not the other". Molati in this statement has hit the nail on its head. It is culture that predominates and includes existing partriarchial values that often insidiously creep into practices claimed to be religious.
At the same time Molati says that that Muslims have to be open-minded as they cannot be isolated in a globalised world. "We must have respect for one another" she says.
The film's cinematography is fairly simple with emphasis on the monologues of the three individuals. But there is also clever juxtaposing of contrasting imagery showing the simultaneous movement of modernisation and a growing need to believe in a faith. The photography is symbolic and tends to focus on varied images to recreate the environments of the three cities and in particular those that relate to the interviewers.
Connecting Faith was commissioned by the British Council Dhaka, which showed the film at its auditorium on April 15. Later says Sanchita, BC may help to get the film, (which targets 18 to 25 year-olds), screened at the London Film Festival and at universities in Dhaka.
For Sanchita, who has a handful of experimental films to her credit, this latest venture to give a different perspective of Islam, has been a spontaneous reaction to events around her. "After 9/11 Muslims have been shown as pariahs and potential terrorists" says Sanchita whose film emphasises a much more moderate image of Islam, one that is seldom projected.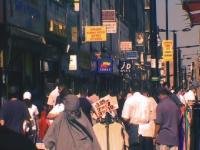 The biggest challenge for Sanchita was doing the film single-handedly and included shooting, editing and directing with some help in the post-production. With the use of various techniques such as varying speeds and filters to create different moods and textures, the overall effect is quite dramatic and avant-garde, reflecting the filmmaker's multifaceted talents. Sanchita is an artist, writer and photographer with many awards in her repertoire of achievements. She has studied art and designing at the London Institute, has an MA in Screen Writing and Directing and an MSC in Comparative Politics from the London School of Economics.
Being a young woman, filming in the villages and streets of Dhaka was not all smooth sailing. Sanchita describes being mobbed or followed every time she started shooting. But this has not discouraged her from coming back to Bangladesh. "I think Bangladesh is one of the most exciting places on the planet. Every street corner has a story. I always come back again and again, as I believe my roots are here "says the young filmmaker who has hopes of doing a feature film in Bangladesh, provided she has the funds and crew to make that possible.