Pakistan registered a whopping 94-run victory against Bangladesh at Lord's today.
Pakistan quick Shaheen Shah Afridi ran riot on the field today as he returned incredible figures of six for 35 in his 9.1 overs. The 19-year old became the youngest ever to bag a fifer in the World Cup. In chase of a mammoth 315 for nine set by Pakistan, Bangladesh could manage only 221 in 44.1 overs. Shakib Al Hasan's 64 off 77 balls remain the highest score by any Bangladesh batsmen in the game. There were no such big partnerships for the Tigers in the match, only a highest of 58-run fourth-wicket stand between Shakib and Liton in the middle. Bangladesh had lost their last five wickets for just 24 runs. And Shaheen took three of those five wickets, which included two brilliant yorkers to dismiss Mahmudullah and finally Mustafizur Rahman to wrap it up for Pakistan.
That is the end of the tournament for both the teams but the win today sees Pakistan in the fifth position while the Tigers have ended the tournament being in the seventh position in the points table. They could slide down further if South Africa win against Australia tomorrow.
[Wicket] 44.1, Ban 221: Mustafizur Rahman b Shaheen Shah Afridi 1 (3b 0x4 0x6) SR: 33.33 
Another brilliant yorker from Shaheen Shah Afridi. Gets through Mustafizur Rahman and rattles his stumps. The game is over. Pakistan win by 94 runs.
[Wicket] 43.4, Ban 219/9: Mashrafe Mortaza st †Sarfaraz Ahmed b Shadab Khan 15 (14b 0x4 2x6) SR: 107.14
Mashrafe Bin Mortaza goes down the track to smack a Shadab Khan delivery but the bowler bowls it wide and Mashrafe misses it completeley. Sarfaraz doesnt make any mistake as he stumps Mashrafe out. That's it, that is the last of Mashrafe we will be seeing in a World Cup match. 
[Wicket] 40.3, Ban 198/8: Mahmudullah b Shaheen Shah Afridi 29 (41b 3x4 0x6) SR: 70.73
A searing yorker from Shaheen Shah Afridi. It rattles the stumps of Mahmudullah Riyad. A hint of river swing and Riyad was undone by what is probvably the best delivery in the match so far. Afridi bags a fifer.
[Wicket] 40.1, Ban 197/7: Mohammad Saifuddin c Mohammad Amir b Shaheen Shah Afridi 0 (1b 0x4 0x6) SR: 0.00
Mohammad Saifuddin for a first ball duck. He goes down the track and flat bats a Shaheen Shah Afridi delivery but only reacghes the hands of the fielder at mid off.
Tigers struggle with required run-rate as Mosaddek departs
39.4, Ban 197/6 - Mosaddek Hossain c Babar Azam b Shadab Khan 16 (21b 1x4 0x6) SR: 76.19 Mosaddek chips one to long on off Shadab Khan and Tigers, struggling with the run-rate, have now lost their sixth wicket. 
36.6, Ban 178/5 - Dropped! Riyad goes for the drive, dancing down the ground. Played it away from Hafeez at mid off and the fielder still gets his hand on it but cannot keep it. The run-rate is creeping up all the time and that sees the Tigers batsmen out in the middle taking more chances.
[Wicket] 32.1, Ban 154/5 Shakib's glorious World Cup comes to an end. Shaheen Shah picks up his third wicket as Shakib slashes one outside the off stump and edges it to the wicket keeper. Shakib falls after his seventh fifty in the tournament, ending on a tournament haul of 606 runs -- third highest run haul in a single edition of a World Cup only behind Tendulkar and Hayden, as Bangladesh stutter in chase of Pakistan's 315.
[Wicket] 28.1, Ban 136/4 - Shaheen into the attack and picks up a wicket. A slower cutter gets the better of Liton and he only manages to check his shot as the ball goes to cover.
27.2, Ban 130/2: 50 partnership for Shakib and Liton - Shakib plays it fine to the leg side off Shadab Khan and ball rolls along the floor for a boundary. 50-run partnership between him and Liton Das.
25.4, Ban 121/3 - Shakib brings up his fifty. Shakib takes a single off Shadab Khan to bring up his seventh score of 50 or above. 62 deliveries faced and laced with six fours.
22.4, Ban 103/3: Bangladesh bring up their 100. Shakib plays one through the empty slip cordon off Imad Wasim to notch a boundary. 
[Wicket] 17.2, Ban 78/3: Mushfiqur Rahim b Wahab Riaz 16 (19b 2x4 0x6) SR: 84.21
Mushfiqur Rahim tries to run a length ball from Wahab Riaz to third man but gets an inside edge and drags the ball onto his stumps. Mushfiqur departs after scoring 16. A big blow to the Tigers' innings.
Shakib, Mushy keep things steady
After the dismissal of both the openers -- Tamim Iqbal and Soumya Sarkar -- Shakib Al Hasan and Mushfiqur Rahim have somewhat steadied the innings. The two middle order maestro need to build up a partnership if the Tigers are to chase the challenging 315 for nine set by Pakistan.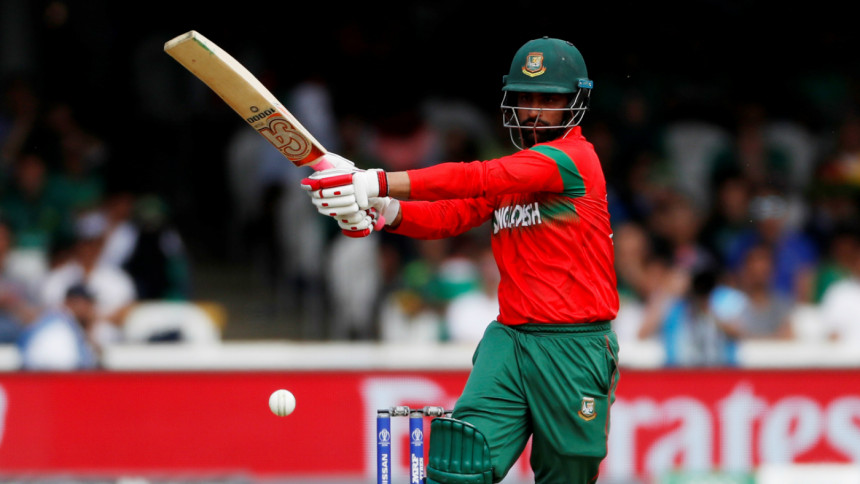 Tamim's misery ends
[Wicket] 10,4 Ban 48/2: Tamim Iqbal b Shaheen Shah Afridi 8 (21b 0x4 0x6) SR: 38.09 
Tamim Iqbal is decieved by a slower off cutter from Shaheen Shah Afridi. The left-hander plays his shot too early as the ball gets an edge of his bat and then hits his pad before crashing onto hus stumps. Tamim goes for eight off 21 balls. The left-hander was never looking comfortable in the middle. A disappointing World Cup for Tamim comes to end. 
[Wicket] 5.5, Ban 26/1 - Soumya Sarkar c Fakhar Zaman b Mohammad Amir 22 (22b 4x4 0x6) SR: 100.00 Soumya slaps a length delivery from Amir to point and Fakhar Zaman leaps low to his right to take the catch before ball could hit the grass. Tigers lose their first wicket as Shakib Al Hasan comes in to bat.
1.5, Ban 8/0: Tamim plays Amir towards square leg and runs a single and Bangladesh reach the required runs to knock Pakistan out of the World Cup. New Zealand reach the semi finals.
1.4, Ban 7/0: Dropped! Goes to slip and Haris drops it! Soumya Sarkar gets a life very early on. Edges Mohammad Amir's delivery to first slip and Haris Sohail drops it. 

End of Pakistan innings:
Pakistan post  315 for 9 against Bangladesh at Lord's courtesy of some late power-hitting from left-hander Imad Wasim after Imam-ul-Haq struck ton and Babar Azam 96. 
The foundation for a big total was provided by Imam-ul-Haq and Babar Azam during a 157-run second-wicket partnership. Azam missed out on his ton falling prey to Mohammad Saifuddin after a brilliant 96 but Imam carried on to make a hundred. Imam fell to a hit wicket to give Mustafizur Rahaman his first wicket in the game and then Pakistan lost their way from the 42nd over, losing a flurry of wickets. Imad struck a 26-ball 43 amongst the loss of partners as Fizz shone through in the death overs. The left-armer struck twice in the 50th over to complete a five-wicket haul -- his second in back-to-back matches -- to go up to second in the top wicket takers' list at this World Cup only behind Mitchell Starc on 24 wickets. Pakistan must bowl Bangladesh out for 7 runs or less in order to qualify for the semis. 
At the half-way, Imam, the ton maker said: "Feeling great but this is 50%. Wicket is quite slow, it will get more slower. Bangladesh bowled well in the middle overs. The conditions didn't demand that high a score. We thought of batting with good intent, but 400 was tough after assessing the conditions."
[Wicket] 49.5, Pak 314/9 - Mohammad Amir c †Mushfiqur Rahim b Mustafizur Rahman 8 (6b 1x4 0x6) SR: 133.33
[Wicket] 49.4, Pak 314/8 - Imad Wasim c Mahmudullah b Mustafizur Rahman 43 (26b 6x4 1x6) SR: 165.38
47.1, Pak 289/7: Shadab Khan c & b Mustafizur Rahman 1 (2b 0x4 0x6) SR: 50.00 Mustafizur Rahman takes a magnificent catch off his own bowling to remove Shadab Khan. Pakistan losing wickets in a hurry. It was a really low catch as Shadab just chipped the cutter straight. Incredible effort.
46.5, Pak 288/6- Wahab Riaz b Mohammad Saifuddin 2 (4b 0x4 0x6) SR: 50.00 Saifuddin bowls a fantastic yorker that goes through the defences of Wahab Riaz. Pakistan lose their sixth wicket.
44.6, Pak 267/5: Sarfaraz Retired hurt. Sarfaraz Ahmed retired hurt 2 (2b 0x4 0x6) SR: 100.00 After being hit on his elbow, Pakistan skipper had to walk off the field. He is retired hurt on 2.
44.2, Pak 257/5 Imad drills a powerful shot off an outside off delivery from Mohammad Saifuddin that hits Sarfaraz Ahmed at the non-striker end. He seems to be in pain and is getting treatment on the field. The Pakistan skipper will carry on though.
43.5, Pak 255/5:Haris Sohail c Soumya Sarkar b Mustafizur Rahman 6 (6b 1x4 0x6) SR: 100.00 Fizz picks up his 100th ODI wicket; Pakistan five down. A back of a length outside off delivery from Mustafizur Rahman. Haris Sohail cuts it but gets a top edge. An easy catch taken at deep extra cover. Mustafizur bags his 100th ODI wicket.
[Wicket] 42.4, Pak 248/4 - Mohammad Hafeez c Shakib Al Hasan b Mehidy Hasan Miraz 27 (25b 3x4 0x6) SR: 108.00 Hafeez gets down to his crease and sweeps aerially but finds the man at deep mid-wicket. Pakistan lose two quick wickets.
[Wicket] 41.5, Pak 246/3 - Imam-ul-Haq hit wicket b Mustafizur Rahman 100 (100b 7x4 0x6) SR: 100.00 Terrible way to get out but Imam is gone in the most tragic of ways as Mustafizur Rahman comes in and makes another breakthrough. Imam played it towards the leg side but clipped the stumps with his back foot as he romped back onto his crease.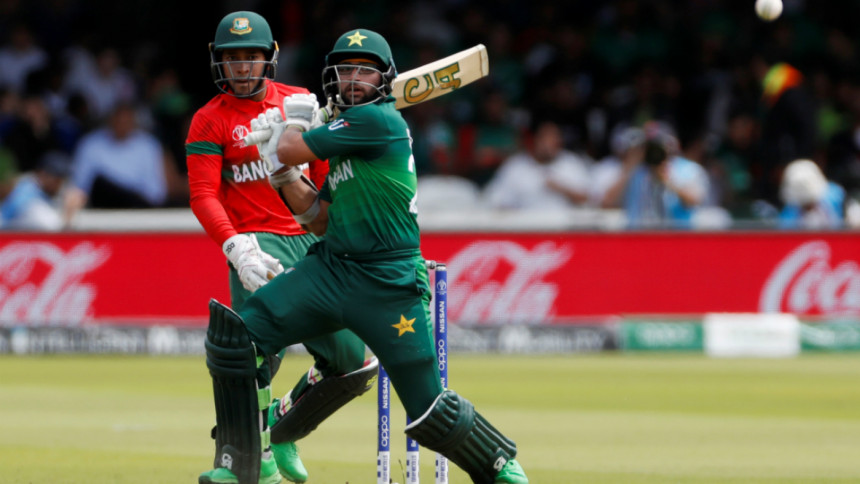 41.3, Pak 245/2 - Opener Imam-ul-Haq notched his seventh ODI hundred as Pakistan are marching towards a big total against the Tigers. The left-hander starred in a fantastic 157-run stand for the second-wicket with Babar Azam who fell for 96. Imam drove Mustafizur Rahman down the ground for a single to bring up his hundred.
35.3, Pak 202/2 - Hafeez brings up Pakistan's 200 Mohammad Hafeez goes down the track and smashes a boundary over the cover off Mashrafe Bin Mortaza delivery. Two hundred comes up for Pakistan.
Saifuddin removes Babar for 96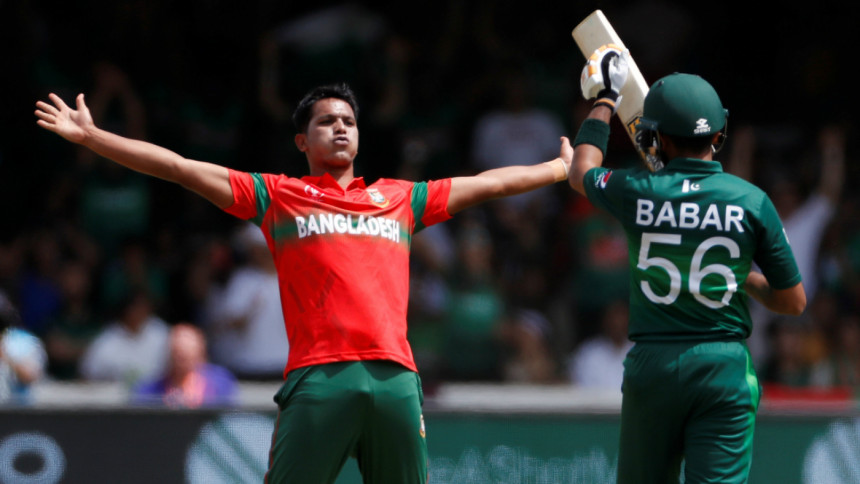 [Wicket] 31.6, Pak 180/2: Babar Azam lbw b Mohammad Saifuddin 96 (98b 11x4 0x6) SR: 97.95
A yorker from Saifuddin that hits Babar on the toe. Given out and Babar goes for review and it showed the ball would go onto hit leg stumps. The decision stays and Babar has to go after scoring 97. He misses out on his ton.
31.4, Pak 176/1
Babar Azam smashes a boundary off Mohammad Saifuddin delivery to bring up a 150-run stand between him and Imam.
26.4, Pak 135/1 Imam-ul-Haq goes for a drive but gets an edge and that goes past the keeper. He takes three runs and brings up his fifty.  
26.5, Pak136/1: Babar dropped again. A length ball from Mosaddek Hossain that turns slightly. He gets an edge but Mushfiqur Rahim reacts late. Another missed chance. Babar gets another life. This could be very very costly.  
25.6, Pak 123/1: Hundred-run stand between Babar and Imam. Imam-ul-Haq pulls a back of a length delivery from Mustafizur Rahman for a boundary. Hundred-run partnership comes up between Babar and Imam.
Babar dropped on 57 by Mosaddek
25.3, Pak 118/1: Babar Azam dropped on 57.
Babar Azam cuts a length ball outside off and the ball went at a decent speed to the fielder at point. Should have been taken but Mosaddek drops it. Babar survives.
Babar strikes fifty as Pakistan recover after early wicket
22.5, Pak107/1
Babar Azam backed away to punch a Mosaddek Hossain delivery through covers. Fifty comes for Babar with this magnificent boundary.
Babar, Imam look comfortable as Pakistan cross hundred
21.3, Pak 100/1
Babar Azam and Imam-ul-haq have setteled the nerves for Pakistan after an early loss in the innings. Both the batsmen are building a good partnership -- a much needed one -- after Pakistan had struggled earlier in the innings. The scoring rate also goes up.
15.1, Pak 73/1: Fifty-run stand between Babar and Imam.
Babar punches a Shakib Al Hasan delivery to long on to take a single. Fifty-run partership comes up between the duo.
End of over 15, Pak 72/1
After Mohammad Saifuddin removed Pakistan opener Fakhar Zaman early in the innings, Pakistan have been cautious. The two batsmen -- Babar Azam and Imam-ul-Haq -- have been dealing in singles mostly. Imam moves on to 25 off 28 balls while Babar has scored 29 off 31 deliveries after 15 overs. 
Imam-ul-Haq         25 (28b)

Babar Azam            29 (31b)
Mashrafe Mortaza   3-0-19-0

Shakib Al Hasan      1-0-11-0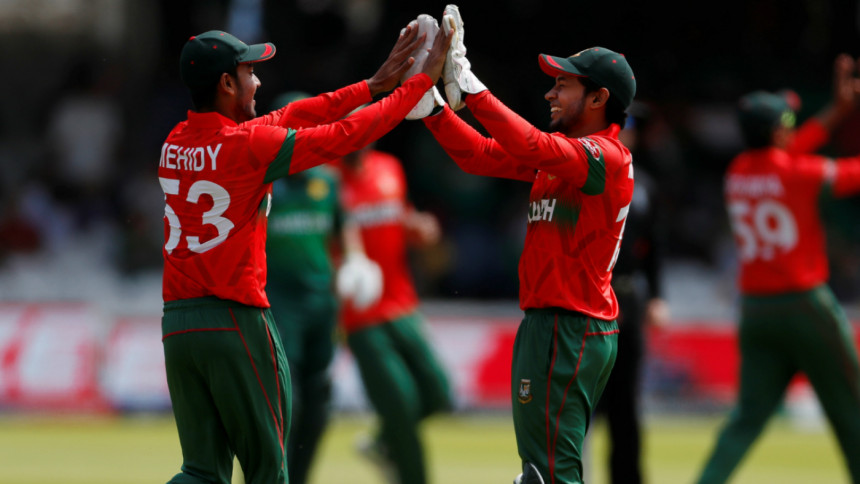 Jittery start for Pakistan as Saifuddin strikes for Tigers
7.2, Pak 23/1: Fakhar Zaman c Mehidy Hasan Miraz b Mohammad Saifuddin 13 (31b 1x4 0x6) SR: 41.93 Fakhar looks to slay it towards point and Mehedi takes an easy catch. Ball was moving at speed but no problem there as Pakistan lose their first wicket. Toe end of the bat too as he played that shot.
It has been a jittery start for Pakistan after they won the toss and elected to bat -- their only plausible choice in this game -- against Bangladesh at Lord's. Mehedi Miraz opened proceedings for the Tigers and Pakistan openers had to watch out their shot-making. Fakhar Zaman skied one that fell in no man's land while Imam-ul-Haq survived a run-out scare when Mehedi missed the stumps by inches with his throw. 
Pakistan have won the toss and will bat first in the World Cup match against Bangladesh at Lord's.
Captain Mashrafe Bin Mortaza is set to play his last World Cup match and he said that he would have liked to have batted first. Two changes in the Bangladesh lineup as Mahmudullah Riyad comes back in to replace Sabbir Rahman and spinner Mehedi Miraz replaces Rubel Hossain. Pakistan go in with an unchanged lineup.
Having nursed a hamstring injury throughout the World Cup and not taking part in practice yesterday, there were questions over whether Mashrafe would play today's dead-rubber match -- which would be his last World Cup game. Putting an end to speculations, he arrived at the toss sporting Bangladesh's red jersey. Mushfiqur Rahim have also recovered from his elbow injury and will play in Bangladesh's last match at this World Cup.
Big toss to win far Pakistan captain Sarfaraz Ahmed. Losing the toss would definitely have put them out of the World Cup even before the match had ended. Pakistan need a 316-run victory to have a shot at playing in the semis -- a very improbable prospect indeed.
Squads:
Bangladesh XI: Tamim Iqbal, Soumya Sarkar, Shakib Al Hasan, Mushfiqur Rahim (wk), Liton Das, Mahmudullah, Mosaddek Hossain, Mehidy Hasan Miraz, Mohammad Saifuddin. Mashrafe Mortaza (captain), Mustafizur Rahman
Pakistan XI: Imam-ul-Haq, Fakhar Zaman, Babar Azam, Mohammad Hafeez, Haris Sohail, Sarfaraz Ahmed (capt & wk), Imad Wasim, Shadab Khan, Mohammad Amir, Wahab Riaz, Shaheen Afridi
More to follow...