Sabbir's century
There was a lot of hue and cry about getting Sabbir Rahman back into the Bangladesh team -- his six-month disciplinary ban for threatening a fan on social media was cut short by a month to enable him to go on the tour of New Zealand in February, presumably to get him primed for the World Cup. He justified the investment of faith with a ton in the third ODI, but yesterday Sabbir was involved in a ton altogether more unsavoury.
Sabbir is one of the best fielders in the Bangladesh side and, in his first match of the World Cup, his first act changed the complexion of the match against Australia. Off the last ball of the fifth over delivered by skipper Mashrafe Bin Mortaza -- the man who made a case for reducing the ban -- Sabbir robbed David Warner low to his right at point. Warner was then on 10 and went on to score 162, with Sabbir's miss costing Bangladesh 152 runs as Australia piled on 381 for five. In the 26th over with Warner on 72, Sabbir had a chance to run the opener out from mid on, but failed to gather the ball cleanly and then followed up with a wayward throw -- all in all, not a return to remember.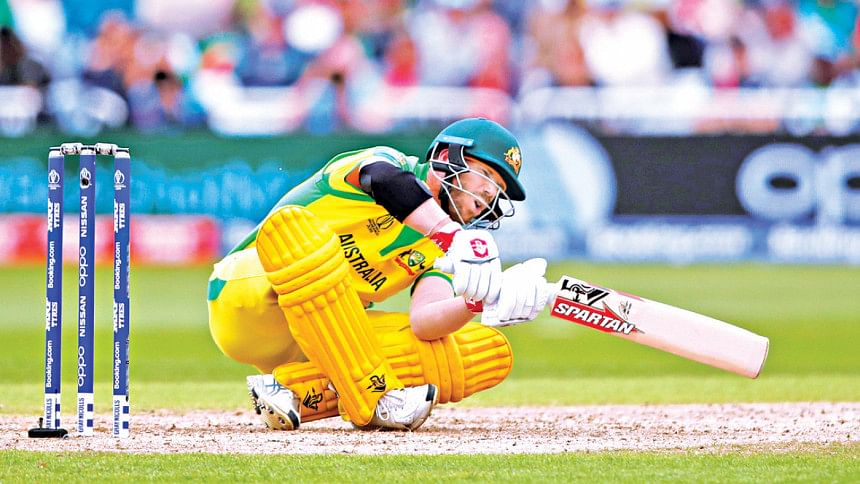 Rubel's moment
The other return to the Bangladesh team was Rubel Hossain's in place of the injured Mohammad Saifuddin, after much hand-wringing on social media about his non-inclusion -- the general gist being that Bangladesh could use an out-and-out quickie. Although Rubel conceded 83 runs in nine overs, he did have one moment to justify his fans' claims.
In the 19th over, Warner went to pull Rubel to fine leg, but the skiddy bowler beat the bat and hit Warner on the thigh pad, knocking him off balance and flooring the eventual centurion -- at least Rubel produced a picture to remember.
Soumya's golden arm
With Mosaddek Hossain injured, Soumya Sarkar's medium pace was Mashrafe's option to perform the sixth bowler's job. He got rid of Aaron Finch with a ball that reared from a length in the 21st over, ending a 121-run opening stand. It was again Soumya who broke another huge partnership, the 192-run second-wicket stand between Warner and Usman Khawaja, but Warner had much to do with it. Soumya bowled the gentlest of bouncers, and it was perhaps the time to think about it that enabled Warner to try and reach a ball well above his head to play a ramp shot. The ball carried only to short third man, and Warner departed shaking his head.