A pulsating match, with a generous helping of drama ladled on at the end, saw New Zealand emerge eventual victors by two wickets over Bangladesh in their World Cup encounter at The Oval on Wednesday.
Bangladesh underperformed with the bat and were bowled out for 244 in 49.2 overs after being asked to bat first. The game seemed to be headed for a tame conclusion when Ross Taylor and Kane Williamson -- with a 105-run third-wicket stand -- had taken them to 160 for two in the 32nd over. Mehedi Hasan Miraz then had a double-wicket over, claiming skipper Williamson and Jimmy Neesham, and then New Zealand needlessly panicked after Ross Taylor tickled one down leg side off Mosaddek Hossain to leave the score on 191 for five.
Wicketkeeper Mushfiqur Rahim, who schoolboyishly fumbled a possible run out of Williamson when the third-wicket partnership was just six runs old, then took a fine, leaping catch to send back Colin de Grandhomme off the bowling of Mohammad Saifuddin in the 43rd over. In the next over, Jimmy Neesham needlessly holed out to long off to leave the Kiwis on a shaky 218 for seven. Saifuddin then bowled Matt Henry off a full toss in the 47th over but the Kiwis, just seven runs adrift then, managed to scrape across the line with 17 balls to spare.
Earlier, New Zealand turned in a stellar display on the field to bundle out Bangladesh for 244 in their World Cup match at The Oval. The Kiwis were aided by some tentative and timid batting from Bangladesh's batsmen, many of whom relapsed into old bad habits as they stuttered to what seemed like a total just below par on an easy-paced wicket.
In a generally excellent bowling and fielding display Matt Henry stood out with figures of four for 47 from 9.2 overs, including the last one of Mohammad Saifuddin -- bowled by a yorker -- as Bangladesh left four balls unused.  
There were many starts from Bangladesh's top six, but no one apart from Shakib Al Hasan scored a fifty. Shakib's 68-ball 64 had raised hopes of a total nearer to 300, but just when he had the Kiwi bowling by the scruff of the neck, he departed trying to cut medium pacer Colin de Grandhomme in the 31st over and being caught behind. In leaving after having done the hard work, he was sticking to a pattern seen throughout the innings, an old failing that Bangladesh had managed to avoid over the last month and in their first match against South Africa, which the Tigers won by 21 runs on Sunday.
Soumya Sarkar got off to another start with a 25-ball 25, and it seemed that Bangladesh would see out the early period under cloudy skies but the left-hander swiped across the line, even though he was hitting the ball well enough straight while hitting three boundaries, to lose his furniture to Matt Henry in the ninth over.
Tamim Iqbal followed next in the 14th over for a 38-ball 24. In his role of batting deep into the innings, sedate starts are nothing new for Bangladesh's highest run-scorer, but the experienced campaigner was worked over by Kiwi speedster Lockie Ferguson. The right-arm pacer bowled two bouncers -- the first one a wide down the leg side -- that Tamim ducked under, but responded to the third successive bouncer by trying to hook when out of position and, hurried by pace, was caught off the top edge by mid on.
Mushfiqur and Shakib Al Hasan started slowly as the Kiwis kept bowling in good areas, denying the two players any width. Shakib however, manufactured runs in his own way after scoring just 18 runs off his first 36 deliveries, Shakib hit Jimmy Neesham for three successive boundaries -- one searing pull in front of square and two slashed drives behind point -- to break the shackles. But, just after bringing up the 50-run stand, the momentum was immediately surrendered when he responded to a call for a quick single from Mushfiqur in the next over and then changed his mind, and Mushfiqur was caught well short of his ground while trying to get back.
Shakib was the only batsman who proved capable of coping with New Zealand's discipline and excellence on the field, as he kept accelerating through well-placed singles and the odd boundary, bringing up his 44th ODI half-century off just 54 balls.
Mohammad Mithun impressed briefly, especially with an authoritatively pulled one-bounce four off Ferguson, but Shakib's dismissal and Mahmudullah Riyad's crawl eventually piled on too much pressure and the right-hander was out at exactly the wrong time -- in the 38th over with the score on 179 for four, top-edging a pull off Matt Henry.
Mahmudullah was then on 10 off 24 balls. New Zealand were particularly effective in mixing up the pace and denying the experienced batsman any opportunity to get into a pattern, and Mahmudullah's inability to get going was a factor in getting 56 runs in the last 9.2 overs for the loss of two wickets. He eventually succumbed to a release shot, getting caught at cover off Mitchell Santner for a woeful 41-ball 20 in the 43rd over.
Mosaddek was similarly slow in scoring 11 off 22 balls before holing out to long on off Trent Boult to leave the score at 224 for seven in the 47th over. Boult had Mehedi Hasan Miraz caught behind in his next over, before Henry got rid of Mashrafe Bin Mortaza and Mohammad Saifuddin in successive balls to tie the knot on a perfect bowling performance, where no one other than Neesham went for more than 5.03 runs an over.
[Wicket] 42.5, NZ 238/8: Saifuddin's full toss beats Henry and rattles timber.
[Wicket] 42.5, NZ 218/7: Mosaddek removes Neesham and the NZ tail is exposed. Bangladesh looking on top all of a sudden.
[Wicket] 42.5, NZ 218/6: Saifuddin bowls a peach and Mushfiqur takes a brilliant catch, removing De Grandhommme for 15.
[Wicket] 38.3, NZ 191/5: The drama quotient just picked up as Ross Taylor feathers and edge down the leg side off Mosaddek Hossain and this time, Murshfiqur Rahim makes no mistake. There may be some life in this match yet. Taylor c Mushfiqur Rahim b Mosaddek Hossain 82 (91b, 9x4).
[Wicket] 31.5, NZ 162/4: Like London buses, a long wait for a wicket suddenly brings about two, as Tom Latham holes out off Mehedi Hasan Miraz at sweeper cover to make it the second wicket in the over. Speaking of London buses, it remains to be seen if the second one is of any use. TWM Latham c Mohammad Saifuddin b Mehedi Hasan Miraz 0 (4b)
Wicket] 31.1, NZ 160/3: Williamson looks to get to the pitch of the delivery and flicks Mehedi but has no control over the shot. Ball sails to deep mid-wicket and Mosaddek takes a comfortable catch. KS Williamson c Mosaddek Hossain b Mehedi Hasan Miraz 40 (72b 1x4 0x6) SR: 55.55 
29.2, NZ 157/2: Taylor hits Mehedi through the covers to bring up the century stand between him and Williamson. New Zealand are looking strong in chase and have not provided any chances after Williamson had a run-out scare.
Williamson survives run-out scare
11.2, NZ 61/2: Have they got Williamson here? Everyone thinks it's out. It would have been a direct hit from Tamim but Mushy got his hands in front of the stumps to collect the ball. He nudges the bails off before collecting the ball. Big opportunity missed. Williamson did not expect the throw to come in at his end after the slight miscommunication. Has Mushy uprooted the stumps, the Kiwi captain would be gone. He was way out of his crease.
Shakib strikes again as Kiwis lose their second
[Wicket] 9.6, NZ 55/2: Shakib bamboozles Munro with a flighted one. Munro plays it just slightly early, trying to work it to the onside. The ball is dipping as Mehedi Miraz leaps forward and takes a fantastic catch at mid-on. Shakib is being the main man with the ball after a team-high 65 with the bat earlier. C Munro c Mehedi Hasan Miraz b Shakib Al Hasan 24 (34b 3x4 1x6) SR: 70.58
Shakib removes Guptill first ball
[Wicket] 5.1, NZ 35/1: Guptill was looking very comfortable and taking on the Tigers' bowlers with ease. Shakib Al Hasan came in for his very first over and Guptill looks to play it over cover. Beaten by flight and drags it onto long-on and Tamim takes the catch. Shakib gives Bangladesh a big wicket. Guptill c Tamim Iqbal b Shakib Al Hasan 25 (14b 3x4 1x6) SR: 178.57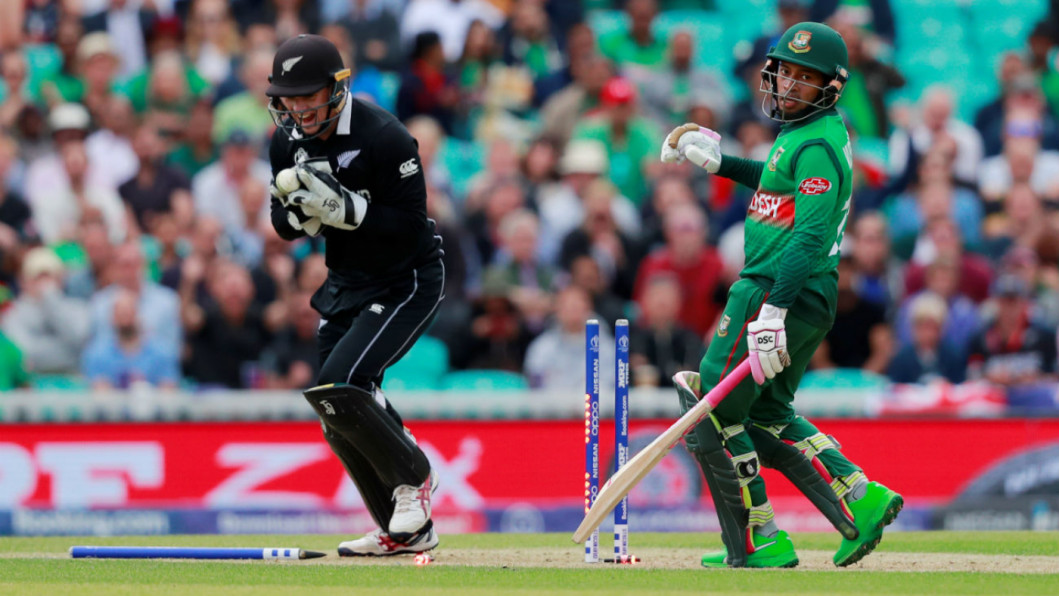 Bangladesh bowled out for 244
Bangladesh managed only 244 against New Zealand in their second World Cup match after the Kiwis won the toss and elected to bowl first at the Kennigton Oval. It was a bright start for Bangladesh when Soumya Sarkar and Tamim Iqbal started with authority. Soumya raced to a run-a-ball 25 before he was removed by Matt Henry. Tamim fell soon after, not being able to get in complete control of his pull shot. Shakib Al Hasan and Mushfiqur Rahim consolidated but the latter fell after a misunderstanding while running between the wickets. That turned the match in New Zealand's favour and even as Shakib Al Hasan grabbed control with a fluent 65, after he departed, Bangladesh innings lost momentum. Some lusty hits from Saifuddin at the end allowed them to reach 244 all-out.
Bangladesh 244 all out in 49.2 overs, FOWs: 1-45 (Soumya Sarkar, 8.3 ov), 2-60 (Tamim Iqbal, 13.2 ov), 3-110 (Mushfiqur Rahim, 23.5 ov), 4-151 (Shakib Al Hasan, 30.2 ov), 5-179 (Mohammad Mithun, 37.1 ov), 6-197 (Mahmudullah, 42.3 ov), 7-224 (Mosaddek Hossain, 46.2 ov), 8-235 (Mehidy Hasan Miraz, 48.2 ov), 9-244 (Mashrafe Mortaza, 49.1 ov), 10-244 (Mohammad Saifuddin, 49.2 ov) 
[Wicket] 49.2, Ban 244/10: Saifuddin played well for his 29. In the last over of the innings he looks to slog Matt Henry out of the park. He misses, Henry hits. Bangladesh are all-out. Mohammad Saifuddin b Henry 29 (23b 3x4 1x6) SR: 126.08
Mashrafe falls
[Wicket] 49.1, Ban 244/9: Mashrafe looks to slash hard and connects but ball goes to Boult at third-man. Tigers lose their ninth.
Miraz falls looking to go big
[Wicket] 48.2, Ban 235/8: Mehedi Miraz charges and Boult drops it short. Mehedi fails to connect properly but manages a faint nick that goes through to the wicket-keeper. Mehidy Hasan Miraz c †Latham b Boult 8 (9b 0x4 0x6) SR: 88.88
Tigers seven down
[Wicket] 46.2, Ban 224/7: Mosaddek Hossain looks to go big, hoping to make some quick runs towards the end but does not time it . Boult gets the wicket. Mosaddek Hossain c Guptill b Boult 11 (22b 0x4 0x6) SR: 50.00
Tigers in trouble as Mahmudullah departs
[Wicket] 42.3, Ban 197/6: Bangladesh have lost their sixth wicket. Riyad played slow for his 20 but he looked to get set but Santner tosses one up, varying the length of the delivery beautifully. Mahmudullah looks to play it away from the fielder but does not get to the pitch of the delivery. He plays it straight to man at cover. Bangladesh's hopes of getting a big total here looks bleak. Mahmudullah c Williamson b Santner 20 (41b 0x4 0x6) SR: 48.78
Tigers 179/5 after Mithun's departure
[Wicket] 37.1, Ban 179 for 5: Mohammad Mithun was looking solid and raising hope together with Mahmudullah that Bangladesh could get to a big total but he loses his cool and fails to keep control of his pull shot. Mohammad Mithun c de Grandhomme b Henry 26 (33b 3x4 0x6) SR: 78.78
Shakib departs after scoring 65
[Wicket] 30.2, Ban151/4: After raising hopes of a big score with his second consecutive half-century of the World Cup, Shakib Al Hasan goes for a cut off Colin de Grandhomme and is caught behind off an edge. Shakib c Latham b de Grandhomme 64 (66b, 7x4). 
Shakib hits fifty after Mushy's departure
27.3: Shakib Al Hasan brings up his second consecutive half-century, and 44th oh his career, by cutting Mitchell Santner for three runs. Shakib has brought up his fifty off 54 balls after at one stage having scored 18 off 36 balls. He is leading Bangladesh's acceleration. 
Mushy runs himself out
[Wicket] 23.5: Ban 110/3 -- After Shakib dragged some of the initiative back with three successive boundaries in the previous over off Neesham, Bangladesh have chucked it back New Zealand's way with a needless run out that claimed Mushfiqur's wicket after the duo had just brought up a 50-run stand for the third wicket. Mushfiqur pushed Mitchell Santner towards cover and set off for a run, Shakib responded at first but changed his mind, which was what proved fatal. Mushfiqur Rahim run out 19 (35b, 2x4) 
End of over 20:Bangladesh 82 for 2 after 20 overs; Shakib Al Hasan 18* (36b, 1x4), Mushfiqur Rahim 11* (21b, 1x4) 
Bangladesh have gotten a respite from the high pace of Lockie Ferguson, who was given a breather after a four-over spell that cost just seven runs and extracted the wicket of Tamim Iqbal. Shakib ends the 20th over by pulling a short-of-length delivery from Jimmy Neesham that perfectly bisected the gap between deep square leg and fine leg on its way past the ropes. 
Tamim departs after Soumya
[Wicket] 13.2, Ban 60/2 Tamim Iqbal c Boult b Ferguson 24 (38b 3x4 0x6) SR: 63.15
After a pretty decent start, Bangladesh have lost their second wicket here and it's Tamim Iqbal the man who follows Soumya Sarkar to the dressing room. Tamim got anxious with Kiwis managing to contain the scoring rate. Tamim tries to get under a short delivery from Lockie Ferguson but manages to sky it. Boult takes a simple catch at mid-wicket.
End of over 10, Ban 49/1
Shakib Al Hasan 4 (7b)

Tamim Iqbal 20 (28b)
Trent Boult 5-0-22-0

Matt Henry 5-0-27-1
Soumya falls after bright start
[Wicket] 8.3, Ban 45/1 Soumya Sarkar b Henry 25 (25b 3x4 0x6) SR: 100.00
Soumya played some brilliant shots during his run-a-ball 25 but here he looses his cool and tries to play across the line to Matt Henry. Ball goes through the big gap between bat and pad and castles Soumya. Tigers lose their first wicket.
Shakib Al Hasan is the new batsman at the crease.
Tigers start well with Tamim and Soumya
Bangladesh have started well after New Zealand won the toss and sent them in to bat first at the Kennigton Oval in London. 
The pitch is a fresh one and in overcast conditions Tamim Iqbal and Soumya Sarkar have negated the early movement quite well. Bangladesh reached 36 for no loss in seven overs.
End of over 7, Ban 36/0
Soumya Sarkar 22 (20b)

Tamim Iqbal 14 (22b)
Matt Henry 4-0-25-0

Trent Boult 3-0-11-0
Toss
New Zealand have won the toss and elected to bowl first in their second game in the World Cup against Bangladesh at the Kennington Oval in London today. 
Bangladesh will be taking the field today with the same squad that had played in the first game against South Africa, informed skipper Mashrafe Bin Mortaza after the toss.
The Tigers will be oozing in confidence today after their magnificent 21-run victory over South Africa in their World Cup opener on June 2.
Playing XIs:
Bangladesh: Tamim Iqbal, Soumya Sarkar, Shakib Al Hasan, Mushfiqur Rahim (wk), Mohammad Mithun, Mahmudullah, Mosaddek Hossain, Mohammad Saifuddin, Mehedi Hasan, Mashrafe Mortaza (c), Mustafizur Rahman
New Zealand: Martin Guptill, Colin Munro, Kane Williamson (capt), Ross Taylor, Tom Latham (wk), James Neesham, Colin de Grandhomme, Mitchell Santner, Matt Henry, Lockie Ferguson, Trent Boult