Bangladesh have defeated Afghanistan by 62 runs as Mohammad Saifuddin picked up the last wicket, bowling out Mujeeb Ur Rahman. 
With this victory, Bangladesh have picked up their third win at this World Cup and the win has lifted them to fifth in the standings with a haul of seven points. Shakib Al Hasan was the hero of the match for the Tigers once again. The all-rounder was instrumental in pulling Bangladesh out of a tight situation with his 51-run knock with the bat -- an innings which saw him regain the top spot amongst the top run-getters' list in this World Cup. Bangladesh posted 262 runs on the board with Mushfiqur Rahim's brilliant 83-run innings in what was a very difficult wicket to bat on.
Afghanistan started well in chase but Shakib got them back in track with the wicket of Rahmat Shah. The ace all-rounder proceeded to bag four more wickets, notching the best bowling figure at this World Cup with five wickets to his name in 10 overs and only 29 runs conceeded. Mustafizur Rahman bagged two wickets at the death to deny a late charge by Samiullah Shinwari, who remained unbeaten on 49 runs as Bangladesh clinched victory at Southampton. With this win, Bangladesh are still alive in the tournament to make it to the semis. India and Pakistan are next on the agenda for Mashrafe's men.
Afghanistan all-out for 200
[Wicket] 46.6, AFG 200 all out: Mujeeb Ur Rahman b Mohammad Saifuddin 0 (7m 4b 0x4 0x6) SR: 0.00
Mohammad Saifuddin hits as Mujeeb misses and the batsman is castled. Afghanistan are all out for 200 runs.
Afghanistan nine down after Fizz strikes
[Wicket] 45.4, AFG 195/9: Dawlat Zadran c †Mushfiqur Rahim b Mustafizur Rahman 0 (8b 0x4 0x6) SR: 0.00
Mustafizur strikes again. Zadran edges a length delivery through to the wicket-keeper. 
[WICKET] 43.3, AFG 191/8: Rashid Khan c Mashrafe Mortaza b Mustafizur Rahman 2 (3b 0x4 0x6) SR: 66.66
Short of a length on off stump. Gets back for the pull and it's got onto Rashid too quickly. Feeble chip out to Mashrafe. Mostafizur gets his first of the day.
Shakib bags his fifth
[WICKET] 42.4, AFG 188/7: Shakib Al Hasan, yet again. Arm ball, at a length outside off. It floated away. Najib ran down the pitch...and eventually right past the ball. No chance of coming back after missing on this attempted slog.

Shakib Al Hasan is the first Bangladeshi player to get a fifer in a World Cup match.
Najibullah Zadran st †Mushfiqur Rahim b Shakib Al Hasan 23 (23b 2x4 0x6) SR: 100.00
Liton catches Ikram out of crease with electric fielding effort
[Wicket] 35.1, AFG 132/6: Samiullah Shinwari tries to work it to the onside and Liton gets to it quickly. The non-strikes Ikram has gone some steps forward and Liton picks it up and throws magnificently. Umpire asks for a review and the batsman is short of his crease. Liton's throw got to the wickets while Ikram was caught short, almost unaware of the quickness with which Liton's electric effort. Afghanistan lose their sixth.
Shakib removes Afghan
[Wicket] 32.2, AFG- 117/5: Asghar Afghan c sub (Sabbir Rahman) b Shakib Al Hasan 20 (38b 1x4 0x6) SR: 52.63
Shakib Al Hasan is doing it all by himself. This time he gets Asghar Afghan caught at deep midwicket. No mistake from the substitute fielder Sabbir Rahman. This is Shakib's fourth wicket and he still has three overs left. Good luck to Afghanistan tailenders!  
Shakib strikes twice in one over
Shakib's figures after 5 overs? Six runs and three wickets. Two very vital wickets now for Bangladesh in the same over.
[Wicket] 28.3, Afg 104/4: Shakib again and he has done the trick removing arguably Afghanistan's best batsman Mohammad Nabi. An arm ball and in goes through the gap between bat and pad. Clean bowled.
[Wicket] 28.1, Afg 104/3: Shakib Al Hasan has picked up another wicket and this time it's Gulbadin, the Afghanistan captain and the set batsman at the crease. Liton Das at short cover takes a catch which by all appearance was pretty similar to how he was picked up during the Bangladesh innings.
Injury update: Mahmudullah has suffered a calf injury. Sabbir fielding in his place. Riyad will take no further part in this game. Announced by the scorer. BCB sources say it's a calf strain.
Mosaddek removes Shahidi, AFG 79 for Two
[Wicket] 20.5, AFG- 79/2: Hashmatullah Shahidi st †Mushfiqur Rahim b Mosaddek Hossain 11 (31b 0x4 0x6) SR: 35.48
A gem of a delivery from Mosaddek Hossain. Lures the batsman to play a shot but turns and beats Hashmatullah Shahidi who took a long stride in an attempt to play it. Ball goes to keeper and Mushfiqur Rahim does the rest.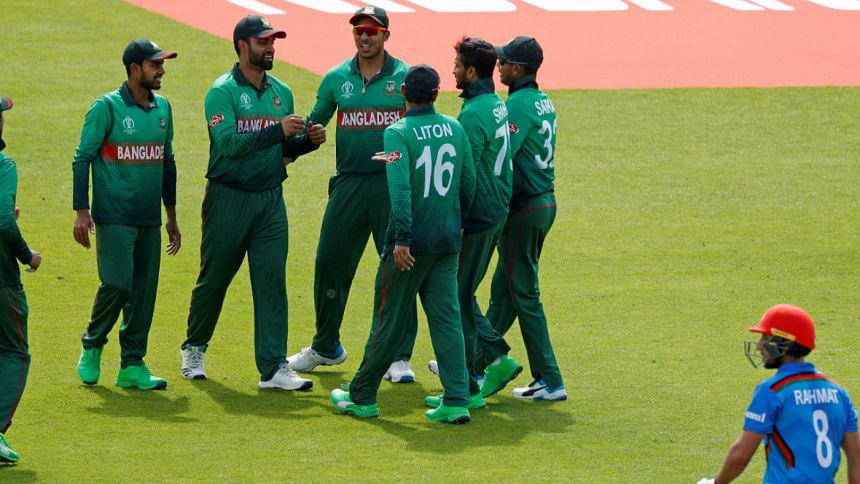 Shakib gives Bangladesh breakthrough
[Wicket] 10.5, AFG-49/1: Rahmat Shah c Tamim Iqbal b Shakib Al Hasan 24 (35b 3x4 0x6) SR: 68.57
A length delivery from Shakib Al Hasan that skids on and Rahmat Shah tries to play it over the mid on but only manages to find the fielder. Shakib gives Bangladesh a crucial breakthrough.
Steady start for Afghanistan
End of over 5, AFG- 21/0
Captain Gulbadin Naib promoted himself up the order as Afghanistan get a solid start in chase of a challenging 262 for seven at The Rose Bowl in Southampton today. 
Rahmat Shah                9 (16b)

Gulbadin Naib              3 (14b)
Mashrafe Mortaza        3-0-11-0

Mustafizur Rahman      2-1-4-0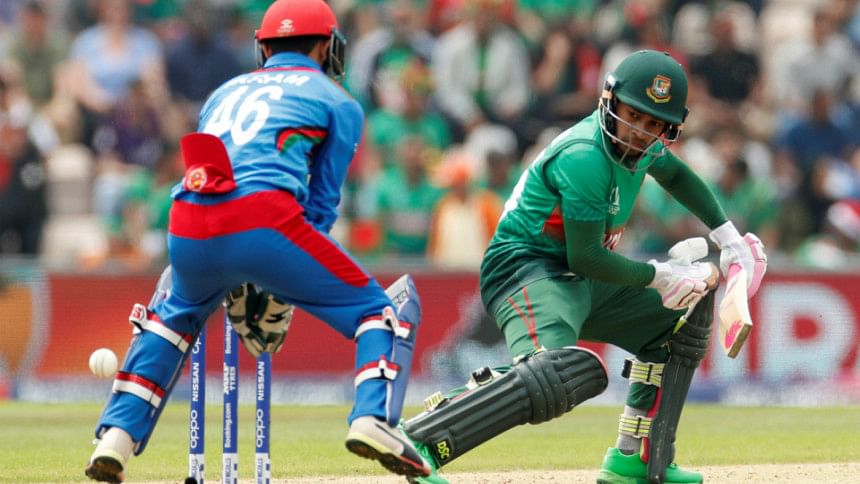 Bangladesh post challenging 262 for seven
Bangladesh posted a challenging 262 for seven in their must-win game against Afghanistan at The Rose Bowl in Southampton today.
After Shakib Al Hasan's 51 off 69 balls and a valiant 83 off 87 deliveries from Mushfiqur Rahim, it was a quick-fire 24-ball 35 from Mosaddek Hossain that ensured the Tigers get to a challenging total. Mosaddek had laced his innings with four boundaries and although he did not hit any maximums, the right-hander batted with a strike rate of 145.83. 
The Tigers will probably be happy with their batting effort given the nature of the pitch and the variation in Afghanistan's spin department. Tigers scored 120 off 19 overs of pace while the 31 overs of spin brought 142 runs. Key spinner Rashid Khan went wicketless while Mujeeb Ur Rahman bagged three wickets for just 39 runs.   
[Wicket] 49.6, Ban 262/7: Mosaddek Hossain b Gulbadin Naib 35 (24b 4x4 0x6) SR: 145.83
Mosaddek Hossain tries to play a slower yorker from Gulbadin Naib but it gets an edge of his bat and rolls onto the stumps. That's the end of Mosaddek's innings and also Bangladesh's. The Tigers post a challenging 262 for seven. 
48.3, Ban 251/6: Mushfiqur Rahim c Mohammad Nabi b Dawlat Zadran 83 (87b 4x4 1x6) SR: 95.40
Mushfiqur Rahim skies one up. Taken at extra cover by Mohammad Nabi. A brilliant innings of 83 runs comes to an end.
Riyad departs after fifty stand with Mushy
45.2, Ban-222/5: Mosaddek Hossain gets a leading edge as he tries to flick a Rashid Khan delivery. However, Gulbadin Naib who was standing at cover was slow to react and misses an opportunity of dismissing Mosaddek. 
[Wicket] 42.6, Ban 207/5: Riyad falls! Tried to hit Gulbadin over mid-on but is holed out. Bangladesh lose their fifth wicket. Big wicket for Afghanistan.
41.4, Ban 201/4: Riyad hits Nabi towards cover and run two following a misfield. That's the fifty partnership for Riyad and Mushfiqur as Bangladesh enter the death overs having crossed the 200-run mark and with four wickets down.
36.2, Ban 170/4: Mushfiqur Rahim hits Dawlat Zadran for six over long on to bring up his fifty. It's a big boundary but Mushy went for it. Two fours and six in Mushfiqur's innings.
33.5, Ban-156/4: Mahmudullah Riyad gets a cramp
A brief break in proceedings after Mahmudullah hobbled to complete a run in the penultimate delivery of the 34th over. He recieved treatment on the field by the physio. The physio is seen to put on medical wrap around Mahmudullah's calf. Seems like a cramp but Mahmudullah continues.
Soumya departs, Tigers lose their fourth
31.6, Ban-151/4: Soumya Sarkar lbw b Mujeeb Ur Rahman 3 (10b 0x4 0x6) SR: 30.00
Soumya Sarkar tries to flick a Mujeeb ur Rahman delivery but the ball skids and hits his pads. Given out but Sarkar takes the review. The ball seems to be just hitting the leg stump and that's the end of Soumya. Ultra-Edge had in fact not been used in that review. Strage scenario and another controversial decision perhaps. It is the same type of delivery that got Shakib Al Hasan. Bangladesh in need of a partnership now.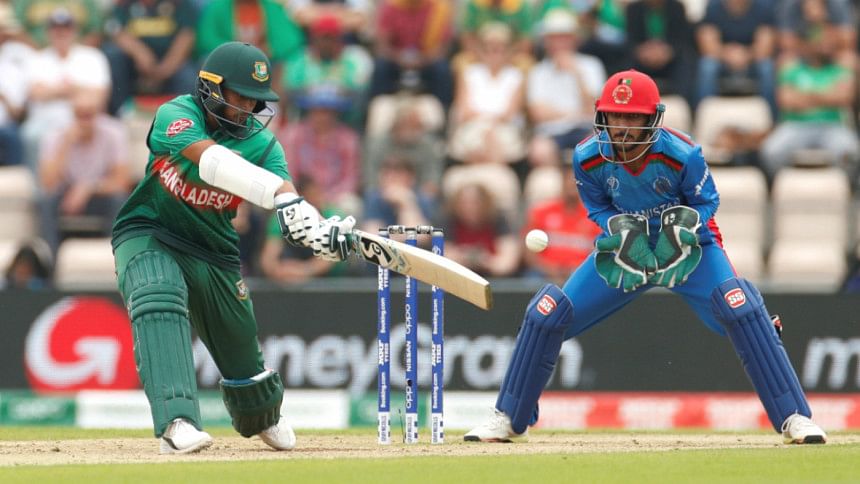 Shakib falls to Mujeeb after scoring 51
30.4, Ban- 145/3: Soumya Sarkar survives a run-out scare.
Sarkar runs after hitting a Gulbadin Naib delivery that goes direct to the hands of the fielder at mid on. The fielder gets a direct hit and it goes to third umpire. Soumya survives this as he is just in. It was close. 
[Wicket] 29.2, Ban- 143/3: Shakib Al Hasan lbw b Mujeeb Ur Rahman 51 (69b 1x4 0x6) SR: 73.91 
Mujeeb ur Rahman gets Shakib Al Hasan trapped infront. A length ball that came inside to the left-hander and hits him on the pads. Shabid does not review it as he walks off after scoring 51.   
Shakib hits fifty after fifty-run stand with Mushy
27.5, Ban- 138/2
Shakib Al Hasan takes a single off Mohammad Nabi's ball to bring up his fifty off 66 deliveries. The allrounder has been in superb form in this World Cup This is his third fifty in the mega event.  
Shakib, Mushy in fifty-run stand 
24.6, Ban- 132/2
Mushfiqur Rahim flicks Gilbadin Naib delivery off his pad to take a single. That brings up the fifty-run third-wicket stand between Shakib and Mushfiqur. 
20.6, Ban 103/2: Bangladesh's ace allrounder Shakib Al Hasan reaches another milestone with this single off Dawlat Zadran's ball. Shakib scores 1000 runs for Bangladesh in World Cups. 
Shakib survives close shave after Tamim's wicket
17.1, Ban 82/2: Bangladesh could have lost wickets off successive deliveries here. Rashid traps Shakib in front and it looked out. The umpire decides its out as well and Shakib asks for the review. The ball would have bounced over the stumps there. The umpire reverses his decision. Close shave for Shakib. He survives!
Tamim departs to Nabi
[Wicket] 16.6, Ban 82/2: Tamim Iqbal b Mohammad Nabi 36 (53b 4x4 0x6) SR: 67.92
Bangladesh have lost their second wicket as Tamim departs to Nabi in the 17th over. Flighted delivery and Tamim tries to rock back and hit it towards the offside. The drifter turns slightly and clips the off stump. Bangladesh lose an important wicket.
Tamim-Shakib in fifty partnership after Liton's departure
13.6, Ban 73/1: Tamim had charged Gulbadin in the first delivery of the over to whack him through mid on. On the last ball of the over he rocks back and pulls one through mid wicket to bring up the fifty partnership between him and Shakib.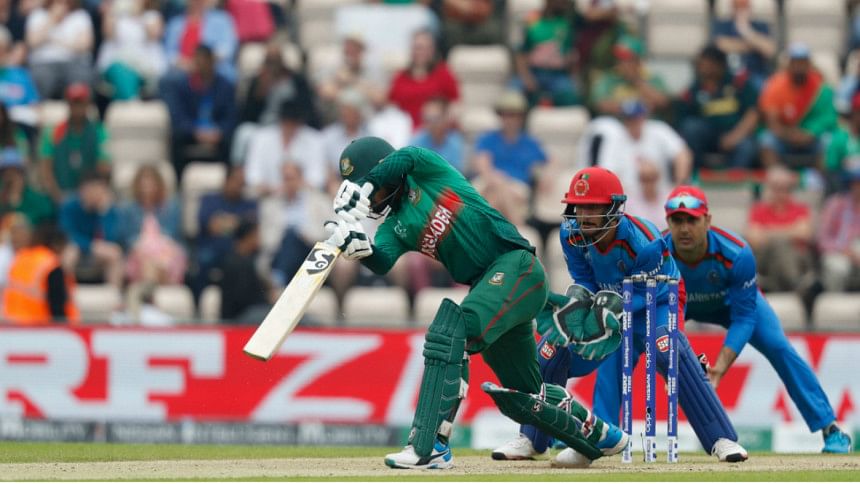 Liton departs early after debatable third-umpire call
[Wicket] 4.2, Ban- 23/1: Liton Das c Hashmatullah Shahidi b Mujeeb Ur Rahman 16 (17b 2x4 0x6) SR: 94.11
Liton Das goes for a cover drive on the off side. The ball was in the air and the fielder at cover takes a catch and initial decision is out. There remains a confusioun though. The fielder had to dive infront before taking the catch. On field umpires go to Aleem Dar -- the third umpire -- for a closer look. It seemed like that there were fingers underneath the ball but still looked pretty inconclusive and will likely a cause lot of debate. The ball appeared to bounce off something and it may or may not have been the fingers. The third umpire sticks with the initial decision of the onfield umpires as he did not find anything conclusive to overturn the decision and Liton has to walk off early. Big blow for the Tigers. 
Liton comes to open with Tamim
Bangladesh have sent in Liton Das to open the batting alongside Tamim Iqbal in the crucial match against Afghanistan today at Southampton. Liton played a fantastic knock against the West Indies and has been a regular opener for the Tigers while Tamim Iqbal was out injured during the recently concluded Asia Cup. Soumya Sarkar meanwhile will likely bat at no.4 or later down the order. The left-hand right-hand combination could have been a tactic that brought Liton back into the opening slot.
Afghanistan won the toss and chose to bowl first against Bangladesh in Southampton.
As for Bangladesh, two changes in their XI. Mosaddek Hossain and Mohammad Saifuddin are in for Rubel Hossain and Sabbir Rahman. Mashrafe Mortaza says he doesn't mind batting first because this is a used wicket, same pitch from the India v Afghanistan match.
Hazratullah Zazai and Aftab Alam have been left out for Afghanistan. Dawlat Zadran recalled and... Samiullah Shinwari to play his first match of the tournament. A blast from the past. We'll see if he has anything left in the tank after being one of Afghanistan's key allrounders from 2010-2016. Hazratullah being bumped out means Rahmat Shah will move up to open with Gulbadin. So both openers from the start of the tournament - Hazratullah and Mohammad Shahzad - are now out of the picture.
Playing XIs:
Afghanistan: Samiullah Shinwari, Gulbadin Naib (c), Rahmat Shah, Hashmatullah Shahidi, Asghar Afghan, Mohammad Nabi, Najibullah Zadran, Rashid Khan, Ikram Alikhil †, Dawlat Zadran, Mujeeb Ur Rahman
Bangladesh: Tamim Iqbal, Soumya Sarkar, Shakib Al Hasan, Mushfiqur Rahim †, Liton Das, Mahmudullah, Mosaddek Hossain, Mehidy Hasan, Mashrafe Mortaza (c),  Mohammad Saifuddin, Mustafizur Rahman
Early morning drizzle in Southampton as Bangladesh face Afghanistan. Toss delayed by 10 minutes. Now to be held at 3:10pm and play to start at 3:40pm if no further rain.
Afghanistan have already been eliminated from contention for the knockout stage but Bangladesh are still in the hunt for a semi-final berth. However, Afghanistan captain Gulbadin Naib let it be known at the pre-match press conference that if Afghanistan are drowning, they plan to take the Tigers down with them as the two teams renew their young albeit intense rivalry.
Afghanistan take the field today in one of the shortest turnarounds at the World Cup, less than 48 hours after taking India down to the wire in an 11-run loss at Southampton. Meanwhile, Bangladesh have had three days off to reflect on a valiant fight against Australia that included an unbeaten hundred from Mushfiqur Rahim.
More to follow....