Interview
The Quiet Warfazian

Hana Shams Ahmed
When Warfaze entered the music scene 25 years ago rock music was an entity of the West. Bands like Dire Straits, Guns n Roses, Metallica and Def Leppard had obsessive followings from the Dhakaite urban youth. Established in June 1984 Warfaze too started out by doing cover songs of popular rock bands from the West. But it was their Bangla numbers with strong lyrics criticising corrupt politics of that time that won them a huge fan following. In 1991 they released their first self-titled album which was such a massive hit that it is still being sold today. The second album 'Obak Bhalobasha' was released in 1994.
Five young musicians -- Komol, Helal, Mir, Naimul and Bappi were the founders of the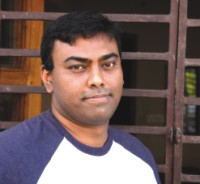 Babna
band. After Helal, Mir and Bappi left the band Babna joined on bass guitar, Sunjoy took up on vocals, Russel came on keyboards and second lead and Tipu joined on drums and percussion. Mehmud Zaglul Karim popularly known as Babna does not exactly fit the image of hard-core, head banging rock dude, but many of the songs in the first two albums were written by this soft-spoken musician cum mechanical engineer. With a slightly nasal voice Babna always preferred to do the soft numbers with the helpless romantic lyrics like 'Brishti Nemechey', 'Jokhon' and 'Obak Bhalobasha'.
The third album 'Jibondhara' was released in 1997. Babna had to leave the country before work of this third album was completed. Recently Babna came out with a new album with former Warfaze band members Romel and Russel. The line-up of the first album Babna, Russel, Romel, Sunjoy, together with Tipu, Kamal and other former members recently held a 25-year reunion concert at Sheraton.
You disappeared from the Bangladeshi music scene after Warfaze's second album. But we know that you stayed with music even when you went abroad. How did you stay involved with music after you went there?
After I left the country I was slightly busy with my studies. I was doing my Masters at Texas Tech University. After finishing my studies here from BUET I worked as a lecturer for a brief period from the department of Mechanical Engineering. Worked as a lecturer for one and a half years. After completing my Masters I started working in Houston. Now I'm working for Honeywell. Then I started looking for musicians to work with. It's very difficult to find Bangladeshi musicians there. There were a few there -- Popsi who used to be with Feedback before and Tutul who used to play the bass guitar. I tried to form a band in Houston with the two of them. The Indian community there is very strong so kids there either listened to English or Indian music. I tried to introduce Bangla music into the scene for about two years and then I decided to move on to something different. From around 2003 I decided to pursue something different. I picked up the Flamenco from there. It is starting to be very popular there. I have worked with Miguel Antonio over that. He was kind enough to give me some time. He's a maestro and plays a lot of things and lives in Dallas. We all used to meet up in a place called Woodlands. A lot of other students came there and Antonio used to teach us the Flamenco. I didn't really have a lot of time to spend on music. Then I got together with Romel and Russel and together we produced the album 'Shantir Bibornon'. I used Flamenco in some of the songs in this album. Now my plan is to do some work with Romel and Warfaze. Another one of my solo albums is also halfway done. But I want to see what the response to the first album is.
How old were you when you first started music? How did you start?
My aunts and uncles were all involved with music. They mostly did Rabindra Sangeet, Nazrul songs and adhunik. That's how I picked up music. So I don't really have a formal education in music. I learned it from my aunts and uncles. I always wanted to play the guitar. But I could never really go and ask my parents to get one for me. At that time such a culture did not exist. I felt hesitant to ask for something like that from my parents. This is when I was about to appear for my SSC examinations. After I went into college I became friends with a boy who owned a broken guitar. So I made a deal with him -- that I would treat him to Chinese if he would let me play the guitar. That was my first guitar. I learned all the chords from there. I started seriously exploring music in 1987 with Warfaze. Komol helped me a lot. He guided me on what kind of music I should listen to and basically what I am today is because of Komol. I did write the music and the lyrics but ultimately it had to be given a form. The form that ultimately came out was a result of the vision that came from Komol. Russel and Sunjoy at that time were still very young. Everyone was very involved but it was Komol's leadership that brought us together.
Warfaze is a purely hard rock band but the songs you sang were very mellow…
When I used to write the lyrics I used to write it keeping Sunjoy in mind -- what his voice is like and how he will be able to sing it. The songs that I wrote for myself were of course different. It's one thing to write a song and then look for an artiste who will sing it well. Another thing is to write a song tailor-made for a certain. That's what I did for our songs.
How has your style changed over the years?
I want to explore Flamenco more. I also have a plan to use local instruments like the Sitar and Sarod with Flamenco and take it to an experimental level. Maybe I will be able to produce something good from there. Unfortunately, I have not been able to give my full attention to it. If one chooses to work on a certain genre I think it takes at least five years to perfect it. Then you start to have a feel for that music. I have tried Flamenco before, but it just didn't work. I didn't have the feel for it. Now I have for the first time been able to implement it in a song. I will continue to do hard rock for Warfaze and Flamenco.
Do you follow the Bangladeshi music scene? How do you see the development of the music scene since you first started in Bangladesh?
I do follow the Bangladeshi music scene but I don't get the time to listen to all the albums that come out. I think we have to remain open to all kinds of music. All kinds of music should be encouraged. Listeners will pick the genre they prefer. Popular music has its place and experimental music has its place. I have the luxury of choosing because I don't do music for a living. But those who take up music as a profession might have to think about popularity.
So what do you think of music as a profession in our country?
There is an interesting aspect of music in our country. We do music as part of our culture. Parents usually hand us a harmonium at a very early age and we are introduced to music. This culture does not exist in the United States. Either they take it professionally or they don't do it at all. And professionally it is very competitive. I can't say whether either of them is better than the other. I think it's a matter of what kind of an environment one is in. I work as an engineer there and I have to be good at what I do. It's extremely competitive. I spend most of my time at my workplace. Then I do music for my own satisfaction. In our country taking up music as a profession is relatively new. There are more musicians on the scene now than ever before. Sound quality has also improved enormously. Good musicians are also relatively few. But it's improving all the time. I am personally very optimistic. In Dhaka I think we have experimenting quite early. Compared to all of South Asia I think Dhaka is doing quite well in terms of experimentation. Our market is very small. If we could tap into the Indian market or if we could increase the scope of our market then I think we would have done really well commercially. But I'm very hopeful.
What was the response to this reunion?
From Warfaze the response was tremendous. We've been together for so long that Tipu and Komol are like brothers to me. We have our differences but at the end of the day we know we have a connection forever. Shams, Roger and Oni were also happy to have us. We started Warfaze but Tipu is the one who held the band together. We also had very good response from the audience about the show, through sms and facebook. It's really humbling. When we were in the band we never really thought even in our dreams that people would listen to hard rock. We did it because we loved hard rock. We wanted to do something we would always remember.
There has been several line-up changes in the band. What do you think of the latest line-up?
There will always be challenges. I think they're doing well. Oni plays very well. Roger and Shams also play very well. We [the ex-member] are trying to get more involved with the band. But pop has a bigger audience than rock and roll, even in the United States. Most people don't listen to hard rock. So in that way, the challenges will always remain. Folk is more popular in our culture. Most people live in the villages and there folk is more acceptable to the masses. Hard rock will always be a specialty. Unless there's a big change, which I don't see happening any time in the near future.
Copyright (R) thedailystar.net 2008