Star Diary

Ambiguous Spellings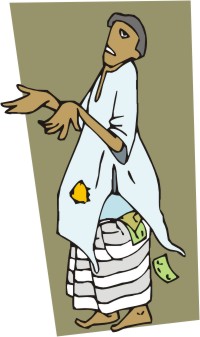 Last week, my family and I were returning from Cox's Bazaar by bus when we got stuck in a huge traffic jam in Chittagong. My younger sister was making an annoying noise with a few spoons when I asked her to practice writing some Bangla instead, since she is a little weak in Bangla spellings and we are always asking her to practice it whenever it is possible. She sat about drawing an apple, where she wrote underneath, "Apple shashther jonno bhalo" meaning "Apples are good for health." Almost immediately, I spotted the spelling mistake that she made - she missed out the 'jofola' from the words 'shashtho' and 'jonno'. As I showed her the mistakes that she made, she would not listen to me. Instead, she pointed to a cooking oil's advertising on a bill board where similar misspelled words were displayed. Since children tend to believe that printed words are usually correct, I could not make her understand that the billboard was misspelled as well. In fact, I noticed several billboards with misspelled words on our way back home. Everyday, we tend to overlook these minor mistakes, which can lead to a major negative effect on the future generation. I believe that learning and writing both Bangla and English spellings correctly should be given a great deal of importance everywhere. So, the people involved in writing on the billboards should be more cautious about their spellings.

Fariha Hasan
Sunnydale School
Dhaka
---
A Cheat



Awhile back, we were going to Panchbibi (Joypurhat) from Rajshahi to research on a project my friend and I were working on. At Joypurhat railway station, a man of nearly 50-55 years of age came to us, saying that he had come to Joypurhat from Nilphamary by train to meet his brother who worked there. However, without notifying him, his brother left the city for a while. The man also mentioned that he was not a beggar, but he did not have any money and needed money to buy food. He looked very innocent to me and so I gave him Tk 20 to buy some food. The happy man then blessed me by the name of Allah and left. To my friend, however, he seemed to be a cheat. We followed the man for a few minutes, after which we saw him sneaking behind a bus and bringing out a large wad of bills from his pocket! He was busy adding the money that I had given him to the bundle.
Shams Muhammad Galib
Department of Fisheries
University of Rajshahi
Rajshahi
---
Well
Behaved
Thievery


Last Thursday, my cousin was going to her hostel at around 9 pm. A profound silence settled in the atmosphere. Each and every noise was audible. She was walking along the road alone thinking about her upcoming exams. Just then two muggers appeared in front of her. One had a knife and the other was carrying a chain. Without even raising voices, one replied very mildly, "Apa, kindly give us your valuables." Out of fear, without uttering a single word she gave away her watch and the money she had in her handbag. He asked again very politely, "Ma'am, you have not yet handed over your mobile phone." She took her cell phone out of her purse and gave it to them. Before they left they gave her a tissue paper and remarked very softly, "Please use this to wipe your tears and take this Tk 20 note to inform your guardian that you have been robbed." They left without making any single noise. My cousin was standing on the road in complete silence for a long time. The robbery was done so skilfully that nobody around understood that a young girl had just been robbed right in front of their eyes.
Shifat Nazmee
Maple - Leaf International School
Dhaka

Copyright (R) thedailystar.net 2007