Cover Story
The World of Mesmerising Muppets
At a time when television programmes for children are at an all time low, Sisimpur, the Bangladeshi adaptation of the well known American show for children, Sesame Street, has been a breath of fresh air for youngsters all over Bangladesh. The show is fun, informative and even politically correct but all this is the result of a remarkable combination of research, talent and dedication.
Elita Karim
Photos: Zahedul I Khan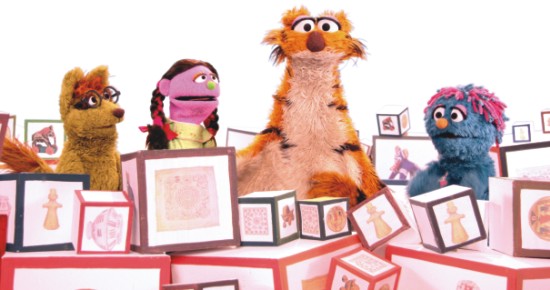 The four ambassador characters Shiku, Tuktuki, Halum and Ikri.
As we enter the 20-Mile Studio, I let my imagination run wild. I expected to see Halum and Tuktuki running about the place, playing games and talking to Goni Moira, the neighbourhood grocery man. Instead I saw a team of directors, puppeteers, producers and other officials trying to put the finishing touches on their new end title scene for the upcoming season. There they were -- Halum, Tuktuki, Shiku and Ikri. Placed behind a made up set, within the Sisimpur permanent set, there were colourful blocks with paintings of traditional motifs, alphabets and numbers. As I tried to understand the scene, I figured that the muppets were playing hide and seek! The rest of the three were looking for Halum, who was actually right behind them.
I walked around looking for my favourite part of Sisimpur -- Guni Moira's Grocery Store. All lit up against the monitors and other equipment, the biscuits, fruits, sweets and other delicacies seen every Friday at 9:30 am on Bangladesh Television (BTV), look good enough to eat. Sadly though, they were merely dummies. The store had everything, even a mosquito squatter! On one of the walls inside the store was Lal Miya's photograph, the local postman. Played by Amak Bishash Kotha, he had died after the first season.
Sara Zaker, the Project Head and Ratan Paul, the Executive Producer of Sisimpur.
I was ecstatic to finally step inside Sisimpur! As I let my imagination run wild once again, out came the human forms who were playing the four muppets. Almost immediately, I hit the ground with a thud. In spite of my dreams crash landing on the sets, surprisingly enough, the puppeteers would not get out of their characters! They were laughing, speaking and playing around with each other, just like the four muppets they represented, while Rumi the Captain of all puppeteers was issuing instructions. In fact, Shiku and Ikri, at one point would not stop playfully roughing up each other, till Tuktuki had to step in and put a stop to everything. The Sisimpur family, behind the scenes, is as fun as they are on screen.
The major bulk of the work is done at the 20-Mile Studio, which used to be at FDC earlier. With a team of 13 puppeteers and four ambassador characters -- Halum, Tuktuki, Ikri and Shiku, Sisimpur also has a number of human characters. "In fact, 50 percent of the characters are human and the rest are muppets," says Ratan Paul, the Executive Producer. "The work is mainly done in four different formats, namely, studio work which happens to be the heart of Sisimpur, live action films, our own animations and dubbed library materials."
An extension of Sesame Street, the 'longest street in the world', Sisimpur began airing on BTV in April 2005. "It is based on a lot of research," says actress Sara Zaker, the Project Head, "and follows a certain curriculum." Issues like being aware of the cultural diversity around us, learning social skills, not to mention basic lessons on alphabets and numerals, Sisimpur has attracted children mostly between the ages of 3-6 years, as well as their parents. "We live in a place where the overall attitude is very much homogenous," exclaims Sara. One can hope that recognising and realising the differences around us from a very young age would help these children become more tolerant towards their surroundings when they grow up.

Guni Moira's grocery store on set.
The name 20-Mile Studio was derived from the studio's location, explains Dr. Saleque Khan, the Consultant Senior Producer of Sisimpur, as it is an area, which locals say is 20 miles away from Dhaka and so, called 'Bish Mile'.
Behind the Sisimpur team are several other teams --the Education and Research (ENR) team, Animation team, Live Action Film team, Outreach team and the creative team.
In 1968, Jim Henson developed an idea for a television show, which would support parents, especially single parents, raise and teach values to their children. "Children have an attention span lasting from about 45 seconds to two minutes," explains Sara. "One of the major features of Sesame Street has been the range of segments shown to grasp the attention of these children."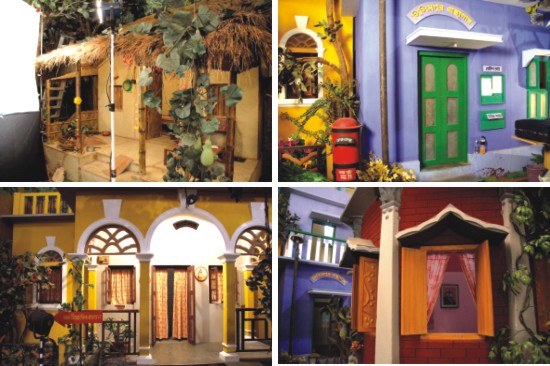 In Sisimpur, everyone is equal. In fact, Tuktuki's home is a small hut made with hay and leaves, as compared to the other characters living in the neighborhood.
Each segment has an educational message for the children and at the same time is filled with colours, games and a lot of fun. This way, there is a balance between education and entertainment for children.
At least a year before Sisimpur was aired on BTV, the Sisimpur team had a content
Kichirmichir, home to one of the characters on Sisimpur, Mukul
seminar with the Sesame Workshop in Dhaka. "They showed us different segments from different countries so that we understood what kind of work was expected for this project," says Ratan. "We had our first workshop in South Africa where our team had come up with 10-12 different characters. We even made their 'character bibles'. Eventually, these 12 characters condensed into four major characters. Other then Tuktuki and Shiku, Ikri's original name was Ikri Mikri and Halum used to be called Halum Mama. But now everyone's on first name basis!" he smiles. Some of the muppet-characters like the famous duo Bert and Ernie, the world's biggest bird, Big Bird and the Cookie Monster, dubbed as the 'Biscut Pagla' in Bangladesh will also have parts to play, informs Ratan.
Each season, the team plans ahead. They take the 52 episodes in mind and divide it into four categories to make their work easier. "After the second season, we decided to bring family values and culture into the show," says Ratan. "So in season 3, we had Mukul and Shumona, two human characters who live in the neighbourhood, marry each other."
Not only was Sisimpur filled with the traditional wedding festivities, Ratan says that he delved in the memories of his childhood to introduce new elements into the show. "When we were children, we used to have poetry recitation competition in the community," says Ratan. "Cultural events, community theatres, music and much more. This is not seen anymore today, but we tried to bring this about in Sisimpur."
A new character that will further amuse children this year is Shemai Ali, the Bangladeshi counterpart of Mr. Noodles on Sesame Street. Shemai Ali is an adult who, much to the delight of the children, makes lots and lots of mistakes. For instance, he tries to sniff the fragrance of a flower with his ears and then tries to do so with his head. He has a hard time realising that he would have to use his nose. "Through Shemai Ali, we teach the children the anatomy," says Ratan. "Plus give them a little fun as well. They feel empowered and confident when they watch an adult make silly mistakes."
Md. Toufique Rahman, Head of Animation
Dr. Saleque Khan, the Consultant Senior Producer
Mohammad Ali Haider, the Head of Live Action Film
This year's theme being 'Respect', elements like 'Community Culture', importance of 'Society' and 'Gender Equity' also come in. "We have a segment where Halum finds a cat inside the trash can," says Ratan. "The cat seems hungry and hurt. The whole of Sisimpur decides to take care of the cat rather than leaving it astray. This way, children would learn to respect animals and take care of them, instead of feeling wary around them." Season 4 is most likely to launch on August 15, 2008.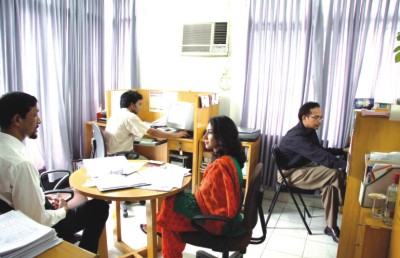 One of the most important departments, the Education and Research section
At the beginning of each season, content seminars are held between the Sisimpur team and Education and Research Curriculum. Each season, along with the themes and focus, the 'character bible' and goals are also determined. "The ENR keeps tab and track of all the goals and sketches that we make initially till the very end," explains Sara. "They make sure that the contents are educational for the children, and at the same time would cater to their imaginative world as well. They also make sure if the contents provided and created are culturally comprehensible or not for both the children and their parents."
Every season, new writers, animators and other fresh creative minds are taken on board Sisimpur. For examples, workshops are held for fresh writers every season through which new ones are selected for scriptwriting and generating stories. The team always has to be extra careful about what kind of content is finally developed. "Since Sisimpur is based on a lot of research and has to follow a certain 'bible', we make sure that even the creators know what goals they are working for," says Sara. The 'bible' that the team keeps referring to is a set of curriculum goals that each season the makers have to follow and strictly maintain.
One of the most important departments is the Education and Research Department or the ENR department at Noyontara, a sister concern of Asiatic's, that is in charge of Sisimpur production. It is up to the ENR to decide what comes in and what goes out, based on extensive research, field works and months filled with studies of children's psychology. "Sisimpur is an educational programme," says Shantimoy Chakma, the Education Content Specialist from the ENR department. "However, it is also our duty to make sure that a balance is struck between education and entertainment," he says. Aimed at children between the ages of 3-6 years, an age bracket when children seem to absorb in everything from their surroundings, Sisimpur makes learning a fun process starting from learning the alphabets and numerals to learning how never to give up and respecting elders and people belonging to different ethnic, religious and financial backgrounds.
In Sisimpur, everyone is equal. In fact, Tuktuki's home is a small hut made with hay and leaves, as compared to the other characters living in the neighbourhood. The differences don't end just there. Each of the four ambassador characters on Sisimpur are very unlike each other -- Halum, the Royal Bengal Tiger loves to eat fish and vegetables, Ikri, a blue-coloured muppet, Tuktuki, the only human form amongst the four muppets and Shiku, a fox. In spite of their differences, the four muppets are best friends, and everyone in the neighbourhood loves them.
Games, puzzles and books based on the Sisimpur goals are distributed to different schools in Bangladesh
Shantimoy says that every segment shown on Sisimpur has an educational goal. "The target audience here are still getting ready to go to school," he says. "The message conveyed to them through the segments should be communicable and culturally appropriate. At the same time, it should be fun and entertaining along with educating."
Right at the beginning, after the inception of the Sisimpur, a massive seminar was held, where 17 experts from different fields brainstormed together with Noyontara. "There were experts from science, math, language, history, music, art, sports etc," says Shantimoy. "The idea was to create an education curriculum but once again, keeping entertainment in mind.
Sometimes, it becomes the responsibility of the ENR to decide how to portray certain subject matters to the kids as well. "For instance, the production team thinking of working on 'sympathy' and 'empathy', two very abstract subjects would need to be extra careful while presenting them to the children," he explains. "It is up to us to work on how to make them clear to the audience. That's when we do field researches, conduct surveys, change an idea if it needs to be tested and try to work on the content segment before finalising it."
The initial scripting takes at least 4-5 months before finalising the content for the series, Shantimoy says. "The major issues are always cultural sensitivity and if the language is contextually appropriate for the children or not."
In Bangladesh, animation is still taking its first steps. "We have the skills, concepts in our heads and have excellent ideas, no doubt," says Md. Toufique Rahman, the Head of the Animation department at Noyontara. "However, I feel that we do not spend enough time to sit and think about how to go about developing the idea. It gets very difficult to portray an idea, if we do not think of what kind of building blocks to use and how to create these elements."
This season, the animation team has introduced a few new characters for some of the segments on Sisimpur. "We created two clay characters, Ludu and Budu," he says. "Ludu always seems to get into trouble. That's when Budu comes in and rescues his friend from his ordeals." Budu is powerful because he possesses the knowledge of the alphabets. For instance, when Ludu needs to cross the river, he simply does not know what to do since there are no boats around to carry him to the other side. After consulting with his friend, Budu decides to help him with the alphabet 'Na', which produces a 'Nouka or a boat to help Ludu cross the river. There are four stories categorised into segments with these clay animated characters.
The 20-Mile studio
Rumi, putting in last minute changes for the upcoming shot
Yet another set of characters that the animation team introduced for the season are Pipra and Pipri, created based on the three dimensional animations. Pipra, a baffled ant, is always confused and tends to fall into trouble all the time. That is when Pipri, Pipra's brave friend comes forward to help him out. "Here, we emphasised on the significance of female figures in the society and how the role that they play is not to be ignored or undermined," explains Toufique.
This time, the animation team decided to stay as focused as possible and create something very specific before forwarding the idea to the ENR department for revisions. "Thanks to the concept sheet, we actually straightened out many of our ideas," says Toufique. "Only after the ENR gave its final feedback did we sit and make a final storyboard, which our animators applied to create some rough animated figures."
In the middle of discussing scenes to be shot for season 4
Making props behind the scene
Ever since the first season of Sisimpur, children have been enjoying the segments on the show, where children from other parts of the country are shown with their families, going to school or simply making kites to fly during weekends on the rooftops. The live action films can be as basic as a child going for a picnic with family. As the child narrates the story, one of the uncles wins a family tournament of cricket while the aunts decide to walk by the riverside and buy ice-lollies for the children. Though the story lines are quite elementary, children stay glued to these segments when they find other children in faraway districts going through a similar lifestyle, craving for fun and new games, which can be played with the local kids, not to mention the excellent creation with regards to the technical aspects.
"We work in two different ways in the department," says Mohammad Ali Haider, the Head of Live Action Film. "We work with professional directors who go to different parts of the country and film the stories. However, kids usually become very self conscious and sometimes even afraid to respond to the strangers with cameras, lights and other equipment. That is when we thought of training teenagers living in the same locality to film and record stories."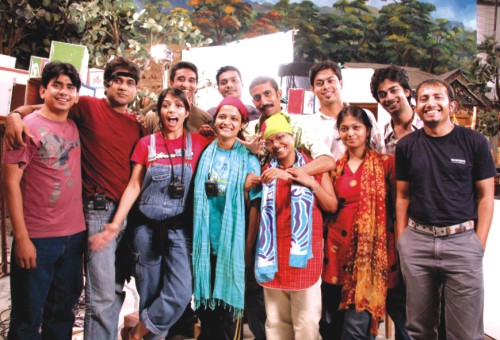 The 13-team puppeteers who control and manage the muppet characters on Sisimpur
These teenagers are given a 16-day training every season after an initial written and verbal examination. "Once these kids come up with story ideas and rough clips, we send them to the ENR department for their feedback," says Haider. "Most of the time, there is not much revision to do in these films made by the kids themselves. We prefer to give them as much freedom as possible. Of course, the 'bible' that we follow in Sisimpur is made clear to them in the 16-day training that they get."
Haider says that to date, some of the best works have been done by the teenagers. "When we go out to shoot in places like Tangail or Dinajpur, it takes us at least 2-3 days to finish up,' he explains. "For these teenagers, it takes hardly 2-3 hours! Since they are aware of their respective local norms and know the local children, it is easy for them to get through to the actual emotions."
During one instance, Haider and his team had gone to Rangamati to train teenaged filmmakers. "I was very confused as to whether they understood any of our instructions or not," he says. "We were not speaking each others' languages and I had almost given up hope after returning to Dhaka. However, when the rough clips reached our office from Rangamati after a few weeks, I was blown away by the story ideas and the making! Those kids in Rangamati had not only comprehended all our instructions but took film making to another level with their story portrayal. Since they live there, it was possible for them show the depths of the villages in Rangamati, the rituals and their ways, something which would be very difficult for us to get access to."
Plenty of library materials are also used in the live action film segments, where films from Sesame Workshop are provided in different languages, portraying children belonging to different cultures. These films can be about cooking traditional lunch in Africa to a bus ride to a local store in New York. "The films are dubbed in Bangla so that the children can understand,' says Sara Zaker. "This is done to make the children aware of their whereabouts not only in their own country but also around the world." According to her, it is easier for children to connect with other children belonging to a different race, religion or culture.

The control panel at the 20-Mile studio
In the coming year, the children will have a treat. Tuktuki will have her first ever experience on the train and also visit the Lal Bagh Kella. To add to all the fun, Tuktuki will also be attending school for the very first time.
For the majority of the population, owning a television or simply providing the extra something for their children's development is pure luxury. That's where the Outreach Programme steps in. Every season, episodes are compiled into CD s and sent to schools and NGOs who have the ability to show these episodes of Sisimpur to the local childen. "If you have a television, a DVD or a VCD player, you are well equipped to play this role for the local kids," says Shah Alam, the Director of the Outreach Programme. "For instance, Dhaka Ahsania Mission has 30 hubs in 30 different areas in Bangladesh. The authority gathers the local children every weekend and shows them the Sisimpur episodes."
Where even the CD format fails to reach the children, the Public Relations of Noyontara along with the Outreach Programme arrange walk-around sessions of life-sized Tuktuki, Halum, Shiku and Ikri in different parts of the county for children. "Along with Save the Children, USA, we have 30 decorated rickshaw vans which go around the country and interact with the children," he says. "It's more like an extension of Sisimpur itself. These vans visit at least 15 different spots every week. Not only does this attract children, but also a lot of parents."
The Outreach Programme, with the help of Brac Bangladesh has also come up with games, puzzles and books based on the Sisimpur goals, which are distributed to different schools in Bangladesh. The contents of the books revolve around how water should not be wasted and the proper way of using it, nutrition, the importance of reading, the art of making and flying kites and much more. "Before these contents are finalised, they are sent to the ENR department so that they can ask us to make the necessary changes if any," says Haider.
In New York, the Sesame Workshop, the original idea upon which the famous Sesame Street is based on, is branched out to many countries in the world. "Each international branch is looked after a producer from New York," explains Dr. Saleque Khan, the Consultant Series Producer. "The producer who looks after Sisimpur in Bangladesh is Akiko Yakuki, who interacts with the team here in Dhaka, goes through all the drafts of scripts and other creations that we plan to use on our episodes."
As all the departments submit their drafts to the ENR in Dhaka, simultaneously, they are also submitted to the ENR in New York City. "Drafts of our scripts and other works are sent to Akiko in both Bangla and English, so that they can comprehend our work based on our social and cultural environments," says Dr. Khan. "For instance, we would have to deal with the issue of Girl Empowerment in our country based on our understanding of the situation. This might not be similar to Sesame Workshop branches in other countries."
With a commitment to teaching children basic values in keeping with cultural sensibilities, Sisimpur is a unique learning experience. Its approach to education is contemporary; it makes an effort to make children aware of their surroundings and beyond. Most importantly, it tries to reach children of all backgrounds. All this makes Sisimpur a valuable way for youngsters to start the first years of their life's journey.
Copyright (R) thedailystar.net 2008