Translating Imaginations
Ashfaq Wares Khan
If publishers in the book capital of Banglabazar need a new sci-fi story for the Ekushey Book Fair (EBF), a lanky man with an unusually restless and hyper-active composure is called upon -- Hasan Khurshid Rumi. To the Bangladeshi science-fiction scene Rumi is -- the godfather.
Rumi stands as an invisible giant in the world of science-fiction in Bangladesh. Invisible, because his indefatigable energy has been injected in translating over 50 anthologies and books from sci-fi, fantasy and western genres, and in editing various Bangla sci-fi anthologies, rather than writing original stories that have kept him out of the limelight.
Rumi, along with his translating responsibilities has also carefully tended to a flock of new-generation translators and local sci-fi and fantasy writers that is part of the sci-fi explosion in the country, and as Ahsan Habib, lightly but surely states, "Takes pressure off Mohammad Zafar Iqbal as the sole sci-fi representative in the country."
Asked if he could trace the origin of his sci-fi interests, Rumi seems to have a readymade answer "My mother gave me a book called 'Ak Je Chhilo Nengti', a fantasy story written by Ekhlasuddin Ahmed, that perhaps sparked something of the fantasy world in me, but when my mother bought me Alexander Belayev's 'Amphibian Man' it triggered a blast into the absurd and unreal word of fiction and fantasy."
The world of the absurd and the drive to express a powerful imagination is perhaps where most of Rumi's creative work resides and also helps to explain the link between his sci-fi and fantasy work and his position as the Associate Executive Editor of the immensely popular monthly satire magazine Unmad.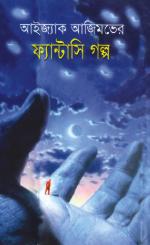 His history with the absurd and the imaginary, in this way, is closely interlinked with Unmad, and an old friend and mentor Kazi Anwar Hossain. Strangely enough, although Rumi has written only a handful of original sci-fi stories published within his edited local anthologies, his only original book was a pictorial guide to meditative exercise, titled "Sachitra Yog Byam Shikkha" (Salauddin Boighar, 1982). After a ten-year hiatus, during which he thrived in various forays into fantasy, sci-fi and teen literatures, his next book was the first of his translated anthologies titled "Ora Eshechhilo" (Sheba, 1992).
"I collected everything concerned with Sci-Fi, from books and magazines to comics and movies," says Rumi.
Rumi's sporadic publications afterwards, followed a parallel path with the rise of Sci-Fi in Bangladesh owing largely to the plethora of publications by Md Zafar Iqbal and a wider entrance to television and the internet. As he increased his number of translations, he joined Unmad in 1999 and soon after Rumi and Unmad editor Ahsan Habib brainstormed the birth of Bangladesh's first Sci-Fi magazine "Moulik". The magazine gathered a wide following but went defunct within three years because the new-generation writers and translators could not follow suit.
However, Rumi says, new and very promising Sci-Fi fantasy writers like Anik Khan, Asrar Masud, Sajjad Kabir, Russel Ahmed, Rabiul Hasan Obhi, Mizanur Rahman Kallol, came of age while working with the magazine. Although these new writers are show-cased in recent anthologies of local writers, Rumi still hopes to bring out a magazine if he receives financial patrons in the future, but is thankful for the publishers of his current books.
"Publishers like Arifur Rahman Nayeem of Oitijjyo, took a headlong dive into a world of risk when they decided to publish my translations," Rumi recalls, but from the hot-cake sales of Sci-Fi these days, publishers are keen more than ever to pour their money into Sci-Fi books.
But, when it comes to his original Sci-Fi work, Rumi says he hasn't reached a point yet where he has read so much that his own ideas will start to flow automatically. He adds that he is so busy with translating and compiling stories these days that he doesn't get the time to think about writing original stories.
For that matter, he blames the rich reservoir of science-fiction that continues to feed the world, and he assures he has more to supply Bangladesh. "Asimov's a menace, he's written 800 books, and I just have to translate them all!" Continuing in his acerbic tone, he adds "Then there's that old hag Arthur C Clarke who writes in that hardcore scientific way, and there's even room to translate Jules Verne, whose short stories are yet to be done!"
When asked why Rumi feels obliged to translate all these stories, he replies "Well, not only is it about the story but also about science. In a way I am translating to inform people in interesting ways about science, and in effect, engage them in learning." However, some doubt the success of Rumi's ambition of informing and engaging people with science through sci-fi, in fact, they are downright displeased with the effect of sci-fi in Bangladesh.
A number of prominent commentators on science and science fiction in Bangladesh have recently been inclined to the criticism that the large readership that follows sci-fi in this country have come to view even the fictional aspect of that literature "as" science. And the readership, as the publishers say and demonstrate, is indeed very, very large!
When it is quite common to find a single copy of many authors' books to leave the shelves at the EBF, Rumi's translated anthologies of Russian science-fiction, and volumes after volumes of Isaac Asimov and Arthur C Clarke have often been cleared off the book-shelves by EBF goers.
The readership, as Rumi explains, largely comprises of students from both genders that have diligently purchased science-fiction books since the popularity of the genre spiralled after Mohammad Zafar Iqbal ventured into the sci-fi space since the early 1990s.
Rumi also feels that the Bangali readership had always been interested in Sci-Fi. Bangla translations of popular Sci-Fi writers were already in print in Kolkata, but their yields did not focus specifically on a single writer. Moreover, when Rumi worked in the editorial board of "Kishor Patrika" they brought out two special issues on Sci-Fi -- they were all sold-out and requests flooded in for a second print!
In Rumi's words "Even the English version of Asimov and Clarke that pour into Dhaka are sold in a jiffy, that supports my belief of all these years that names like Asimov and Clarke had already been embedded into the psyche of the Bangali sci-fi followers, it was only a matter of making them more thirsty."
Some critics, however, have questions regarding the accessibility of these stories. Rumi agrees with this. He says that the quality of some of the translations have deteriorated because he has had to hire a large number of translators to translate the huge number of stories that are in his hands. But, he is careful in pondering these criticisms "They are fairly new as translators, and the quality suffers in only a small number of stories, but the majority still attest to a big group of very solid translators who are sure to pursue their own ambitions in the sci-fi world."
Rumi's own dedication to this ambition, however, is beyond question. He suffered from a heart-attack last September from over-work and stress. "I worked day and night over the translations of 7 books that came out from EBF, in 2004 and going over proofs, I even worked on my sick-bed after the attack. My publishers, and especially my family were very supportive during that time."
The family head, with a new-born son, is proud to announce to the world the progeny is the "Sci-Fi genius of the future." The first-born daughter and his enduring wife, has been a great source of encouragement for Rumi. With shelves that were supposed to be filled with decorations, almiras that were to be filled with clothes, are all filled with books, Rumi's wife blurts out tolerantly "He's made a mess of the house with all his books, CDs and magazines! Next thing you know, he's probably going to sleep in the storeroom with all his books instead of on the bed! Every time I see a book in his hands these days, I get angry."
Nevertheless, the godfather of Bangladeshi Sci-Fi, who was born on November 2, 1959 in Chittagong to a mother who was obsessed with reading, sits with his uplifting grin and takes a rare respite from his restlessness to announce, "I will translate it all, everything," and returns to his preoccupations with the absurd world of fantasy.