An unjust eviction
Kazi Asif Ahmed
Government had deployed joint forces in late 20023 to improve severely deteriorating law and order situation in the country. The drive was named 'Operation Clean Heart". It was arranged only for arresting terrorists and putting them behind bars through the process of law. But a macabre event was staged by Army in Comilla. About thirteen hundred houses, three hundred shops were bulldogged and thousands of people were uprooted from their ancestral homes and lands. Army claimed their property by dint of acquisition by British Colonial Government.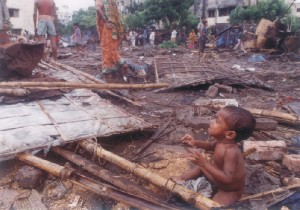 At the advent of World War-II British imperial power started war preparation all across its dominions and colonies. As part of war preparation British Govt. sat up a cantonment and an aerodrome in Comilla considering its strategic location. A Cantonment was set up 8 kilometers to the west of Comilla town at Mainamati hills areas. To set up the Aerodom and Army base the colonial government had acquisitioned 210 and 164 acres of land respectively in eleven villages namely Tomsom bridge, Unaishar, Asrafpur, Ram Nagar, Noagaon, Kazi Para, Dishavandh, Lakkhinagar, Naeura, Dhulipara and Haluapara at the southern end of Comilla town. Accordingly the Airodrom was set up on two hundred and ten acres of acquisitioned land. Aircrafts used to land and Take-off until 1974. But the 164 acres of land acquisitioned for army base was never used and no base was set up.
A huge Army fort was set up on vast track of hilly lands at Mainamati not far from Comilla airport as cited earlier. So the question arises what necessity now there is to set up army base on this land after about sixty years in the present geographical context? To the best of my knowledge in countries populated areas such as towns, cities are not chosen to set up military bases to keep those away from warfare. Barren lands or thinly populated areas are the suitable place for military installations.
The people of these eleven villages were first uprooted from their lands after acquisition by British in 1939-40 without proper compensation. They took shelter and settled in adjacent areas. After the war, the then Tripura District Magistrate on June 1946 issued a notice asking the uprooted villagers to return to their lands. Accordingly villagers returned to their homes. In 1947 the then Pakistan Govt. started to pay part of compensation of the acquisitioned land, but it was stopped unfinished. People of eleven villages had been living erecting buildings, markets, and business establishments on their ancestor lands, eight kilometers away from Mainamati cantonment.
On 26 December 2002 during the country wide anti-terrorist drive "Operation Clean Heart" Comilla Mainamati Cantonment Authority ordered people of eleven villages adjacent to airport to remove their houses and shops. The people of eleven villages had not experienced the horror of World War-II, for which their land were taken away. But from the foggy morning of 28 December 2002 they have experienced the furry of demolition by their own Army who were supposed to protect them. Within short notice and without taking any measure for rehabilitation Army bulldogged eleven villages. When people in favour of their ownership showed papers, in some cases containing verdicts and decrees of highest courts of the land, they were snubbed. Where is the remedy of this unjust, unlawful eviction of innocent people from their ancestor's property?
Kazi Asif Ahmed is an Advocate of Comilla Judge Court.