India have been far and away the best team in the ongoing Asia Cup. There may have been a lot of disgruntled noises from other teams -- including Bangladesh skipper Mashrafe Bin Mortaza -- hinting at the preferential schedule the world's number one ODI side have been handed, but there is an argument to be made that even the worst of schedules would not have altered the results much.
And the results speak for themselves. They beat Pakistan by eight and nine wickets respectively in two matches, and Bangladesh -- their opponents in today's Asia Cup final -- by seven wickets. They rested their best players in the opening match against Hong Kong and the minnows put up a spirited show to lose by just 26 runs. In their last match too, having already confirmed a place in the final, they fielded a weaker side against the tournament's revelations Afghanistan and got away with a tie.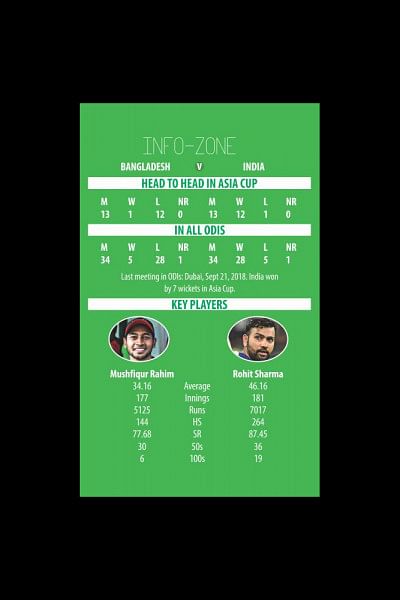 A major architect of their dominance has been vice-captain Shikhar Dhawan, who has been the tournament's highest scorer with 327 runs with an average of 82, including two centuries. However, more than talk about his or his team's achievements, he was generous in his praise for his opponents, who moved into the final by beating Pakistan despite missing two stalwarts in Shakib Al Hasan and Tamim Iqbal.
"I guess they're balanced, know what their strengths are and they've improved a lot," he said of Bangladesh during the pre-final press conference in Dubai yesterday. "They're a competitive side. Hats off to them, the way they played and won against Pakistan. When you play all-round cricket, the results will follow. The plan we made against them in the previous game, we will try and stick to that. Conditions will remain the same [at the Dubai International Stadium], we'll plan for individuals by looking at videos of their batsmen, revise and prepare accordingly."
The top billing for the Asia Cup was of course the India-Pakistan rivalry, and press conferences surrounding the two teams often focused on questions about the archrival, despite who they were playing the following day or had just played.
"Of course we'll carry momentum and give it our best shot; all teams are competitive," Dhawan said. "Everyone thought it was going to be an India-Pakistan final, but Bangladesh won a great match last night [Wednesday], we can't take them lightly just because Pakistan is a bigger team. Bangladesh are playing better cricket, there's a difference between a team on paper and who is doing well on the field, that's how I see it."
When reminded that Bangladesh have not won a final against India -- in the last Asia Cup in Dhaka, in the Nidahas Trophy in March -- Dhawan again batted for his opponents.
"How many years have they been playing cricket now? If we see any other team, what will be the difference? Sometimes reaching finals is a big thing, I look at it differently. Hopefully we win tomorrow, [but] we will see them crossing that barrier also, things can change anytime."