Young freelancers show the way
Young freelancers show the way
Target $100m earning a year from outsourced IT-based jobs in next 5 years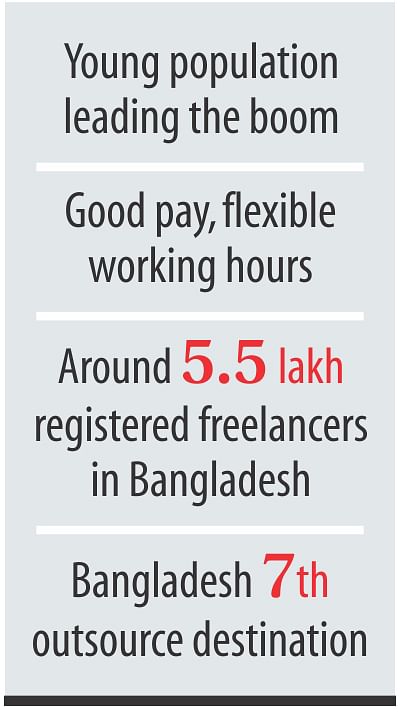 Young Bangladeshis, fresh out of colleges and universities, are on course to earn about $100 million a year by 2020 working freelance from home, industry people say.
This is five times what the freelancers now earn from jobs outsourced by companies abroad.
A young population base, coupled with advances in technology and good pay, is said to be the reason for more and more Bangladeshis taking the freelance route, and the flexible working hours is a bonus.
"Many people are interested in freelance work in the country due to high income and flexible working hours," said Saidur Mamun Khan, country manager of Elance-oDesk, a leading freelancer marketplace.
Inadequate opportunity for quality jobs, especially for young graduates, is another reason for the increasing popularity of freelance jobs, he said, adding that around 2 lakh graduates enter the job market every year. 
Freelance jobs in software development, customer service, data entry, writing, editing, blogging, accounting, mobile apps development, web development, search engine optimisation, graphic design and translations are all there for the taking.
Citing data recently pulled from Elance-oDesk, which helps companies get skilled freelancers, Saidur said businesses spent around $930 million on hiring remote independent workers around the globe in 2014, up from $750 million of 2013. He said the amount is expected to reach $10 billion by 2020.
In terms of earnings, Bangladesh is ranked seventh among 186 countries where online jobs are outsourced to, he said.
Currently, the country has around 5.5 lakh freelancers registered with different freelance marketplaces. Elance-oDesk has 4.5 lakh registered users in Bangladesh.
Saidur stressed the need for improved Internet bandwidth for grabbing more job orders.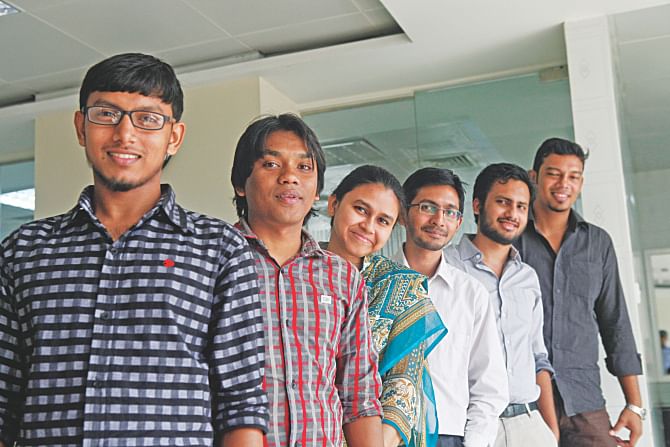 Sharif Muhammad Shahjahan, who earned $152,000 last year, said, "Many global companies are placing orders to us due to cost competitiveness and good quality."
 Sharif has only passed HSC and he mainly works in image processing for different clients in Australia, the USA, the UK, Norway, South Korea, Singapore and China and has his own outsourcing firm: Ideal Computer and Digital Studio in Savar employing 15 people. 
"Bangladesh is emerging as a leading player in freelancing jobs due to its huge young population base," said Emrazina Islam Khan, chief executive of Creative Kittens, a leading outsourcing firm in the country.   
"We have been making websites for 6Connex, an US based company for last one year," the 27-year-old said, adding that more than 100 organisations, including GE, Oracle, Perkin Elmer, Ericsson, Sears, Child Help, and North Central University, rely on 6Connex.
Outsourcing firm ewebicon.com is earning on an average $8,500 a month and plans to increase the earning to $12,000 by 2016, said Sany Ahmed, chief executive officer of the company, who is just 27.
"We offer professional SEO services that help businesses increase organic search results and stay on first page rankings of targeted keywords on Google," he said, adding that his company also develops micro-business websites for marketing of The Amazon Kindle. 
Demand for new mobile apps is increasing rapidly due to increased use of smartphone globally, said Mahmud Hassan Sunny, app architect of Business App Station, a local app developing company.
Business App Station has so far developed more than 300 mobile apps for various sectors such as education, health and game, said the 25-year-old.
"Anyone can earn money freelancing if he or she knows the work properly," said Ariful Islam Sakib, a freelancer, who is studying for his Fazil degree at a madrasa in Demra.
English is a must to get jobs, the 22-year-old said.
Sakib, who started the freelancing in December last year after four months' training on graphic design, is now earning $600 a month on an average.