Yemen children at risk
Warns UN as humanitarian 'catastrophe' looms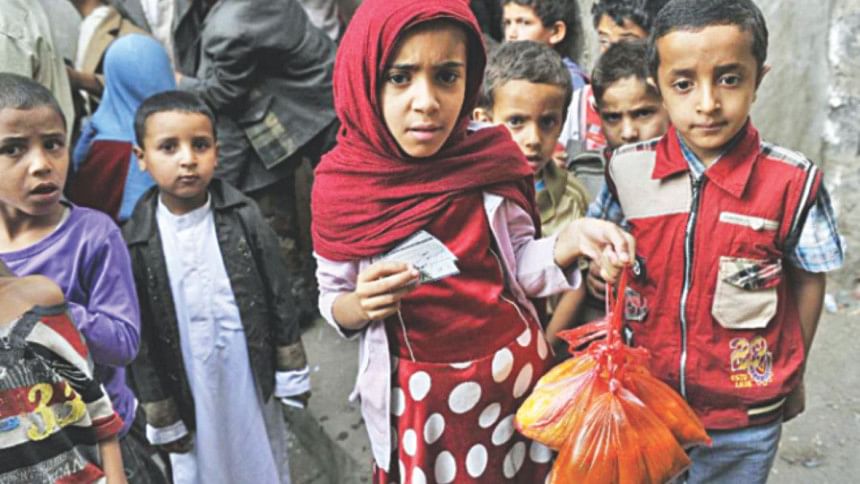 Three UN agencies yesterday launched an appeal for emergency food aid to conflict-torn Yemen to avoid a humanitarian "catastrophe" that will hit children hardest.
An assessment by the UN's agencies for food and for children, FAO and Unicef, and the World Food Programme, found "unprecedented" levels of hunger with the number of people who could not be sure of having enough to eat up by three million in seven months.
A total of 17.1 million people are now struggling to feed themselves with 7.3 million of those in need of emergency assistance. Yemen has a population of 27.4 million.
The joint study was the first of its kind since the conflict dramatically escalated in March 2015 with a Saudi-led international coalition backing government forces against rebels backed by Iran.
One fallout of the fighting has been a slump in agricultural production across the country, contributing to soaring malnutrition.
"We are witnessing some of the highest numbers of malnutrition amongst children in Yemen in recent times," said Meritxell Relano, Unicef's representative in the country.
"Children who are severely and acutely malnourished are 11 times more at risk of death as compared to their healthy peers, if not treated in time."
Stephen Anderson, WFP Country Director in Yemen, said: "The current level of hunger in Yemen is unprecedented.
"Tragically, we see more and more families skipping meals or going to bed hungry."
The conflict has left more than 7,400 people dead and 40,000 injured, but UN-led peace efforts and seven ceasefires have all ended in failure.