Who are Syria's moderate rebels?
Asks Putin as Russia hold talks with US, Saudi Arabia, Turkey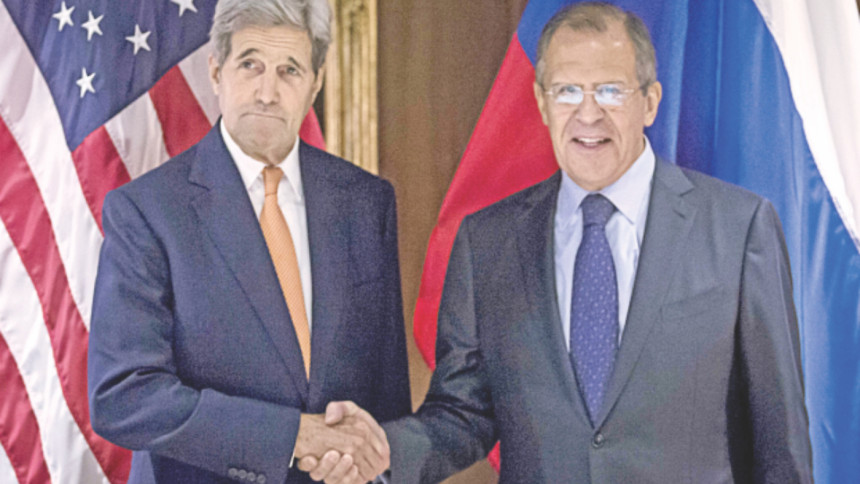 Russian President Vladimir Putin has dismissed criticism over his country's air campaign in Syria, accusing Western governments of double standards in their support for the Syrian opposition.
Speaking on Thursday at a political conference in Sochi, Putin said the West is using some of the rebel groups as pawns to fit their wider agenda in the Middle East.
"It's always difficult to play a double game: declaring a fight against terrorists while simultaneously trying to use some of them to arrange the pieces on the Middle East chess board in one's own interests," Putin said at a meeting of political scientists in Sochi known as the Valdai Club.
"It is impossible to prevail over terrorism if some of the terrorists are being used as a battering ram to overthrow undesirable regimes," Putin said.
"Let's not play with words and divide the terrorists into moderate and not moderate," said the president.
"I would like to understand what is the difference. Perhaps, some experts believe that moderate bandits behead people in moderate numbers or in some tender way."
His comments came as top diplomats from Russia, the US, Saudi Arabia and Turkey held talks in a frosty atmosphere yesterday on how to end the Syrian conflict, with the sides sharply at odds on the future of Bashar al-Assad.
The Vienna meeting took place three weeks after Moscow thrust itself into the heart of the crisis by launching a bombing campaign in support of the Syrian president, that has drawn sharp condemnation from the west.
And Russia and Jordan said they had agreed to "coordinate" their military operations in Syria.
The crunch talks at a Vienna hotel brought together Russian Foreign Minister Sergei Lavrov and US Secretary of State John Kerry with their Saudi counterpart Adel al-Jubeir and Turkey's Feridun Sinirlioglu.
But the atmosphere appeared chilly, and there was scant hope for progress on resolving almost five years of war with the sides at loggerheads over the future of Assad.
Putin also said his Syrian counterpart Bashar al-Assad had told him he was ready to talk to armed opposition groups if they are genuinely committed to dialogue and to combating Islamic State.
Meanwhile, the Syrian Observatory for Human Rights monitoring group yesterday said Russian air strikes in Syria have killed at least 446 people, more than a third of them civilians.
Moscow has dismissed previous reports by the Observatory of civilian casualties from its bombings as "fake".