Video shows wounded Palestinian shot in head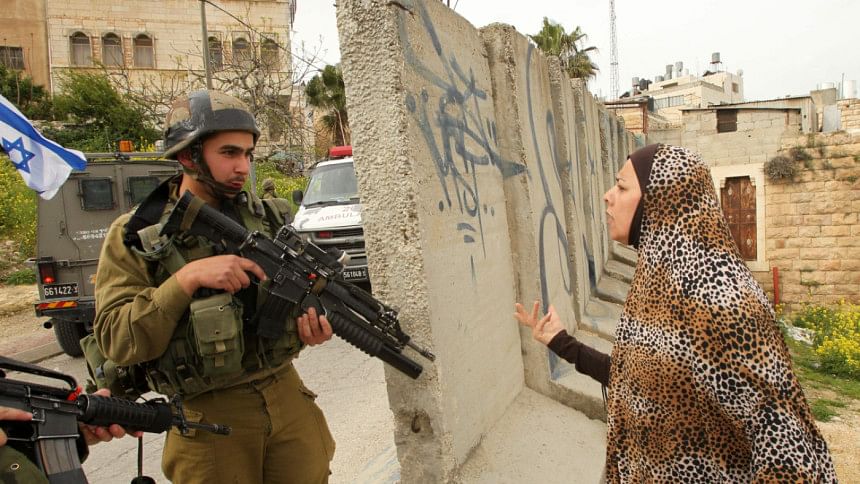 An Israeli soldier was detained yesterday after allegedly shooting a wounded Palestinian assailant in the head and killing him as he lay on the ground, with a video of the incident spreading widely online.
The video showed the Palestinian, who along with another man had allegedly stabbed a soldier in the West Bank city of Hebron yesterday, lying on the ground after being shot.
The soldier then appears to shoot him again in the head without provocation. An army spokeswoman called the incident a "grave breach of (military) values," adding that an investigation had begun and "the soldier involved has been detained".
She said the investigation began before the video surfaced online. Palestinian health minister Jawad Awwad called it a "war crime," saying that even prior to the shooting medics on site were not treating the wounded man.
The alleged stabbing and shooting came amid a wave of violence since October that has left 200 Palestinians and 28 Israelis dead. Most of the Palestinians killed were carrying out knife, gun or car-ramming attacks, according to Israeli authorities.
But Israeli forces have also been accused of using excessive force in some cases, which they have firmly denied. In the video, the man who appears to be seriously injured is lying on the ground while Israeli medics treat the injured soldier.
It then purports to show an Israeli soldier nearby raising his rifle and shooting the Palestinian in the head. The Palestinian was identified as 21-year-old Abdul Fatah al-Sharif. The video spread widely and sparked condemnation.
Sarit Michaeli, a spokeswoman for Israeli rights group B'Tselem, which posted the video, called it an "execution".
"It is clear that the Palestinian youth who was one of the two who stabbed the soldier was lying on the ground without posing any risk to security services," she told AFP.
"The security personnel around him are not treating him in any way like he is a danger. The soldier is simply seen shooting him in the head."