US has few good options for response to Philippines' Duterte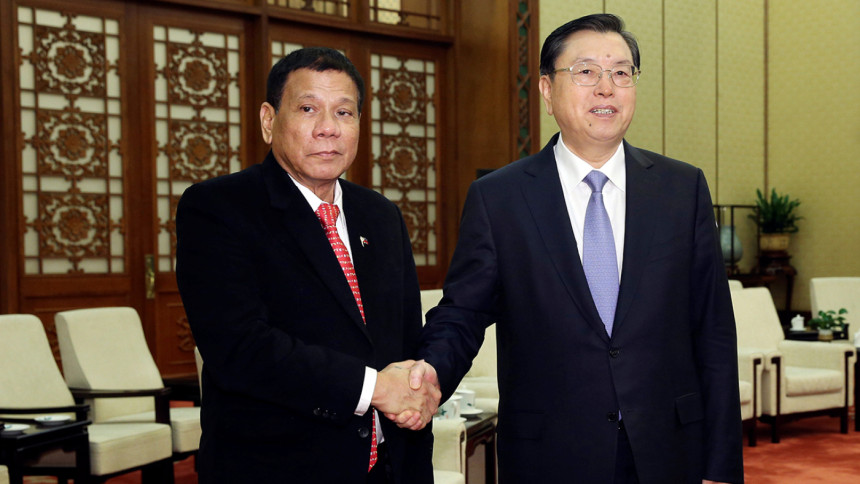 The Obama administration has few good options and limited leverage as it struggles to craft a response to Philippine President Rodrigo Duterte's increasingly hostile rhetoric towards the United States and his warm embrace of China.
For months, Washington has played down Duterte's anti-American insults and broadsides. But the flamboyant new leader raised the stakes to a new level on Thursday when he announced his "separation" from long-time ally the United States and realignment with Beijing and possibly even Moscow, America's two main strategic rivals.
Duterte's latest outburst, less than three weeks before the US presidential election, casts further doubt on the seven-decade US-Philippine alliance and threatens to further undermine President Barack Obama's faltering "pivot" to Asia as a counterbalance to China's growing assertiveness.
Potentially at stake is the Enhanced Defense Cooperation Agreement, reached under Duterte's predecessor, allowing the United States to rotate ships, aircraft, and personnel through five Philippines bases, an arrangement seen as crucial to projecting US military power on China's doorstep.
Mindful of Duterte's volatile nature, the Obama administration has trod carefully so far, seeking to avoid provoking him even as it chides him over his deadly war on drugs, US officials say.
One US official, who did not want to be identified, said there had been an active internal debate in recent months on how far to go in criticizing Duterte's government on human rights and that the measured tone adopted was not as strong as some aides would have liked.
US attempts to raise questions about Duterte's campaign against drugs, in which more than 3,000 people have been killed since he took office in June, have drawn angry denunciations by Duterte. He has derided Obama as a "a son of bitch" and said he should "go to hell."
"It doesn't seem to help to say anything because the minute you say something, he just lets loose his barrage of obscenities," said Murray Hiebert, deputy director of the Southeast Asia Program at the Center for Strategic and International Studies. "I think for the US to just blast him constantly is probably not very effective."
There is a suspicion in Washington that Duterte could swing back to the United States - if he decides it suits his interests.
"There is no question that Duterte is...trying to play the well-worn game of playing us off against the Chinese," another US official said, on condition of anonymity.
State Department spokesman John Kirby said on Thursday that the United States will seek an explanation from Duterte over his "separation" announcement, which he made during a visit to China. But he limited criticism to calling the remarks "baffling" and "inexplicably at odds" with close ties between Washington and Manila.
CONCERN ABOUT DUTERTE'S UNPREDICTABILITY
US officials are concerned about Duterte's unpredictability, but say that despite his words the Philippines has not yet canceled military exercises or formally requested any tangible change in the security relationship.
With relations souring further, the senior US diplomat for Asia, Assistant Secretary of State Daniel Russel, was due to visit Manila this weekend on what the State Department said was a previously scheduled trip. He would seek to clarify Duterte's comments, the State Department said.
If it chose to respond more vigorously to human rights concerns, the United States could decide to cut military aid to the Philippines, or make it contingent upon an end to the drug killings or more careful judicial procedures.
But Philippine officials have suggested their country could live without the US assistance, and overtures to China and Russia suggest they might seek assistance elsewhere.
Duterte's trade secretary, Ramon Lopez, said $13.5 billion in deals would be signed during Duterte's China trip, though it was unclear how much of that amount was in the form of final deals rather than preliminary agreements. The White House said current US direct investment to the Philippines is over $4.7 billion.
Members of the US Congress, including Democratic Senator Patrick Leahy, a strong voice on foreign policy issues, have indicated they will consider conditions on US aid to the Philippines if the killings continue apace.
Washington has provided the Philippines with millions of dollars in extra military aid in the last two years as part of an effort to bolster allies to counter China's pursuit of expansive territorial claims in the South China Sea.
Kurt Campbell, a former assistant secretary of state for East Asia under Obama who may have an administration role should Hillary Clinton win the US election, has been among those urging a tougher line on the human rights issue.
"What's happening in the Philippines is starting to raise larger questions and concern," he said.
"This idea, that 'No, no, we'll ignore this and maintain quietly our military and strategic operational activities,' (I) think is going to be difficult."