Nearly 90,000 Rohingyas fled to Bangladesh: UN aid workers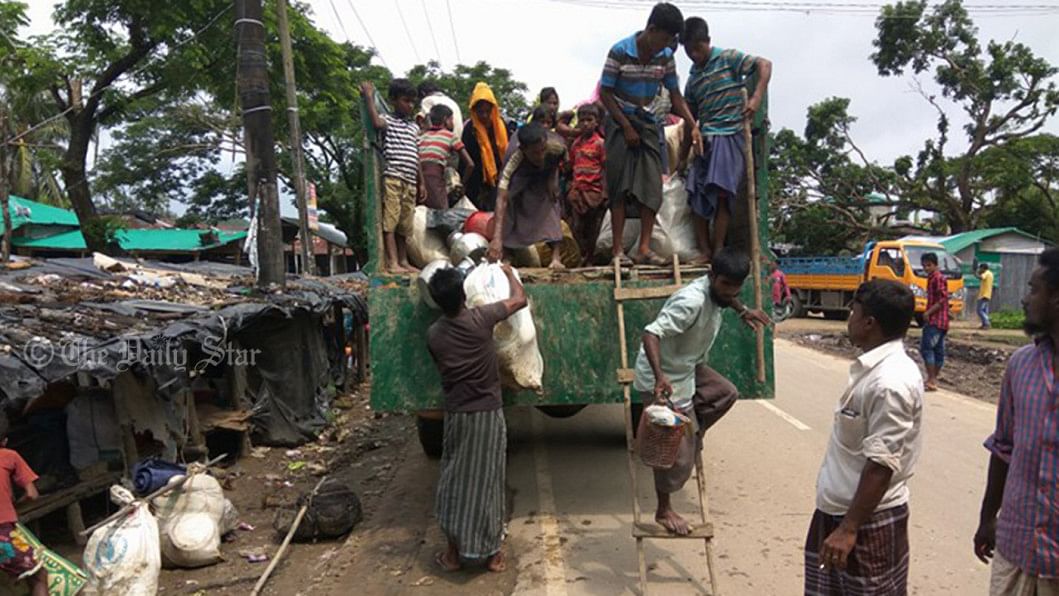 Nearly 90,000 Rohingya have fled to Bangladesh since violence erupted in Myanmar in August, pressuring scarce resources of aid agencies and communities already helping hundreds of thousands of refugees from previous spasms of violence in Myanmar.
The bloodshed in Myanmar's northwestern Rakhine state was triggered by an attack on Aug. 25 on dozens of police posts and an army base by Rohingya insurgents. The ensuing clashes and a military counter-offensive have killed at least 400 people.
Myanmar officials blamed Rohingya militants for the burning of homes and civilian deaths but rights monitors and Rohingya fleeing to neighbouring Bangladesh say the Myanmar army is trying to force Rohingya out with a campaign of arson and killings.
The treatment of Buddhist-majority Myanmar's roughly 1.1 million Muslim Rohingya is the biggest challenge facing leader Aung San Suu Kyi, accused by Western critics of not speaking out for the minority that has long complained of persecution.
The Nobel Peace Prize laureate has come under increasing diplomatic pressure from countries with large Muslim populations such as Bangladesh, Turkey, Indonesia and Pakistan to protect Rohingya civilians.
Myanmar says its security forces are fighting a legitimate campaign against "terrorists" responsible for a string of attacks on police posts and the army since last October.
The number of those crossing the border into Bangladesh - 87,000 - surpassed the number who escaped Myanmar after a series of much smaller insurgent attacks in October that set off a military operation beset by accusations of serious human rights abuses.
The newest estimate, based on calculations by UN workers in the Bangladeshi border district of Cox's Bazar, takes to nearly 150,000 the total number of Rohingya who have sought refuge in Bangladesh since October.
"We are trying to build houses here, but there isn't enough space," said Mohammed Hussein, 25, who was still looking for a place to stay after fleeing Myanmar four days ago.
"No non-government organisations came here. We have no food. Some women gave birth on the roadside. Sick children have no treatment."
An unofficial camp for Rohingya refugees that sprang up after the October attacks is being dramatically expanded.
Hundreds of Rohingya milled beside the road while others slung tarpaulins over bamboo frames to make shelters against the monsoon rain.
Among new arrivals, about 16,000 are school-age children and more than 5,000 are under the age of five who need vaccine coverage, aid workers said over the weekend.
The number of unaccompanied children was high and many were "traumatized and hungry", they said.
Md Ali Hossen, deputy commissioner for the Cox's Bazar district, told Reuters that some new arrivals were setting up new camps and the government was not stopping them or taking the camps down on humanitarian grounds.
Bangladesh officials have said at least 53 bodies have either washed up on Bangladeshi shores or have been found in the Naf River, which separates the two countries, many with bullet or knife wounds.
INTERNATIONAL ANGER
Turkish President Tayyip Erdogan, who said on Friday that violence against Myanmar's Muslims amounted to genocide, last week called Bangladesh's President Abdul Hamid to offer help in sheltering the Rohingya, Dhaka said.
Indonesian Foreign Minister Retno Marsudi will meet Suu Kyi and other officials in Myanmar on Monday, to urge a halt to the violence after a petrol bomb was thrown at the Myanmar embassy in Jakarta on Sunday.
There were more anti-Myanmar protests in Jakarta on Monday. Indonesia has the world's largest Muslim population.
"We will discuss in detail Indonesia's proposal on how Indonesia can give humanitarian aid to Rakhine state," Retno said in a video statement from Yangon.
She is also scheduled to travel to Bangladesh to urge authorities there to protect Rohingya refugees.
Pakistan, which has a large number of Rohingya living there, on Sunday urged "authorities in Myanmar to investigate reports of massacre, hold those involved accountable and take necessary measures to protect the rights of Rohingya Muslims".
In addition to tens of thousands of Rohingya, more than 11,700 "ethnic residents" had been evacuated from northern Rakhine state, the Myanmar government has said, referring to non-Muslims.
Myanmar state media on Monday carried stories showing authorities providing food and medical care to the evacuees.
The army said on Sunday Rohingya insurgents had set fire to monasteries, images of Buddha as well as schools and houses in the north of Rakhine state. It posted images of destroyed Buddha statues.
A Myanmar military source said security forces still had difficulty penetrating the remote northern part of Maungdaw region - close to the Bangladeshi border.
He said that the area between the state capital of Sittwe and the major regional town of Maungdaw, where the bulk of Aug. 25 attacks took place, was under military control.