Sierra Leone VP seeks asylum with US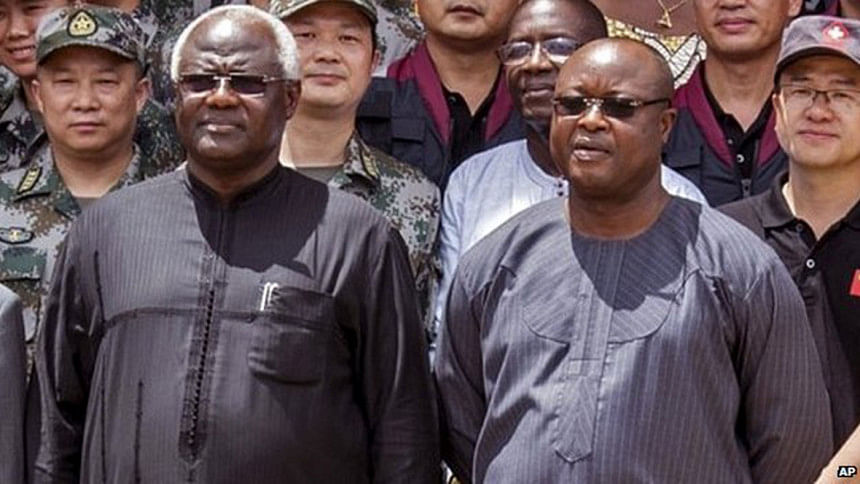 Sierra Leone's Vice-President Samuel Sam-Sumana says he is seeking political asylum at the US embassy in the capital after soldiers surrounded his house.
Sam-Sumana told the BBC he and his wife had fled the residence and one report said he had entered the embassy.
The move comes a week after his expulsion from the ruling party.
Two weeks ago, Sam-Sumana said he was putting himself in quarantine for 21 days after one of his bodyguards died of the Ebola virus.
Police and army sources confirmed to the BBC's Umaru Fofana in Freetown that troops were sent to the vice-president's residence on Saturday morning to withdraw his security detail, but they would not say whose orders they were acting on.
Sam-Sumana was expelled from the ruling All People's Congress Party last week on allegations of "anti-party activities".
He was accused of falsifying academic credentials, lying about his faith, and fomenting violence. He denied the allegations and rejected calls for his resignation.
Under Sierra Leone's constitution he cannot be sacked.
Relations between Sam-Sumana and President Ernest Bai Koroma have long been frosty, our correspondent reports.
Sam-Sumana, 53, has been vice-president since 2007, when he first stood as Koroma's running mate. President Koroma is now serving his second and final term.
According to a biography on the presidential website, Sam-Sumana has spent time studying and working in the US, and is an expert in diamond mining.
He said two weeks ago that he had chosen to be quarantined to "lead by example" in the battle against Ebola.
More than 3,500 people have died from Ebola in Sierra Leone, which along with Guinea and Liberia has seen the vast majority of deaths from the disease