Shia rebels 'seize Yemen city'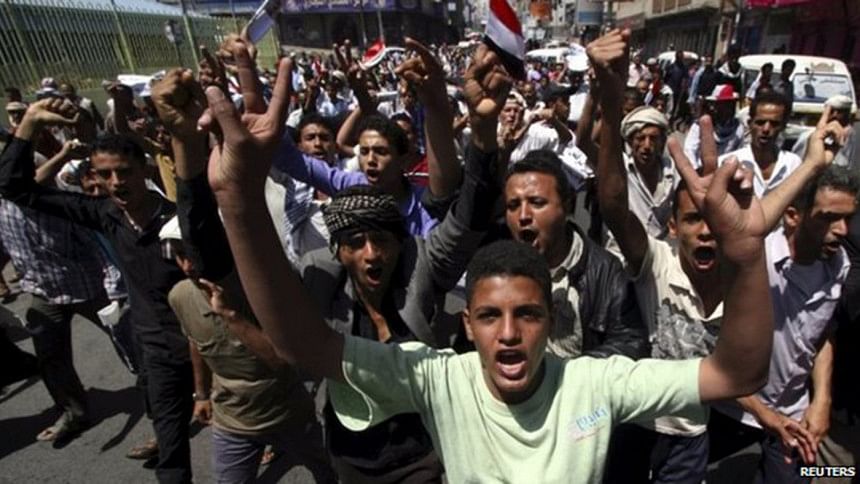 Parts of Yemen's third largest city Taiz have been seized by Shia rebels, reports quoting security officials say.
The city's airport was among the areas seized by Houthi rebels, reports said.
There has been mounting violence by rival armed groups in Yemen, including Houthi rebels, al-Qaeda and Islamic State militants.
On Saturday, the US said it was withdrawing its troops from the country due to the worsening security situation.
Houthi fighters dressed in military uniform could be seen arriving at the airport and patrolling parts of the city, eyewitnesses said.
Dozens of tanks and military vehicles could be seen heading from north Yemen towards Taiz, reports said.
Some local residents took to the street to protest against the Houthi presence, prompting rebels to fire into the air to disperse them.
The strategic city of Taiz is located between the capital, Sanaa, and the southern city of Aden.
Political limbo
The UN Security Council is holding an emergency meeting on Yemen's security situation today.
Yemen has been in political limbo over the past few months, since Houthi rebels took over the capital and President Abdrabbuh Mansour Hadi fled to the southern port city of Aden.
The rebels declared a new government in February and said a transitional five-member presidential council would replace President Hadi.
However, the Houthis are minority Shia from the north, and their declaration has not been recognised by Sunni and southern leaders.
Hadi made a televised address on Friday demanding the rebels withdraw from Sanaa. In response, the Houthis called for a general mobilisation of their forces against those loyal to the president.
Yemen is the base of al-Qaeda in the Arabian Peninsula (AQAP), a powerful offshoot of the jihadist group.
However, IS is also gaining ground after setting up a base there in November. The group claimed a suicide attack on two Houthi mosques on Friday in the capital, Sanaa.
Both al-Qaeda and IS are Sunni groups and consider the Shia Muslim Houthis to be heretics.