5-YEAR-LONG SYRIA CONFLICT
Powers divided over ceasefire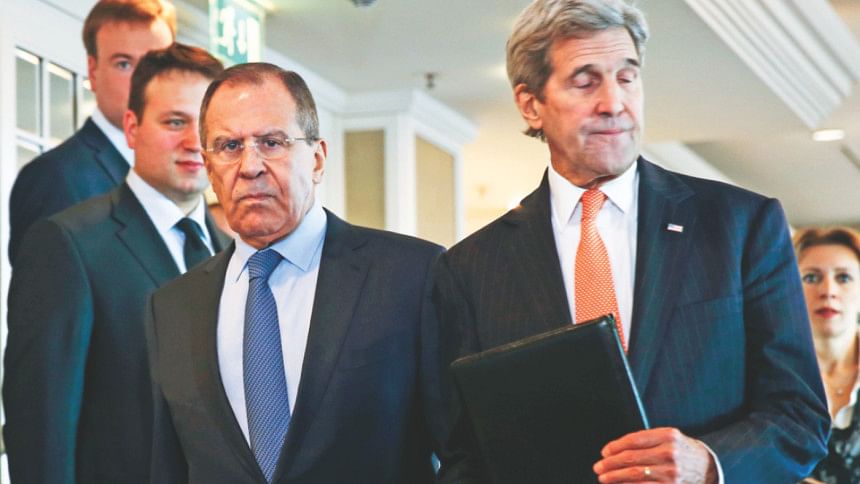 A US push for an immediate ceasefire in Syria has run into Russian opposition ahead of talks aimed at reviving stalled peace negotiations.
Russia is reportedly calling for a halt to hostilities on 1 March, but the US suspects it wants to give the Syrian army three weeks to crush rebel forces.
Russia has made a "quite specific" proposal for a ceasefire in Syria and is awaiting a US response, Foreign Minister Sergei Lavrov said yesterday.
"We made propositions for a ceasefire that are quite specific," he said as he sat down for talks with his US counterpart John Kerry in Munich.
"We will wait for the American response before we take it to the (International Syria Support Group)."
The UN says 51,000 Syrians have fled the bombardment of the city of Aleppo by government forces, backed by Russian bombers and Iranian fighters.
"We're going to have a serious conversation about all aspects about what's happening in Syria. Obviously, at some point in time, we want to make progress on the issues of humanitarian access and ceasefire," Kerry said.
Kerry and Lavrov will host foreign ministers from the 17-nation Syria contact group later Thursday, for a meeting billed as a moment of truth for the floundering peace process.
The UN High Commissioner for Human Rights, Zeid Raad Al Hussein, called on them to ensure that talks in Geneva aimed at finding a political solution to the conflict resume as soon as possible.
The talks were suspended last week while still in the preparatory phase, with both sides blaming each other for the failure to make any progress.
One official told the Associated Press that the US could not accept Russian's proposed date because rebel forces might suffer irreversible losses in northern and southern Syria before the ceasefire took hold.
"What Russia's doing is directly enabling ISIL," Brett McGurk, President Barack Obama's special envoy to the coalition fighting the group in Syria and Iraq, told the House Foreign Affairs Committee.
The US military meanwhile described as "patently false" Russian claims that US aircraft bombed Aleppo on Wednesday. The US earlier alleged that Russian air strikes had destroyed two clinics in Aleppo - something Russian officials denied.
More than 250,000 people have died in almost five years of war in Syria. Eleven million others have fled their homes.