'Oldest human aged 146' dies in Indonesia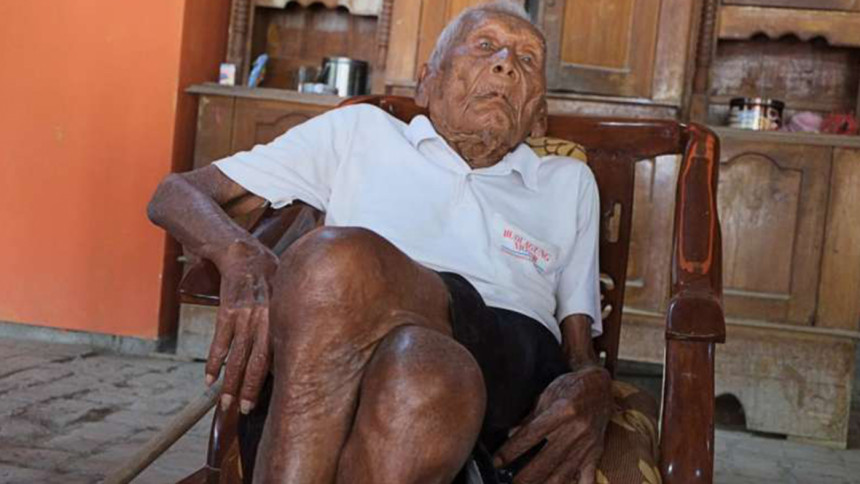 An Indonesian man who claimed he was 146 years old - which makes him the oldest living human ever - has died, reports said on Monday (May 1).
The BBC reported that Sodimedjo, better known as Mbah Ghoto, was hospitalised on April 12 as his health was deteriorating, but he was discharged six days later.
After leaving hospital, Mbah Ghoto - a lifelong heavy smoker - ate and drank very little before his death.
He was buried in his village in central Java on Monday.
Mbah Ghoto first rose to prominence last year, when officials claimed that records, which showed that he was born on December 31, 1870, were valid.
Doubts, however, were raised as Indonesia only started recording births in 1900. There have been mistakes made in the past, according to the BBC.
In an interview with The Jakarta Post in September last year, Mbah Ghoto attributed his longevity to his "wholeheartedness".
"Life is only a matter of accepting your destiny wholeheartedly. I have wanted to die for a long time. My wives, children and siblings all have passed away but Allah has blessed me with a long life," he said.
"I have to live my life patiently and accept my destiny wholeheartedly."
Mbah Ghoto's grandson, Suryanto, revealed that his grandfather had never suffered a severe illness and ate all kinds of food.
Mbah Ghoto spent most of his time in the living room of his home smoking and listening to the radio, and only started using a walking stick in 2015.
He reportedly married four times and left behind five children, 12 grandchildren, 17 great-grandchildren and two great-great-grandchildren. His last wife died in 1997.
Should Mbah Ghoto's age be verified, he would be older than French woman Jeanne Calment, who holds the record for being the longest living human in history. She was 122 when she died in August 1997.
The last known survivor of the 19th century, Italian woman Emma Morano, died on April 15 this year at the age of 117.