NKorea urges nuclear build-up on anniversary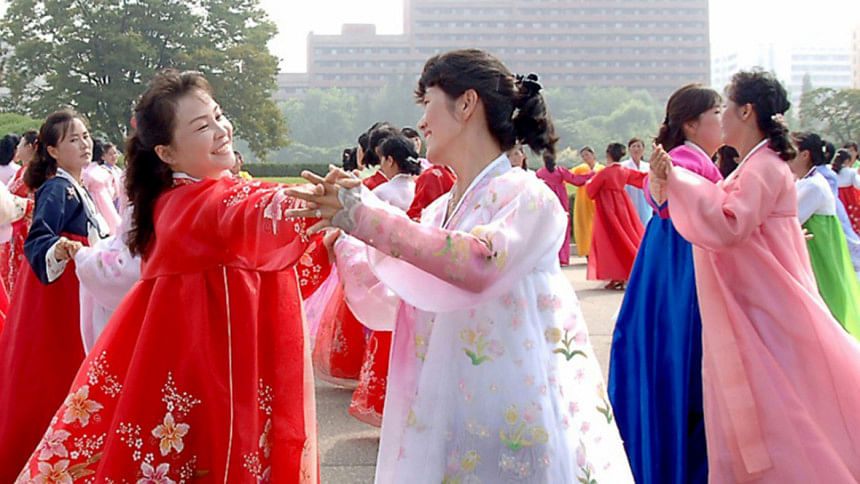 North Korea's state media marked the nation's founding anniversary Saturday with calls for a nuclear arms buildup, in defiance of mounting international sanctions.
South Korea's military said it was keeping close tabs on the North amid speculation it could stage a missile launch or another nuclear test to mark the 1948 establishment of the Democratic People's Republic of Korea.
North Korea conducted its fifth nuclear test on September 9 last year, and then carried out a sixth a week ago, saying it was a hydrogen bomb that could be fitted onto a missile -- prompting global condemnation and calls for further sanctions.
In July, it tested two intercontinental ballistic missiles (ICBMs) that appeared to bring much of the mainland US into range.
"The defence sector, in step with the party's Byungjin policy (of developing the economy and nuclear weapons at the same time) must make cutting-edge Juche weapons in greater quantities," the Rodong Sinmun said in an editorial, referring to the national philosophy of "Juche" or self-reliance.
The mouthpiece of the North's ruling party called for more "miracle-like events" such as the two ICBM tests to deter the United States which it said was bent "decapitating" the nation's leader Kim Jong-Un.
"No matter how the US and its puppets kick up a ruckus, our republic, which has a strong military and the most powerful Juche bombs and weapons, and whose territory has all turned into fortresses, and all its people armed to the teeth, will remain an eternal iron-clad citadel," it said.
In another commentary, Rodong Sinmun said the US would continue receiving "gift packages in different shapes and sizes" as long as it sticks to what it said was a hostile policy against the North.
Kim himself has called the ICBM tests "gift packages" that the North was delivering to the "US bastards".
A South Korean defence ministry spokesman said there were no signs of the North preparing a missile launch or a nuclear test on Saturday.
"The military is maintaining its utmost defence posture, keeping a close watch over the North. But there is nothing out of the ordinary," he told AFP.
But he warned the North could fire ballistic missiles at any time from easily concealed mobile launchers.
South Korea's Yonhap news agency quoted an unidentified government official as saying that the North could carry out a seventh nuclear test at its Punggye-ri test site at any moment.
The official also said the North could choose the founding anniversary of the ruling Workers' Party, which falls on October 10, to hold another test.
The United States wants the UN Security Council to vote on Monday to impose tougher sanctions against North Korea despite resistance from China and Russia.
A US-presented draft resolution calls for an oil embargo on North Korea, an assets freeze on Kim, a ban on textiles and an end to payments of North Korean guest workers.
Diplomatic sources said Russia and China opposed the measures as a whole, except for the ban of textiles, during a meeting of experts Friday.