Ready for direct talks with Israel
Says Palestinians ahead of Israel's West Bank 'annexations' date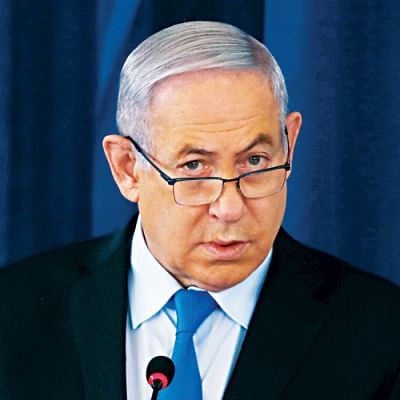 The Palestinians are prepared to renew long-stalled peace talks with Israel and to agree to "minor" territorial concessions, according to a counter-proposal to a contentious US plan.
A Palestinian Authority text sent to the international peacemaking Quartet and seen Monday by AFP, says the Palestinians are "ready to resume direct bilateral negotiations where they stopped," in 2014.
Palestinian prime minister Mohammed Shtayyeh said on June 9 that the PA had drafted a response to the US proposal but did not previously mention direct talks with the Israelis.
Israel's coalition government has set July 1 as the date from which it could initiate action on US President Donald Trump's Middle East controversial peace proposals.
Israel's deputy premier has said West Bank annexations must wait, allies and regional powers have condemned the project, but hours before his government can move forward, the prime minister's plans remained unknown yesterday.
On Monday, Netanyahu's chief coalition partner, the defence minister and alternate prime minister, Benny Gantz, said annexation must be put on hold until the coronavirus crisis has been contained.
European powers including Britain, France and Germany as well as the UN are opposed to any unilateral West Bank annexations as a violation of international law that would undermine a two-state solution to the conflict.
Netanyahu, in power since 2009, has pursued closer ties with Arab states, notably in the Gulf, seeking economic cooperation and to form a united front against common foe Iran.
But Gulf leaders have also made clear that moves towards annexation would threaten any warming relations with the Jewish state.
Israeli media have suggested action could be postponed indefinitely, or that Netanyahu might announce a symbolic gesture to limit international uproar, like the annexation of one Jewish settlement on the outskirts of Jerusalem.
Expert noted that Netanyahu is also watching the US election to see if Trump will be in office after January to defend his vision for Middle East peace. Presumptive Democratic party nominee Joe Biden has public opposed any unilateral annexations by Israel.