Modi's foreign trips cost Rs 37 crore in 1st year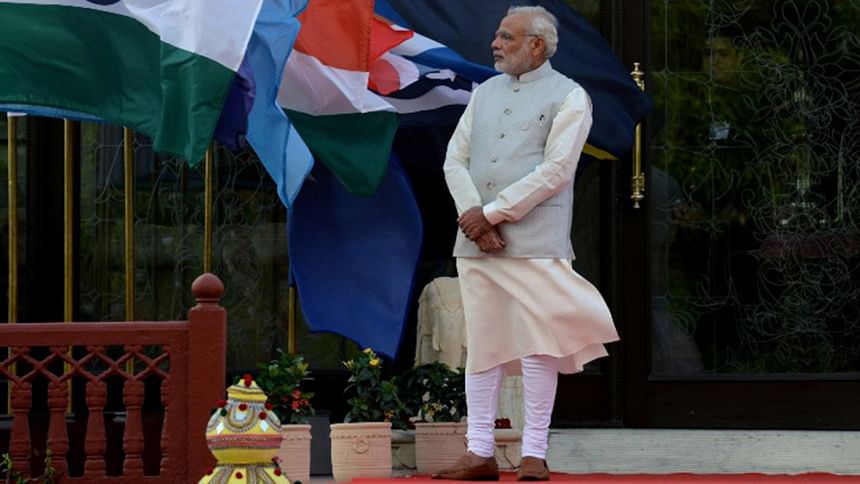 Indian Premier Narendra Modi's foreign trips cost the exchequer over Rs 37 crore with his Australia trip grossing as the most expensive one.
The Times of India reports that documents accessed under RTI Act reveal that Indian missions in 16 countries spent Rs 37.22 crore in one year.
Indian PM Modi visited 20 countries between June 2014 and June 2015, reports The Times of India.
The missions in Japan, Sri Lanka, France and South Korea denied disclosure of information to RTI applicant Comm (retd) Lokesh Batra. Batra had approached individual missions seeking expense related information on the PM's trip.
Among the most expensive trips were those to Australia, the US, Germany, Fiji and China while the cheapest trip was Bhutan which cost Rs 41.33 lakh, reports The Times of India
The mission spent over Rs 5.60 crore on hotel stay for the PM and his delegation in Australia while Rs 2.40 crore was spent on hiring cars.
The PM's trip to New York in September 2014 incurred spending of Rs 9.16 lakh on hotel accommodation for the SPG delegation and Rs 11.51 lakh for hotel rooms for the PM, and officials of the foreign ministry and the PMO. The delegation stayed at the New York Palace Hotel, reports The Times of India.
Another Rs 39 lakh was spent on car rentals for the SPG delegation while Rs 3 lakh was spent on Prasar Bharati for coverage of the PM's visit.
In Germany, the embassy spent Rs 3.80 lakh on hotel accommodation for the VVIP delegation, Rs 1.31 lakh on daily allowances and Rs 19,405 on local travel.
The Times of India further reports, the government spent Rs 1.06 crore on hotel stay, Rs 60.88 lakh on hiring vehicles, Rs 5.90 lakh on aircraft related expenses and Rs 9.80 lakh on daily allowances of officials in China. The PM's tour to Bangladesh cost the exchequer Rs 1.35 crore, of which Rs 19.35 lakh was spent on hotel stay, Rs 28.55 lakh on hearing and translation device for the PM and Rs 13.83 lakh on internet charges. 

Modi has been attacked for his foreign travels with opponents branding him as "absentee PM". In the first year of office, he was overseas for 53 of 365 days, traveling to 17 countries which was not very different from his predecessor. Former PM Manmohan Singh spent 47 of 365 days in 12 countries during the first year of UPA-2.