Migrant talent on display at Singapore cultural show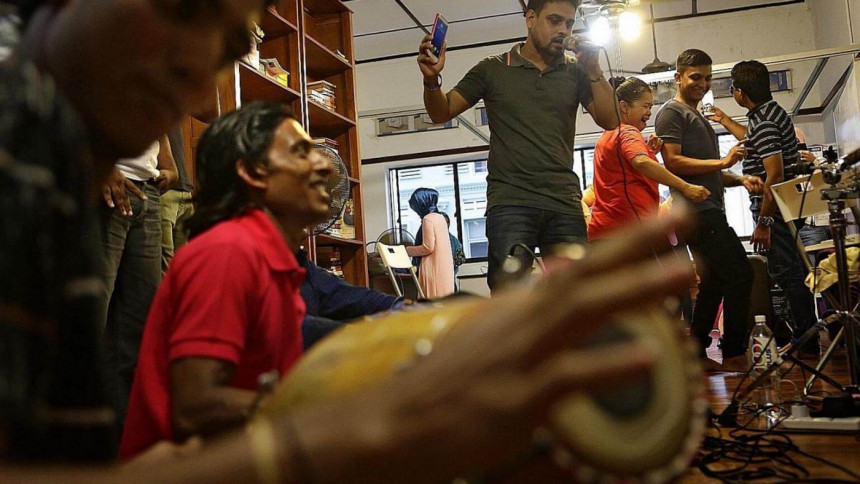 Every Sunday - his only day off for the week - for the past two months, 30-year-old Bangladeshi construction worksite supervisor in Singapore, Fazley Elahi has been swopping his safety helmet for the hat of a show organiser.
Together with compatriots Ripon Chowdhury, 29, AK Zilani, 25, Sowrjik Sarothi Das, 25, Nil Sagar Sahin, 27, and Md Sharif Uddin, 39, Fazley has embarked on a recruitment drive to uncover fellow migrant workers who share his passion for culture and the arts.
The group visited dance rehearsals by Filipino domestic workers at Scape in Orchard Road, and watched music collaborations between Indonesian and Bangladeshi workers in Little India.
They also held drama auditions - in which they were also actors - at Sing Lit Station, a literary non-profit organisation in Jalan Kubor.
Their endeavour culminated in the inaugural Migrant Cultural Show, organised by the migrant worker community, which was held yesterday evening at the Arya Samaj Building in Little India.
The show, which lasted four hours, featured music, dance, drama and poetry performances by more than 90 foreign workers from countries such as Bangladesh, Indonesia, India and the Philippines.
About 400 guests, including Transient Workers Count Too (TWC2) executive committee member Debbie Fordyce, a representative from the Bangladesh Embassy, members of the Singapore Bangladesh Society as well as non-governmental organisations such as Aidha and the Indonesian Family Network, attended the event.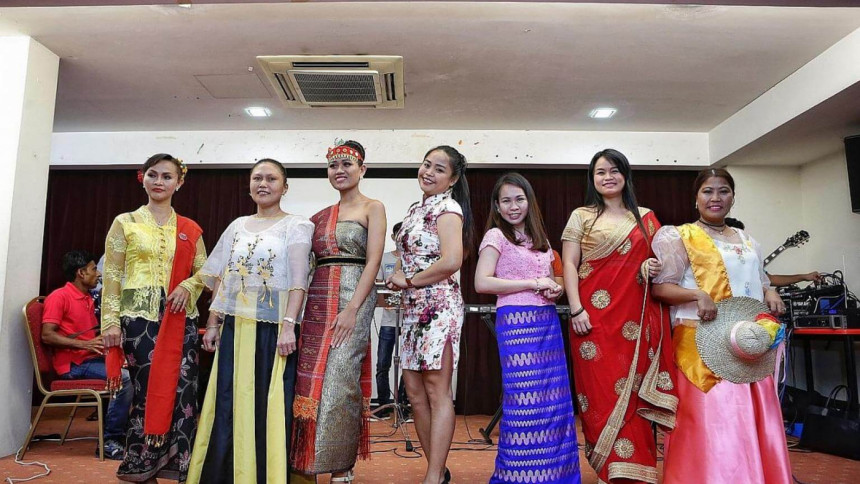 "I want to promote cultural bonding and friendship between different nationalities through this event. This is a great opportunity to increase understanding between cultures and combat stereotypes," said Fazley, who came to Singapore eight years ago.
Indonesian domestic helper Menik Sri Suyati, 46, who performed two traditional Javanese songs and dances as part of a duo, said the event provided a platform to showcase her talent.
Menik, who has been working here for 15 years, used to be a professional dangdut singer in Central Java. Dangdut is a genre of Indonesian music that is partly derived from Hindustani, Malay and Arabic music.
"I thought my singing career was over when I came to Singapore to work. But I made friends who also enjoy singing and started joining singing competitions," she said.
"Having this cultural show is a very good idea. We can see the traditions and cultures from different countries. I hope it's not just for today. Maybe every year, if possible."
Another performer, Belen Esposo Repollo, 42, a Filipino domestic helper, said she felt proud to have shared her poems - about love - with the audience.
She started reading and writing poetry in 2012, four years after arriving in Singapore. A friend introduced her to the International Poetry Society, an online community of poetry lovers, and poetry became her way of dealing with homesickness.
"Poetry is now my life. Without poetry, maybe I'll still be in a dark place. People have the impression that maids are lowly. We are not just here to work, but also to change our lives," she said.
With her savings, she has managed to raise her three children, aged 21, 20 and 16, back home in the town of Cabangan.
Repollo's employer, Rina Wee, 40, a civil servant, said poetry has been a good platform for Repollo to express herself and be exposed to like-minded people.
"She's always looking to improve herself. We support her by giving her time off when necessary and she has been able to balance her interests with her housework," said Wee.
Staging the Migrant Cultural Show was not easy for its organisers, who had to overcome challenges such as securing sponsorship, finding a suitable venue and coordinating rehearsals with various performing groups.
Rehearsals usually lasted only one to two hours as many domestic helpers had curfews.
The organisers spent time outside of work on weekdays looking for sponsors. They also created a Facebook page to publicise the event.
Fazley and his organising committee plan to make the show an annual affair.
"We want to constantly provide this opportunity for migrant workers to bond over the arts," he said.
"More importantly, I want to show Singapore that migrant workers are not just workers, but also have passion in the different arts."



Copyright: The Straits Times/ Asia News Network