Raids kill 73 in Idlib
Rebels rule out withdrawal from Aleppo as army advances towards remaining opposition-held territory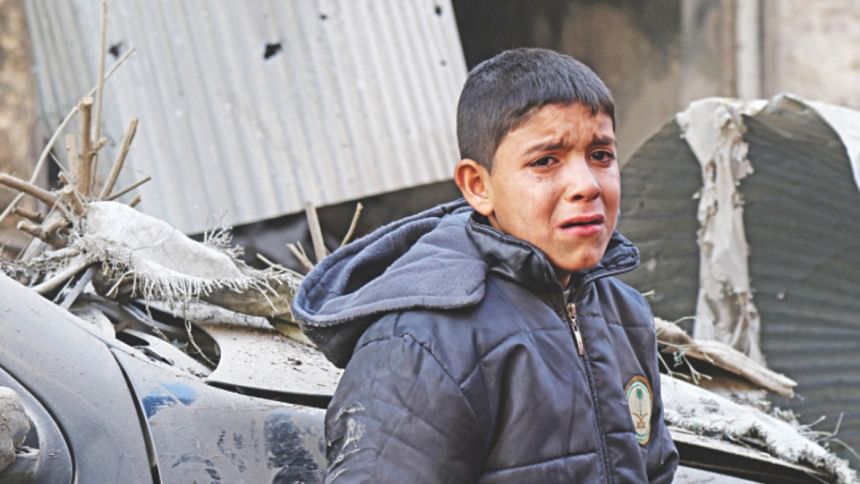 Air strikes killed at least 73 people in rebel-held Idlib province, including 38 in the city of Maarat al-Numan, on Sunday night, the Syrian Observatory for Human Rights, a Britain-based group monitoring the war, reported.
Russian war planes and Syrian military jets and helicopters have been conducting heavy strikes for months against rebels in Idlib, southwest of Aleppo. Insurgents had previously tried to get help and supplies to fellow rebels in the city from Idlib.
The Observatory said the death toll in Maarat al-Numan included five children and six members of a single family, reports Reuters.
The bombardment included barrel bombs, improvised ordnance made from oil drums filled with explosives and dropped from helicopters, the monitor said. The Syrian military and Russia both deny using barrel bombs, whose use has been criticised by the United Nations.
Meanwhile, Syrian rebels yesterday ruled out a pullout from east Aleppo despite sweeping government advances, after Moscow announced it would hold talks with Washington on their withdrawal from the city.
The Syrian army has seized two-thirds of east Aleppo and continued to advance yesterday, pounding remaining opposition-held territory.
Russian Foreign Minister Sergei Lavrov said earlier that Moscow would hold talks with Washington this week on a timeframe for the withdrawal of all rebels from Aleppo.
"During the Russian-American consultations, the concrete route and timeframe for the withdrawal of all fighters from eastern Aleppo will be agreed upon," he said, indicating the talks in Geneva would likely start today or tomorrow.
"As soon as these routes and timeframes are agreed on, a ceasefire can come into effect," Lavrov said.
But officials from two rebel groups in Aleppo said they would reject any plan that involved the withdrawal of fighters from the city, reports AFP.