More raids, more deaths
Nine civilians killed as Syria regime strikes shake Ghouta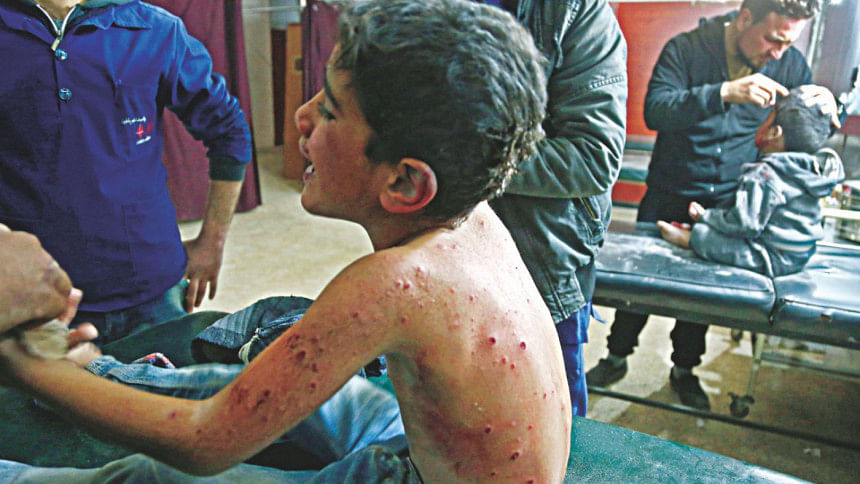 Iran, Russia, Turkey

to hold Syria meeting

in Kazakhstan

Russian plane crash

in Syrian base kills 32
Fresh air strikes and clashes shook the Syrian rebel enclave of Eastern Ghouta yesterday after desperately needed aid deliveries were cut short by fighting.
The brutal onslaught on the last major rebel stronghold near the capital, the latest regime offensive of the seven-year civil war, has sparked outrage but little action from the West.
Government troops have advanced rapidly across farmland in Eastern Ghouta in the past week, a monitor says, and as of early yesterday controlled 40 percent of the enclave, the Syrian Observatory for Human Rights said.
Essential aid deliveries to tens of thousands of besieged civilians were cut short on Monday as the regime pounded the region.
At least nine civilians were killed in air strikes on the town of Jisreen early yesterday, the Britain-based Observatory said.
In the latest attempt to end the seven-year war, the foreign ministers of regime allies Iran and Russia and rebel backer Turkey are to meet next week in Astana, Kazakhstan's top diplomatic envoy said.
Turkey yesterday announced it would establish camps in neighbouring Syria, including near the border in Idlib, to settle 170,000 people fleeing from the civil war.
France and Britain have requested an emergency meeting of the UN Security Council to discuss the failure of the 30-day ceasefire to take hold in Syria, diplomats said.
The council is expected to meet today to discuss the air strikes and clashes in the Syrian enclave of Eastern Ghouta.
Meanwhile, a Russian transport plane crashed on landing at Russia's Hmeimim airbase in Syria, killing all 32 on board, the defence ministry said in a statement carried by RIA Novosti.
"The reason for the crash according to preliminary information could have been a technical fault," the ministry added, saying the plane had not come under fire.