Hajj stampede: New tally shows 1,399 killed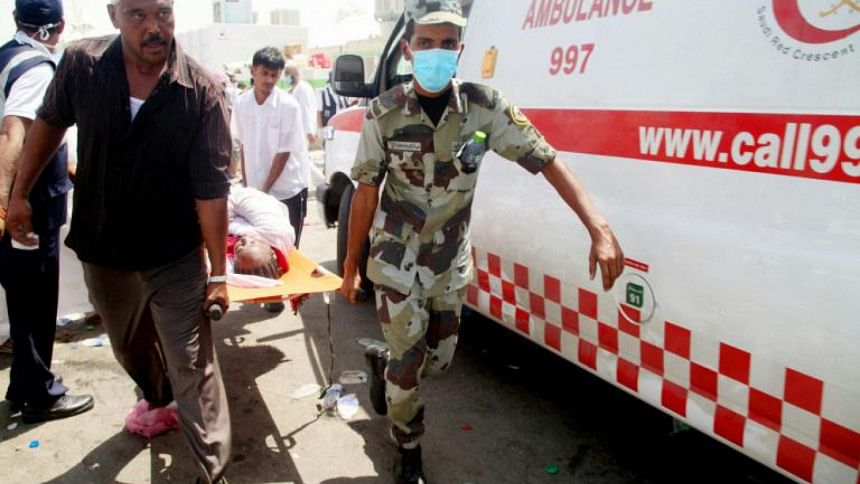 The crush and stampede last month outside of Saudi Arabia's holy city of Makkah killed at least 1,399 people during the Hajj pilgrimage, a new tally yesterday showed, 630 more than the kingdom's official toll.
The Associated Press count of the dead from the worst tragedy to strike the Hajj in a quarter-century comes as Saudi Arabia faces threats ranging from an Islamic State insurgency, a war in Yemen against Shiite rebels and weakening global oil prices gnawing away at its reserves.
Any disaster at the hajj, a pillar of Islamic faith, could be seen as a blow to the kingdom's cherished stewardship of Islam's holiest sites. This season saw two, including the September 11 collapse of a crane at Makkaha's Grand Mosque that killed 111 people.
Saudi Arabia has been hesitant to release updated casualty figures from the September 24 stampede in Mina, even as hundreds remain missing.
ALSO READ: Bangladeshis' death toll jumps to 63
"Discrediting the Saudi handling of the hajj undermines the kingdom's prestige and legitimacy across the Islamic world," Bruce Riedel, a former CIA officer who now runs the Washington-based Brookings Institution's intelligence project, wrote on one of the think tank's blogs this week.
The AP count of the dead is based on tolls offered by 18 of the over 100 countries that took part in the hajj this year. Iran said it had 465 pilgrims killed, while Egypt lost 148 and Indonesia 120.
Others include Nigeria with 99, Pakistan with 89, India with 81, Mali with 70, Bangladesh with 63, Senegal with 54, Benin with 51, Cameroon with 42, Ethiopia with 31, Morocco with 27, Algeria with 25, Ghana with 12, Chad with 11, Kenya with eight and Turkey with three.
Saudi officials have said their official figure of 769 killed and 934 injured remains accurate, though an investigation into the causes of the tragedy is ongoing and authorities have not updated the casualty toll since September 26, two days after the disaster. Authorities have said the crush and stampede occurred when two waves of pilgrims converged on a narrow road, causing hundreds of people to suffocate or be trampled to death.
Shiite power Iran, Sunni Saudi Arabia's Mideast rival, has blamed the disaster on the Kingdom's "mismanagement" and accused Riyadh of a cover-up, saying the real death toll exceeds 4,700, without providing evidence to support the claim.
Iran has called for an independent body to take over planning and administering the five-day Hajj pilgrimage, required of all able Muslims once in their lifetimes. But the ruling Al Saud family likely would never give up its role in administering the holy sites, which along with Saudi Arabia's oil wealth gives it major influence in the Muslim world. King Salman himself is known as the Custodian of the Two Holy Mosques.
The dispute comes as Saudi Arabia leads a coalition in Yemen's civil war targeting Shiite rebels known as Houthis, who have backing from Iran.
Meanwhile, the kingdom has suffered gun and bomb attacks by an affiliate of the extremist Islamic State group, which holds a third of Iraq and Syria in its self-declared "caliphate." Like al-Qaida before it, the Islamic State group opposes the Saudi royal family's control over the holy sites, especially as Saudi Arabia is a member of the US-led coalition targeting the militant group in airstrikes.
With hundreds missing, a final death toll remains in question, even as the latest count brings the number of dead even closer to the deadliest disaster to ever strike the Hajj — a stampede in 1990 that killed 1,426 people.
Recent Indian documents on the Mina disaster refer to at least 2,046 photographs of the dead, though its consular officials say some bodies were photographed multiple times.
Indonesia's religious affairs minister, Lukman Hakim Saifuddin, said yesterday his country's diplomats have seen more than 2,000 photos purportedly of dead from the disaster, without elaborating.
Fawaz Gerges, a Middle East expert at the London School of Economics, said bureaucratic confusion may be partly to blame for the discrepancies in death counts because there was not one centralized place that the dead and injured were taken.
But, he said, political considerations were also likely a factor, adding: "It's bad news, and you want to sweep bad news under the rug."
"The Saudi kingdom should come out and provide a tally. Transparency is the most powerful card that they have," he said. "This speaks a great deal about the anxiety and political sensitivity that Saudi officials feel."