World pays tribute to Prince in purple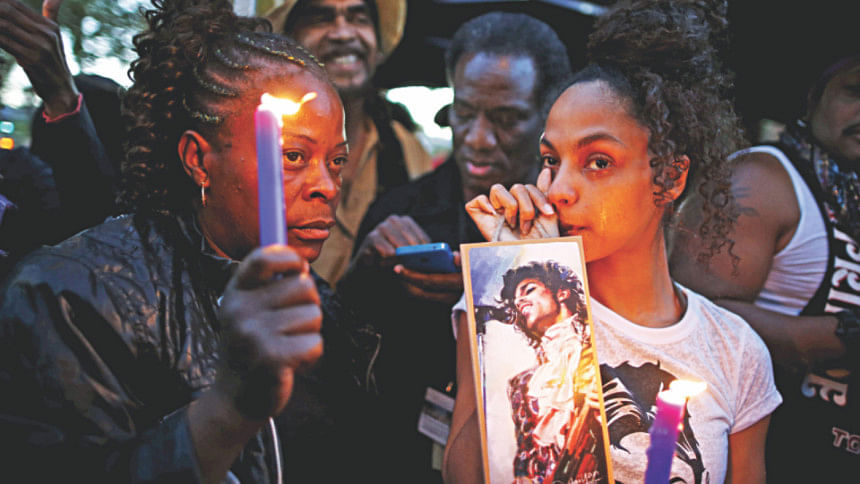 Fans have been remembering the life of Prince with purple-coloured tributes and dance parties, after the star died suddenly at the age of 57.
Buildings, newspaper front pages and websites across the US and beyond have changed colour in his honour.
Prince was found dead in a lift at his Minnesota home on Thursday. He became a star in the 1980s, with albums like Purple Rain and Sign O' the Times.
Prince's innovative music spanned rock, funk and jazz. He sold more than 100 million records during his career.
US President Barack Obama said the world had "lost a creative icon".
In Prince's native Minneapolis, the Minnesota Twins baseball team turned their stadium purple, as did the Lowry Avenue Bridge in the centre of the city.
The Niagara Falls were turned purple to mark the Queen's 90th birthday, but the coincidence was welcomed by Prince fans online.
On Thursday evening, hundreds of people gathered for an all-night party at the First Avenue nightclub in Minneapolis, where Prince recorded his 1984 hit Purple Rain.
Vigils for the singer were also held outside his home as well as in Los Angeles and Brooklyn, where the film director Spike Lee, a friend of Prince's, led another impromptu party.
Prince's home at Paisley Park has become a makeshift shrine, said the BBC's James Cook at the scene.
Born in 1958, Prince was a prolific writer and performer from a young age - reportedly writing his first song when he was seven.
He was also an arranger and multi-instrumentalist, and recorded more than 30 albums. His best-known hits include Let's Go Crazy and When Doves Cry.
In 1984, he won an Oscar for the score to Purple Rain, a film in which he also starred.