Throw out genocide conviction: Karadzic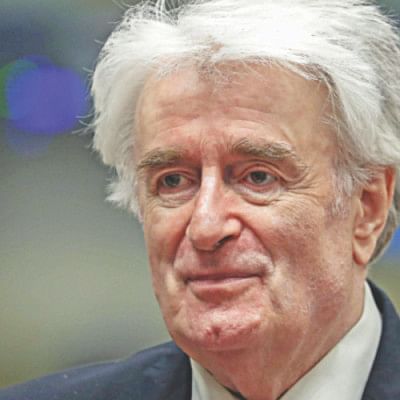 Once-feared Bosnian Serb leader Radovan Karadzic yesterday urged UN judges to overturn his conviction for war crimes during the Balkans conflict, and either acquit him or order a new trial.
Appearing at the start of his two-day appeal dressed in a dark suit and red tie, Karadzic, 72, smiled and greeted his defence team in the tribunal in The Hague.
He described the expulsion of Muslims and Croats in the 1990s as "myths", at the start of his war crimes appeal.
He was sentenced to 40 years behind bars in March 2016 for the bloodshed committed during the Balkan country's three-year war from 1992-1995 which killed 100,000 people and left 2.2 million others homeless.
Once the most powerful Bosnian Serb leader, he became the highest ranked person to be convicted and sentenced at the International Criminal Tribunal for the Former Yugoslavia (ICTY), after former Serbian president Slobodan Milosevic died while on trial.
But Karadzic has lodged 50 grounds of appeal, maintaining to the Mechanism for International Criminal Tribunals (MICT) -- which has taken over from the ICTY -- that he was not given a fair trial.
"We're here today to ask you to overturn Radovan Karadzic's conviction and to order a new trial," defence lawyer Peter Robinson said, revealing that his client would address the court.
The right to a fair trial was a "universal value" of international justice, Robinson said, denouncing what he termed Karadzic's original "unwieldly, mega trial."