Rebel assault rocks Damascus
Heavy clashes reported; Israel threatens to 'destroy' Syrian air defence systems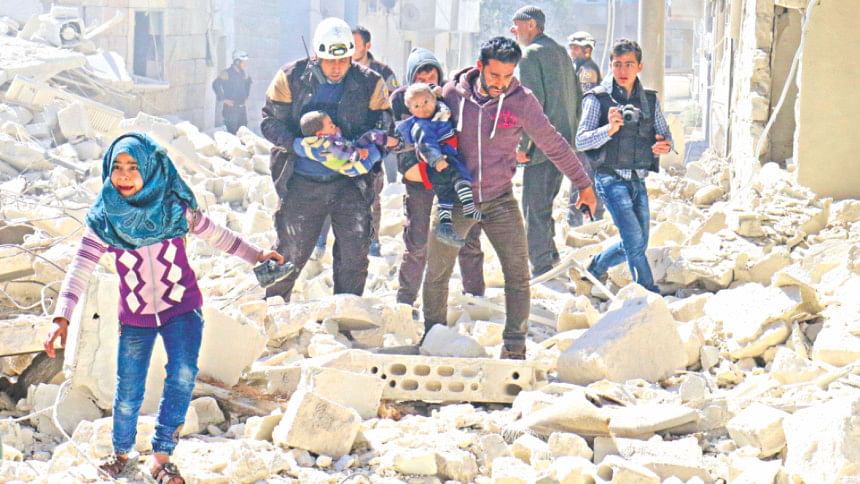 Heavy clashes rocked eastern districts of the Syrian capital yesterday as rebels and jihadists tried to fight their way into the city centre in a surprise assault on government forces.
Also yesterday, Israeli Defence Minister Avigdor Lieberman threatened to destroy Syria's air defence systems after they fired ground-to-air missiles at Israeli warplanes on Friday.
Syria's military said it shot down one Israeli jet and hit another as they carried out early morning strikes near the famed desert city of Palmyra.
Israel denied any of its planes were hit and said it had been targeting weapons bound for Lebanon's Hezbollah movement, which backs Assad in Syria.
The United Nations has sponsored peace talks to end the conflict since 2012, to no avail.
Government representatives and opposition figures are set to meet for a fourth round of negotiations on March 23 in Switzerland.
The attack comes just days before a fresh round of UN-brokered peace talks in Geneva aiming at ending Syria's six-year war.
Rebels and government forces agreed to a nationwide cessation of hostilities in December, but fighting has continued across much of the country, including in the capital.
Steady shelling and sniper fire could be heard across Damascus as rebel factions allied with former al-Qaeda affiliate Fateh al-Sham Front launched an attack on regime positions in the east of the city.
The attack began early in the day "with two car bombs and several suicide attackers" in the Jobar district, said Rami Abdel Rahman, head of the Syrian Observatory for Human Rights monitoring group.
Rebels seized several buildings in Jobar and advanced into the nearby Abbasid Square area, seizing part of a large bus station and firing a barrage of rockets into multiple neighbourhoods, Abdel Rahman said.
Regime warplanes have targeted rebel positions with more than 30 air strikes since the morning, he added.
State media denied that rebel groups had entered the Abbasid district, however, reporting that the army had successfully "blocked an attack by terrorists on military points and residential buildings in Jobar".
Several tanks were seen entering east Damascus as reinforcements ahead of a possible counter-offensive.
Several schools in the capital announced they would stay closed today.
Control of Jobar -- which has been a battleground for more than two years -- is divided between rebels and allied jihadists and government forces.
But with Sunday's attack, Abdel Rahman said, "rebels have shifted from a defensive position in Jobar into an offensive one".
"These are not intermittent clashes -- these are ongoing attempts to advance," he said.
More than 320,000 people have been killed and millions have been displaced since Syria's conflict erupted six years ago with protests against President Bashar al-Assad's rule.