COP26 Climate summit : Who said what
World leaders were told to help "save humanity" on Monday at the COP26 climate summit and warned that failure was "immoral" and would sow bitterness for generations. Here is a selection of quotes from the leaders' gathering, which kicks off the UN conference in Glasgow: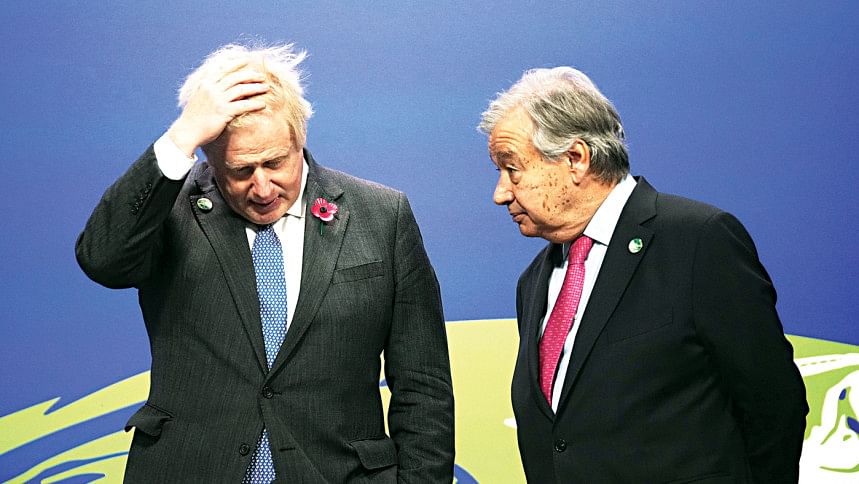 UN chief Antonio Guterres:
"It's time to say: enough," the UN Secretary-General said. "Enough of brutalizing biodiversity. Enough of killing ourselves with carbon. Enough of treating nature like a toilet. Enough of burning and drilling and mining our way deeper. We are digging our own graves." He urged the delegates to: "Choose ambition. Choose solidarity. Choose to safeguard our future and save humanity."
UK Prime Minister Boris Johnson:
The British Prime Minister warned delegates of "uncontainable" public anger if the conference fails and said future generations "will not forgive us". "They will know that Glasgow was the historic turning point when history failed to turn," he said. "They will judge us with bitterness and with a resentment that eclipses any of the climate activists of today -- and they will be right."
Barbados Prime Minister Mia Mottley:
The Barbados Prime Minister said failure to provide nations with the funds to protect themselves and adapt to climate change was "measured in lives and livelihoods in our communities". "That my friends is immoral and it is unjust," she said. "We want to exist in a hundred years from now. And if our existence is to mean anything, then we must act in the interest of all our people who are depending on us."
Italy Prime minister Mario Draghi:
The Italian prime minister, who has just hosted G20 leaders in Rome, said COP26 "must now go further" than that conference. "COP26 must be the start of a new momentum, a quantum leap in our fight against climate change," he said.
Prince Charles:
"We need a vast military-style campaign to marshal the strength of the global private sector. With trillions at its disposal," the heir to the British throne said.
Sir David Attenborough:
"Perhaps the fact that the people most affected by climate change are no longer some imaginary future generations but young people alive today... perhaps that will give us the impetus we need to rewrite our story, to turn this tragedy into a triumph."