DIPLOMATIC TEST
Macron hosts Putin
Vows reprisals if chemical weapons used in Syria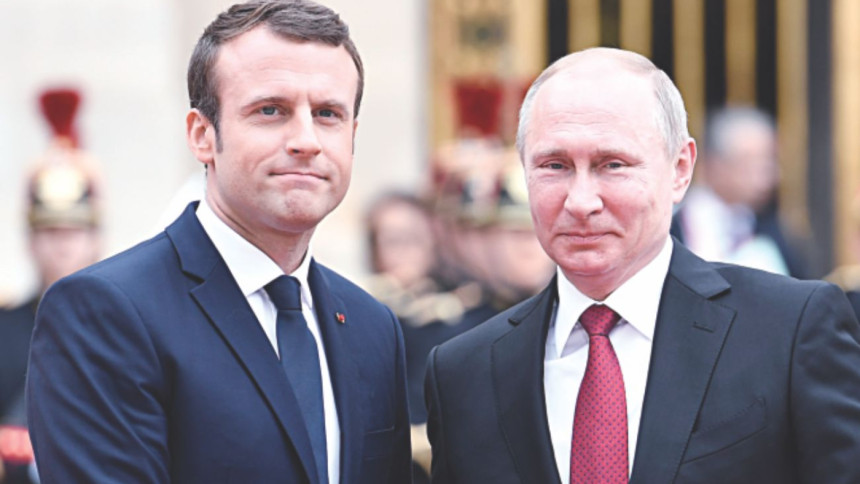 France's President Emmanuel Macron and Russian counterpart Vladimir Putin yesterday held their first meeting since the French leader came to office, with differences on Ukraine and Syria in full view.
Macron welcomed Putin to the splendour of the Versailles palace outside Paris with a perfunctory handshake.
Macron said the use of chemical weapons in Syria would be a "red line" that would draw an "immediate response" from France.
"A very clear red line exists on our side, the use of chemical weapons by whomever," he said at a joint news conference in Versailles with Putin, while adding that he wants to "strengthen France's partnership with Russia."
"Our absolute priority is the fight against terrorism and the eradication of terrorist groups and Daesh in particular," he said, using an alternate name for the Islamic State group.
"It's the guiding principle of our action in Syria and in which I want... for us to be able to strengthen our partnership with Russia."
The newly elected French leader said he favoured "a democratic transition" in Syria that would "preserve the Syrian state".
He added that "failed states in the region are a threat to our democracies, and we have seen each time they have enabled terrorist groups to advance."
Putin's visit is the latest test of Macron's diplomatic mettle after the G7 talks in Sicily last week and the Nato summit in Brussels where he turned the tables on Trump by refusing to release the American leader's hand for several seconds during the handshake for the cameras.
"It is essential to talk to Russia because there are many international issues that will not be resolved without a tough exchange with the Russians," Macron said in Sicily.
Russia's powerful ambassador to France, Alexander Orlov, said he hoped the meeting could help turn the page on the fraught relationship between Putin and Macron's predecessor Francois Hollande.
"Many things in the future will depend on the first meeting," Orlov told Europe 1 radio.
"It is very important that we begin to dissipate the mistrust that has built up in recent years."