'I would rather die than go to a camp'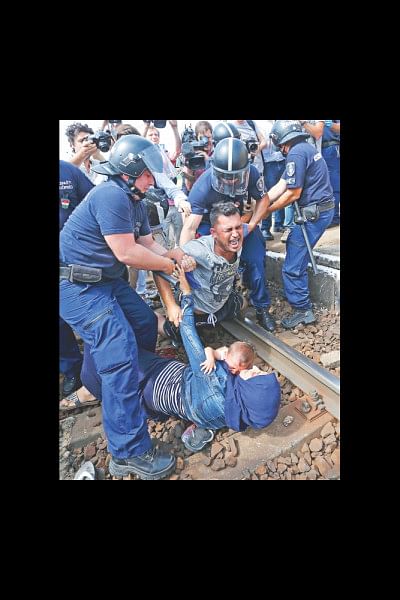 Ugly scenes erupted in Hungary yesterday as migrants fought their way onto what they thought was the first train to western Europe in days, only to be left feeling tricked as police halted the train and tried to move them to a refugee camp.
Mayhem ensued at the small train station of Bicske where it was stopped, including when one man pulled a woman and a baby onto the train tracks and refused to be moved before several bulky police dragged him off.
"I would rather die than go to a camp," one Iraqi man told AFP as his daughter -- one of many children on the train -- was taken to hospital with a swollen cheek in the humid late-summer heat.
Most of the migrants, estimated by an AFP reporter to number 200-300, refused to get off the train and onto buses that state news agency MTI reported would take them to the nearby camp.
Furious at their treatment and feeling they had been tricked onto the train, they began chanting "Germany! Germany!" -- their intended destination after a treacherous journey of hundreds of miles.
Others held placards with the words "SOS" and "Help!". "I need to go to Germany for life," read another, held by a child. Police handed out water bottles but some of the migrants poured the water onto the ground in disgust.
There were around 100 police present including riot police. An AFP reporter said late afternoon that reinforcements were arriving.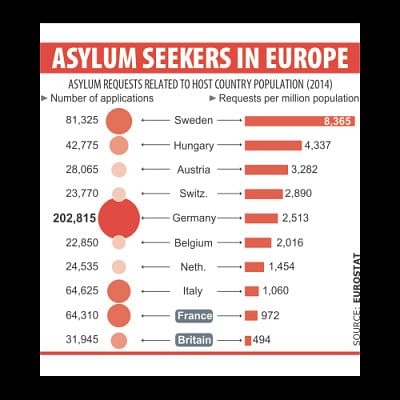 The incident occurred after Hungarian police decided yesterday morning to open Budapest's main international train station Keleti, two days after blocking it to migrants.
That decision came after Hungary on Monday allowed several thousand to board trains for Austria and Germany.
When the station was re-opened yesterday, more than a thousand migrants stormed in, fighting with each other to get on the train headed, or so they thought, to near the Austrian border.
A public announcement said however that the train would be going nowhere, and that no trains for western Europe would be leaving Keleti station "for an indefinite period".
Two hours late it finally left, its occupants -- people carrying luggage, fathers with children on their shoulders -- believing their trek to western Europe had finally resumed.
Around 2,000 people remained at Keleti, the UN refugee agency (UNHCR) estimated.