'Delicate' Myanmar conflict handled by rule of law: Suu Kyi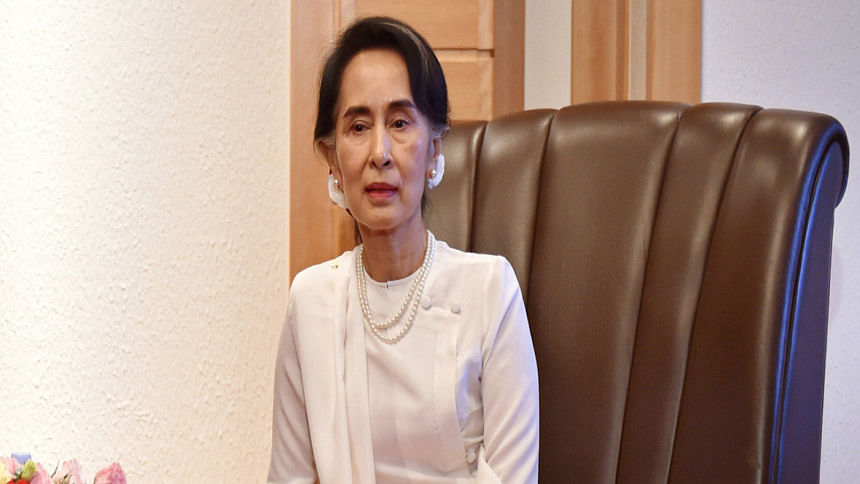 The Myanmar government is responding to conflict in the troubled north of Rakhine state, which has suffered its worst violence since 2012, based on rule of law, leader Aung San Suu Kyi was quoted as saying today.
Nobel Peace Prize winner Suu Kyi has faced mounting criticism abroad for her government's handling of a crisis in the Muslim-majority region, where soldiers have blocked access for aid workers and are accused of raping and killing civilians.
She has also not directly commented on calls from human rights experts urging the government to investigate the allegations of abuse, or on statements from human rights monitors, although she has urged the military to act with restraint.
Troops have poured into the area since militants believed to be Rohingya Muslims launched coordinated attacks on border posts on Oct 9, killing nine police. The government says five soldiers and at least 33 alleged attackers have been killed in the military operation.
In Japan on a five-day visit that included a meeting with Prime Minister Shinzo Abe, Suu Kyi met Foreign Minister Fumio Kishida, who said violence could not be permitted in dealing with the crisis, a Foreign Ministry statement said.
"The problem in Rakhine state is extremely delicate and care is needed in responding," Suu Kyi was quoted as saying.
"The Myanmar government is responding to the issue of Rakhine state based on the principles of the rule of law."
Kishida said Japan was giving two used vessels to the people of Rakhine, as well as a new vessel. On Wednesday, Abe pledged $7.73 billion to Myanmar over five years to support its peace-building and development efforts.
The military operation has sharpened the tension between Suu Kyi's six-month-old civilian administration and the army, which ruled the country for decades and retains key powers, including control of ministries responsible for security.
While Myanmar's army-drafted constitution puts the military firmly in control of security matters, diplomats and aid workers say privately they are dismayed at Suu Kyi's lack of deeper involvement in the handling of the crisis.
Suu Kyi received an honorary doctorate from Kyoto University for "advancement of democracy in Myanmar and in the world as a whole", telling Japanese students and Myanmar citizens that difficulties in negotiating peace between armed ethnic groups stemmed from a lack of belief.
"Unity and diversity is not something that can be implemented just because you want to implement it," Suu Kyi said in response to a question at a discussion at the university, where in the mid-1980s she researched her father, independence hero Aung San. She was not asked directly about the Rohingya.
"It is a long process. It takes a lot of patience," she added, without referring to Rakhine. "We believe this is possible."
The Rohingya are seen by many Myanmar Buddhists as illegal immigrants from Bangladesh. Some 125,000 remain displaced and face severe travel restrictions in squalid camps since fighting erupted in Rakhine between Buddhists and Muslims in 2012.