China snubs India
Says will push Silk Road projects after UNSC endorsement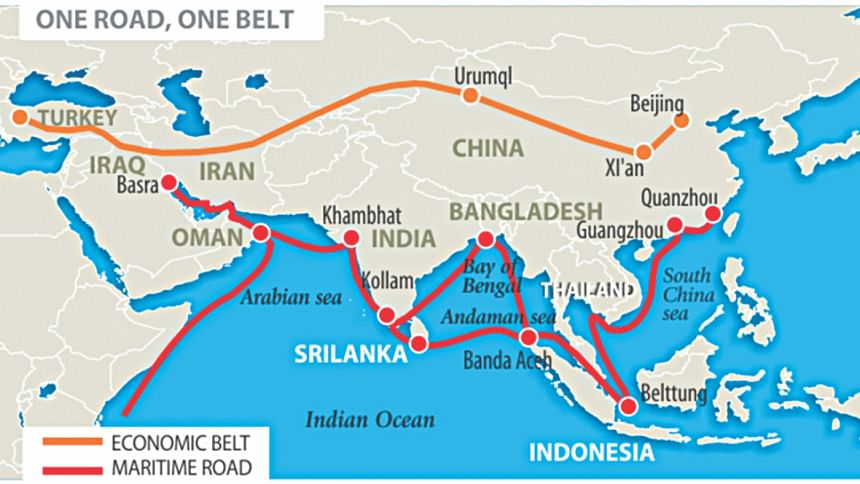 China has said it will give a global push to its ambitious Silk Road initiative after a UN Security Council resolution called for its implementation by member-states, notwithstanding India's sovereignty concerns in Pakistan-occupied Kashmir.
China's official assertion came as the state media here asked India to adopt a "more pragmatic" approach towards the initiative, claiming global support for President Xi Jinping's pet project whose stated aim is to link China with Euro-Asia through a maze of connecting rail, road and port projects.
Foreign Ministry spokesperson Hua Chunying told reporters here yesterday that in the Resolution 2344 unanimously adopted by the 15-member UNSC on March 17, the concept of building a community of shared future for mankind was incorporated for the first time, reflecting global consensus over the project.
"The resolution urged all parties to further advance the Belt and Road Initiative and raised specific requirements on strengthening security safeguards," Hua said.
The resolution called for strengthening economic cooperation between Afghanistan and its neighbours through Turkmenistan-Afghanistan-Pakistan-India gas pipeline and Chabahar port project between Afghanistan, India and Iran, and China's Silk Road and Maritime Silk Road initiatives.
The multi-billion 'One Belt, One Road' initiative is the official name of the Silk Road or the Belt and Road project.
It includes the 21st Century Maritime Silk Road to connect China with ports across the world as well as the $46 billion China-Pakistan Economic Corridor (CPEC) - which passes through the Pakistan-occupied Kashmir - and the Bangladesh, China, India and Myanmar Economic (BCIM) corridor.
While the work on CPEC is rapidly progressing, there isn't any official update yet on the rest of the OBOR projects.
India has protested to China over the CPEC - which connects western China's restive Xinjiang region with Pakistan's southern port of Gwadar through the Pakistan-occupied Kashmir - and has reservations over the Maritime Silk Road as it impacts the Indian Ocean which is vital to India's security interests.
However, New Delhi has backed the BCIM and is actively supporting it, according to Indian officials.
The official Chinese media says the inclusion of the OBOR in the UNSC resolution is an endorsement of the initiative by the world body.
"Despite concerns from India, broader support has been given to the OBOR from the international community," said an article in the ruling Communist Party-run Global Times.