Nigeria 'takes town' from Boko Haram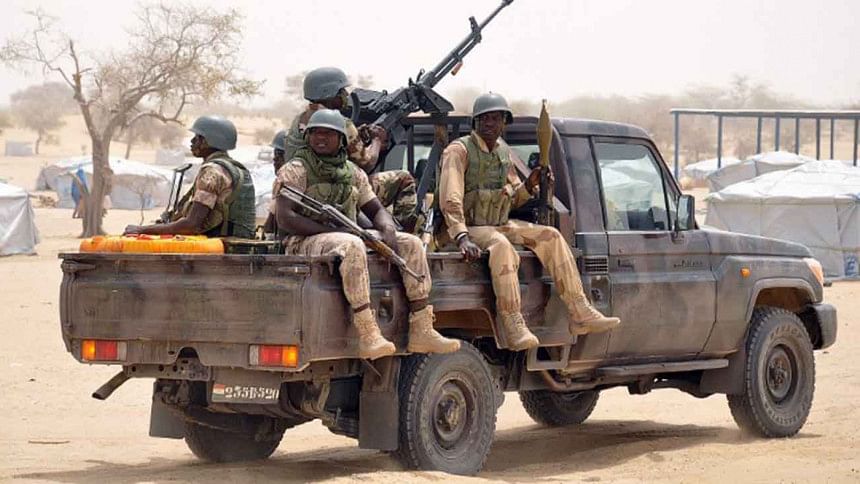 Nigeria's military says it has retaken the north-eastern town of Bama from the Islamist military group Boko Haram.
A large number of militants were killed and a "mopping up" operation is continuing in the second largest town in Borno state, it said.
Boko Haram was reportedly also ousted from Goniri, its last base in neighbouring Yobe state.
The group wants to impose Islamist rule and recently joined the Islamic State militants based in Syria and Iraq.
More than 13,000 people have been killed since 2009.
More than 1.5 million people have been displaced by the violence.
The conflict has since spread to neighbouring countries, including Chad and Cameroon.
Ongoing offensive
Nigerian military spokesman Gen Chris Olukolade said the militants had suffered "massive" casualties, AFP news agency reports.
Bama is significant as it is close to the state capital Maiduguri and has witnessed some of the worst violence during this insurgency, the BBC's Will Ross reports from Lagos.
The town was attacked several times by the jihadists before it was captured six months ago, our correspondent says.
Boko Haram fighters were forced to flee towards the border with Chad, the Nigerian military said, adding that it was now up to the Chadian military to pursue them.
In a separate development, Gen Olukolade tweeted to say Goniri had been regained on Monday.
Nigeria and several of its neighbours recently launched an offensive against the militants.
Officials say Boko Haram no longer controls any urban centres in Yobe and Adamawa - two out of the three worst affected states in the north-east.
Gen Olukolade also pledged that Borno would soon be freed.
Boko Haram at a glance:
·Founded in 2002, initially focused on opposing Western-style education
·Boko Haram means "Western education is forbidden" in the Hausa language
·Launched military operations in 2009 to create an Islamic state
·Thousands killed, mostly in north-eastern Nigeria
·Has also attacked police and UN headquarters in capital, Abuja
·Abducted hundreds, including at least 200 schoolgirls
·Controls several north-eastern towns
·Launched attacks on neighbouring states