64 die in Russia shopping mall fire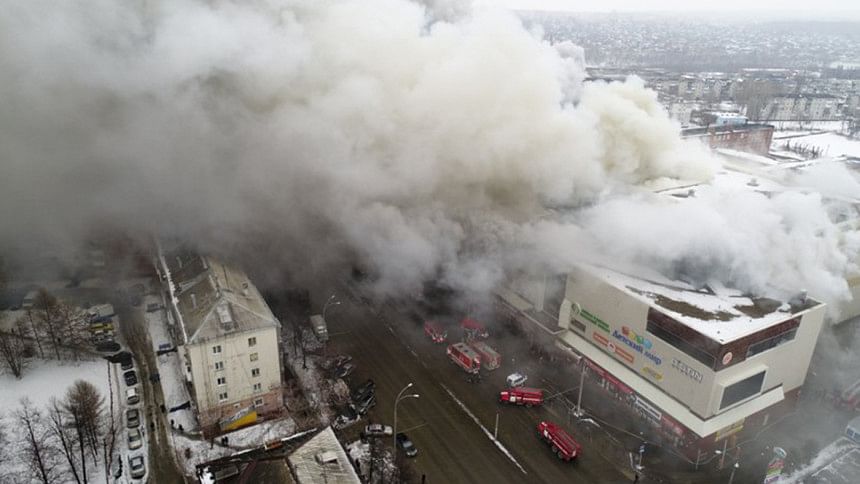 A total of 64 people some of them children perished in a fire that ravaged a busy shopping mall in an industrial city in Siberia, as rescue teams Monday struggled through piles of charred rubble to recover bodies.
Russian television showed images of thick black smoke pouring out of the Winter Cherry shopping centre in the city of Kemerovo, which also houses a sauna, a bowling alley and a multiplex cinema and was packed with people on Sunday afternoon.
Russia's Investigative Committee said the roof collapsed in two theatres in the cinema in the blaze which erupted at around 4pm (0900 GMT).
Witnesses told Russian television that some did not hear alarms or did not take them seriously and that the fire took hold very quickly, leaving many children separated from their parents.
"The alarm system didn't work, people ran out screaming and in panic", said a teenager, Milena, who had visited the mall with her parents.
Emergency services minister Vladimir Puchkov said on Russian television: "We have recorded that unfortunately as a result of the accident 64 people died", up from a previous toll of 56.
He said "64 is the final figure", and included six people still buried under the rubble.
The preliminary findings of an inquiry said the fire started in one of the cinemas and destroyed more than 1,000 square metres (1,200 square yards) of the centre, news agencies reported.
The local office of Russia's emergency services ministry said the fire broke out on the top floor of the four-storey mall, causing floors and the roof to collapse.
One witness, Anastasia Klepova, told Rossiya 24 television: "The evacuation signal only went off twice. We didn't believe in the evacuation at first, we thought maybe rubbish had caught fire in the toilet."
"We emerged out of darkness and smoke. We were already all black. In two or three minutes, such smoke had risen up."
Witnesses said many children were separated from adults, after coming to enjoy facilities including a trampoline centre.
'It was just awful' 
"People started running around, it was just awful. There were a lot of children, children without parents," said witness Klepova.
"There were children and adults, they ran out in T-shirts... we tried to help bring out people," said teenager Danila Plyut.
"The smell of plastic was very strong and the smoke was acrid on the top floor, you just could not go up there by then."
Health minister Veronika Skvortsova said at the scene that the most seriously injured person was an 11-year-old boy who jumped from the top floor to escape the fire, which killed all his family, but there were hopes for his survival.
She said an 18-year-old boy was also seriously injured from jumping from the top floor, while nine other people were suffering from smoke inhalation.
On Monday more than 500 firefighters were struggling to break down walls and clear rubble amid smoke-filled air and high temperatures, deploying drones.
Russia's Investigative Committee said it had opened a criminal inquiry and four people, including the tenant renting the premises where the fire broke out and the head of the company that manages the mall, had been arrested.
President Vladimir Putin expressed condolences and ordered the minister of emergency services to fly to the scene, the Kremlin said.
'Where to look for people?'
Around 120 people had been evacuated from the burning centre, rescuers said on Sunday.
"This shopping centre on several floors was packed with people midday Sunday. No one knows exactly how many people there were inside when the fire broke out," Alexander Yeremeyev, an official with the local Russian emergency services ministry, said in a statement.
"Where to look for people? How many are there? That has greatly complicated the work of the firefighters," he said, adding that the thick smoke was also hindering their task.
Some 300 firefighters and rescue personnel were rushed to the scene and the fire was brought under control late in the night, local emergency officials said.
It was the deadliest blaze in Russia in recent years.
A shopping mall fire in March 2015 killed 11 people in Kazan, the capital of Tatarstan some 800 kilometres (500 miles) east of Moscow.
In April 2013, a fire ravaged a psychiatric hospital in the Moscow region, killing 38 people, most of them patients who were engulfed by flames as they slept behind barred windows.
Just months later, in September 2013, 37 people were killed when a fire swept through a psychiatric hospital in the village of Luka in northwest Russia.
In 2009, 156 were killed in a nightclub fire in the city of Perm, 1,200 kilometres east of Moscow in one of the deadliest accidents in Russia's modern history.