40 percent of world's people affected by water scarcity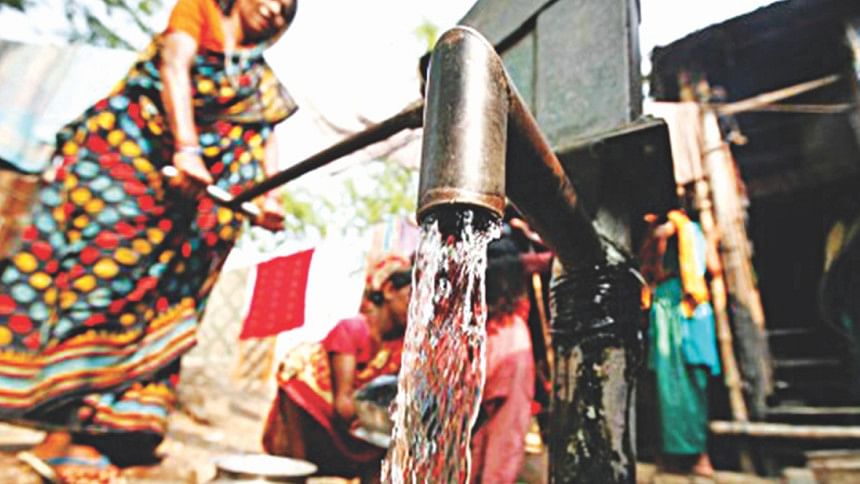 At least 40 percent of the world's people are affected by water scarcity at present, with as many as 700 million people at risk of being displaced by intense water scarcity by 2030.
More than two billion people are compelled to drink unsafe water and more than 4.5 billion people do not have safely managed sanitation services, according to a report of the High-Level Panel on Water (HLPW).
The HLPW handed over the outcome of the report on Thursday to the UN Secretary General Antonio Guterres and Senior Representative of the World Bank President at the UN Headquarters in New York, USA.
The panel's report found that women and girls suffer disproportionately when water and sanitation are lacking, affecting health and often restricting work and education opportunities.
"80 percent of wastewater is discharged untreated into the environment and water-related disasters account for 90 percent of the 1,000 most devastating natural disasters since 1990," it revealed.
The High-Level Panel on Water (HLPW) consisting of 11 Heads of State and a Special Adviser of the UN, however, called for a fundamental shift in the way the world manages water so that the Sustainable Development Goals (SDGs), and in particular SDG6, can be achieved.
While receiving the report UN Secretary-General Ant›nio Guterres said, "World leaders now recognize that we face a global water crisis and that we need to reassess how we value and manage water."
He said the panel's recommendations can help to safeguard water resources and make access to safe drinking water and improved sanitation a reality for all.
As part of the recommendations to address these challenges, the Panel advocated for evidence-based policies and innovative approaches at the global, national and local level to make water management and water and sanitation services attractive for investment and more disaster-resilient.
The Panel also called for policies that would allow for at least a doubling of water infrastructure investment in the next five years.
Permanent Representative of Bangladesh to the UN Ambassador Masud Bin Momen joined the event on behalf of Prime Minister Sheikh Hasina, who is also a Panel Member.
After handing over the outcome of the report, Momen said the outcome package will provide the governments and all stakeholders guidance to carry out meaningful water actions to implement the SDGs and to create water source worldwide for all.
He said Bangladesh has earned global recognition as a champion for ensuring safe drinking water and sanitation for all.
"In a country for more than 160 million people, nearly everyone have access to safe drinking water...Now our target is to ensure direct access to safe drinking water for all by 2020," he added.