4 killed in shooting at Tel Aviv nightspot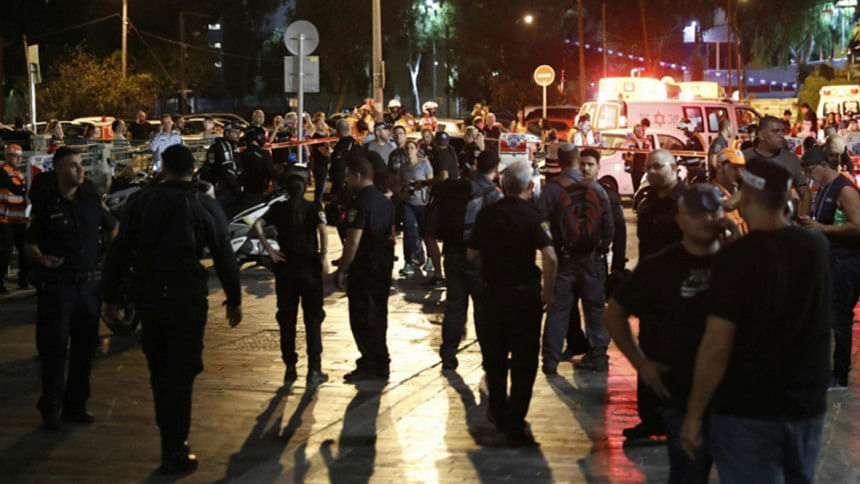 Two Palestinians opened fire at a popular Tel Aviv nightspot near Israel's military headquarters on Wednesday, killing four people in one of the worst attacks in a months-long wave of violence.
The shooting spread panic, and video posted on social media showed a uniformed officer firing a handgun, though his target could not be seen.
Police said one of the attackers was arrested, while the other was wounded by gunfire and undergoing surgery.
Five people were wounded in addition to the four killed at the Sarona Market in Israel's commercial capital, police said.
Prime Minister Benjamin Netanyahu visited the scene of what he called the "cold-blooded terrorist murder" after returning from a trip to Moscow and conferred with senior colleagues, including newly installed defence minister Avigdor Lieberman, Netanyahu's office said in a statement early Thursday.
"We discussed a range of offensive and defensive steps which we shall take in order to act against this phenomenon," it quoted the premier as saying.
"There will be intensive action by the police, the army and other security services, not just to catch every accomplice to this murder but also to prevent further incidents."
He did not elaborate further.
Israeli authorities said the two attackers were cousins from the Hebron area in the occupied West Bank.
The market and complex of bars and restaurants is located across the street from Israel's defence ministry and main army headquarters.
The nighttime shooting led police to clear the area.
Police said the wounded included those sitting at a coffee shop in the complex. The assailants' weapons had been retrieved, they said.
"We are talking here about a pretty serious terrorist incident," Tel Aviv police chief Chico Edri told reporters.
"Of the two terrorists, one was arrested and the other wounded by gunfire," he said.
"We do not know of another terrorist at large and so from our point of view people can return to their normal lives," he added.
The nationalities and other details of the victims were not yet known.
'Horrific'
The United States called the shooting a "horrific terrorist attack".
"These cowardly attacks against innocent civilians can never be justified. We are in touch with Israeli authorities to express our support," State Department spokesman Mark Toner said.
UN Special Coordinator for the Middle East peace process, Nickolay Mladenov, said "all must reject violence and say no to terror".
"I am also shocked to see Hamas welcome the terror attack. Leaders must stand against violence and the incitement that fuels it, not condone it," he said in a statement.
A spokesman for Tel Aviv Mayor Ron Huldai quoted him as saying "we will not be able to put a policeman on every street corner".
"The lone assailant can appear from any corner," he said. "That is the reality with which we have to live."
The city however said in a statement it was increasing security at schools and municipal buildings.
Violence since October has killed at least 207 Palestinians, 28 Israelis, two Americans, an Eritrean and a Sudanese.
Most of the Palestinians killed were carrying out knife, gun or car-ramming attacks, according to Israeli authorities.
Others were killed in clashes or by Israeli air strikes in the Gaza Strip.
The violence has steadily declined in recent weeks, though attacks have continued to occur.
Shooting attacks such as the one that occurred Wednesday night have been rare, though Tel Aviv has seen two other major incidents in recent months.
In March, as US Vice President Joe Biden visited, a Palestinian went on a stabbing spree along the Tel Aviv waterfront, killing an American tourist and wounding 12 people.
On January 1, an Arab Israeli killed three people in a rampage in Tel Aviv.
Many analysts say Palestinian frustration with Israeli occupation and settlement-building in the West Bank, the complete lack of progress in peace efforts and their own fractured leadership have fed the unrest.
Israel says incitement by Palestinian leaders and media is a leading cause of the violence.
Last week in Paris, representatives from 28 countries, the Arab League, European Union and United Nations met to discuss ways of restarting Israeli-Palestinian peace efforts.
Negotiations have been at a complete standstill since a US-led initiative collapsed in April 2014.
Following last week's meeting, France hopes to hold an international peace conference before the end of the year.
Israel strongly opposes the French plan, calling instead for direct negotiations, while the Palestinians support it.