3 killed in Myanmar quake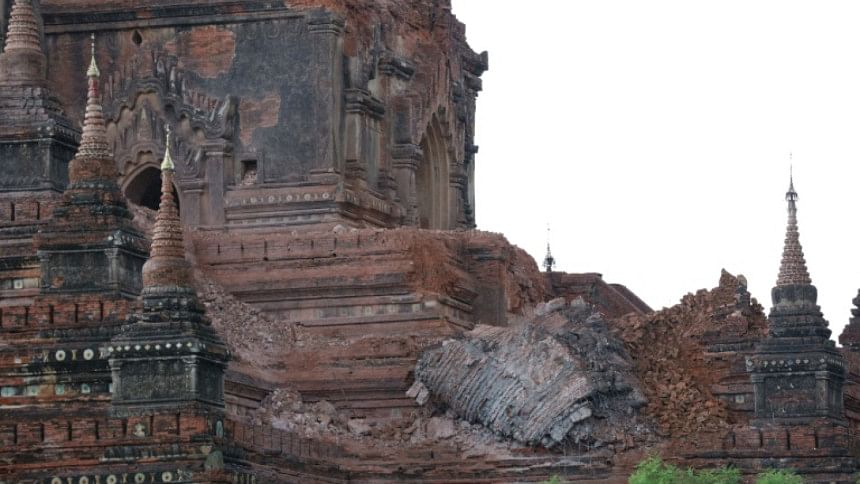 A powerful 6.8 magnitude earthquake shook central Myanmar today, killing at least three people including two children, local officials said, and damaging some of the famous pagodas in the Southeast Asian nation's ancient capital of Bagan.
The US Geological Survey (USGS) said the quake hit near the town of Chauk, southwest of Mandalay. Tremors were felt as far away as Thailand, where witnesses reported high rise buildings swaying in Bangkok, and the Bangladeshi capital Dhaka.
A fire department official from regional capital Magwe said two young girls were killed when a riverbank gave way in Yenanchaung township, south of Chauk.
One person was killed and another injured when a tobacco processing factory collapsed in the town of Pakkoku, to the north, the duty officer at the local fire department said.
There were no other confirmed casualties, and early reports suggested limited damage overall.
"My house shook during the quake. Many people were scared and they ran out of the buildings," said Maung Maung Kyaw, a local official of the ruling National League for Democracy (NLD) party.
"Some of the old buildings have cracks. The biggest damage is to the bank building in the town. The damage to other buildings isn't that significant."
The quake struck at a relatively deep 84 km (52 miles), the USGS said.
READ ALSO: Earthquake jolts Bangladesh
Chauk is about 35 km (20 miles) from Bagan, known as the "City of 4 Million Pagodas" and a major draw for Myanmar's nascent tourism industry.
Yangon-based travel agent Amy Saw, who had been in touch with her firm's Bagan office, said some of the pagodas there had been damaged, and the Ministry of Religious Affairs put the number sustaining some kind of damage at 65.
According to the 2014 census, Chauk has a population of about 45,000, with around 185,000 living in the surrounding area. It was a thriving oilfield during the British colonial era.
"So far as we heard from our local staff, a three-storey building collapsed in Chauk and a pagoda was badly damaged in a Yenanchaung," a fire department official in Magwe told Reuters.
Ko Tin Ko Lwin, a resident of Yenanchaung township, told Reuters that a pagoda that had been cracked before the quake had collapsed, while electricity poles and some trees were felled.
The quake shook buildings in Myanmar's biggest city of Yangon and in other towns and cities, witnesses said.
Office buildings in the Thai capital Bangkok, to the east of Myanmar, shook for a few seconds, residents there said.
The quake was also felt in Bangladesh, to the west of Myanmar, where some people ran out into the street as buildings shook, residents said.
Myanmar is in a seismically active part of the world where the Indo-Australian Plate runs up against the Eurasian Plate.
In March, 2011, at least 74 people were killed in an earthquake in Myanmar near its borders with Thailand and Laos.