2 Bangladeshi workers hurt in Malaysia bridge collapse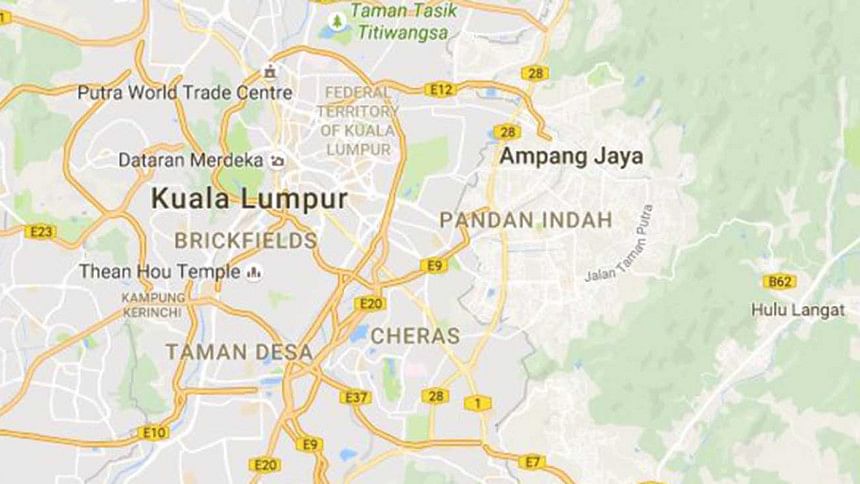 Two Bangladeshi workers were injured when an under-construction bridge collapsed in the Malaysian capital Kuala Lumpur today.
A Vietnamese construction worker was killed and three others were also injured in the incident, reports Malaysian daily The Star.
The deceased was buried in the rubble of the collapsed 70m pedestrian bridge, according to the daily. The injured were sent to the University Malaya Medical Centre (UMMC) for treatment.
Detail about the victims could not be known immediately.
Brickfields Police Assistant Commissioner Sharul Othman Mansor said the bridge was 80 percent completed when the incident occurred.
"We are still investigating the incident. "We were alerted around 4:00pm (local time) of the incident and quickly mobilised a search-and-rescue team," he told local reporters at the scene.
Meanwhile, rescue workers were still searching for a Bangladeshi worker believed to be trapped in the rubble. The authorities have since mobilised the K9 unit to locate him.
The firemen and paramedics were seen changing shift as the rescue mission continued into the night. Some were heard saying that locating the victim would be challenging.
However, all the rescuers were resolute in their attempt to find the last victim, never once giving up hope.
Meanwhile, Property developer SP Setia Bhd is investigating the collapse of the pedestrian bridge that was being built near Kampung Haji Abdullah Hukum in Kuala Lumpur.
"The project team is assessing the situation and is working closely with the authorities," said SP Setia Group Branding and Communications head Adelene Wong in a statement.
Workers recounted a chilling tale of how the ground shook and debris went flying when the pedestrian bridge came crashing down.
Another Bangladeshi Md Kawsar, 30, said the incident occurred after midday when most of his co-workers were having their lunch.
"We always sit under the bridge and have our lunch or a cigarette break under the shade. "I heard a loud noise and saw the bridge falling. The ground shook and metal and concrete debris was thrown all over as it came down," he said adding that he escaped uninjured in the incident.
The UMMC emergency and trauma unit was busy with ambulances seen rushing in victims of the disaster, one after another.
UMMC director Prof Dr Tunku Kamarul Zaman Tunku Zainol Abidin said their priority was to ensure that the victims received the best medical care.
He said five doctors were sent to the site of the disaster to give the victims pre-medical care.